What scares you most when you think about riding a motorcycle? Taking on Auckland's rush hour traffic? Getting cold from the rain? Maybe slipping on a patch of mud and ending up on your backside?
Driven had the chance to talk to two hardy blokes who can speak of much worse, ahead of their TV series premiere of Tough Rides - India on the Travel Channel this Thursday.
Following in the tracks of many a traveller before them, Canadian brothers Ryan and Colin Pyle have taken motorcycle adventures to another level.
The brothers set the Guinness World Record for longest journey by motorcycle in a Single Country back in 2010, while circumnavigating China for their show Tough Rides - China, on BMW F800GS motorcycles.
Their second show, Tough Rides - India, is premiering on the Travel Channel this week. Driven had a sneak peek at the episode and can say with conditions ranging from tarmac to muddy trails, and where even finding petrol is a challenge - it's full of the kind of adventure most of us only dream about.
With 14,000km in a foreign country to negotiate, being and expert rider would be a highly useful skill but, surprisingly, the brothers started their epic motorcycle travel career with relatively little on-road experience.
"I had probably only done about 3,000km before the China trip, so to say that I was a beginner is putting it mildly," says Colin. "My first bike was a BMW R1200R - I was such a banker stereotype. It was way too big for me but I was very careful with it until I got used to it. It's such a great bike," he adds.
Regardless of experience, they knew at the very beginning that motorcycling was the best option for seeing a country. As Ryan puts it, "We both believed getting on a bike and riding is the way to experience [a country]. In a car, you're in a bubble with air con and your music, whereas on a bike you feel every bump in the road, you're smelling what people are cooking for breakfast so you're stopping often, to stop and chat with local people, which is the experience we wanted to have and to share."
With a two month trip in a foreign country to plan, the Pyles naturally spent a lot of time in preparation.

Ryan and Colin Pyle already had a world record under their belts from their circumnavigation of China on motorcycles. Photo / Supplied
"It's a very intensive planning stage as we have to get permission to film at different locations and we have to get visas, usually journalism visas, as we do so much filmmaking and get all the permits, so all that stuff takes like 6 months. Then, usually, I am the one who lays down the day by day," says Ryan.
"We have to get 350km so we can meet the person who is going to take us to this attraction, but sometimes you wake up and its wet and you just go for it and crush your 300 clicks and that's where the comedy and the humour comes in."
Previously, the lads rode legendary GS BMWs but choose to ride locally made Royal Enfield 350 Thunderbirds in India. The decision was made mostly by one great need dictated by previous experience; good availability of parts.
"In China we had BMW F800GSs and we had to learn how to fix them ourselves as nobody knew how to fix them. But in India we used a local motorcycle brand and that meant that no matter where we were, we were only a few minutes from someone knowing how to fix them," says Ryan.
One thing that they couldn't plan for was the intense Indian traffic, frequently the cause of 'oh ****!' moments.
"West Bengal is the second most populated province in all India - imagine chaos in 40 degree heat," says Ryan.
"At 8pm we got stuck on a highway where a truck tried to reverse because they missed an exit so we got stuck in that traffic jam. So we showed up at the hotel in tears, completely physically shattered. It was just horrible, because you just think, 'how are we going to make it around a country where it takes 14hrs to do 200km and touch and go moments? Will we even finish? Is it worth it?'".
When these things start building up, Colin and Ryan both have headsets in their helmets so they can talk to each other to try keep spirits up. It's one of those things you don't actually think about riding nonstop all day in a foreign country.
Having learned from the mistake on their first show of not taking rain suits, both brothers - probably remembering many a day riding completely drenched - ensured they had all the proper equipment they could need for the trip. Something that most day-to-day riders can relate to as there is nothing worse than being stuck in traffic completely soaked.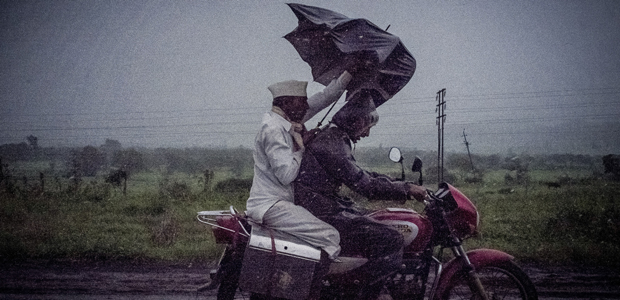 The riding conditions in India were unlike anything the Pyle's expected. Photo / Supplied
As Natural History NZ helped to produce the show; we asked if Colin and Ryan had made it to our roads.
"I spent one month in NZ with my wife after the China motorcycle trip, however, we chose 4 wheels rather than two," Colin says. "I really loved NZ and would love to get back one day and ride around it on two wheels - it's such a beautiful country."
Ryan is hopeful to make it to our shores. "I've never been there, so I'm hoping to come down and ride there and connect with the local community".
With two successful Tough Rides series behind them, the Pyles are coy about whether or not they will both return in Tough Rides 3.
"We're thinking about it," says Colin, "I'm very busy at the moment running a coffee business in London called CRU Kafe. It's very difficult to look at my co-founders and investors and tell them that 'I'm just going to take off for 3 months and ride a motorcycle around...'".
We don't blame him.
•Tough Rides - India: premieres on the Travel Channel, Thursday at 8:30pm.