Kage
492 New North Rd, Kingsland
09 815 3591
We spent: $175 for three
We thought: 13 - Good
Academics claim that when teenagers eat dinner with their families, they get better marks at school and are less likely to get drunk before the ball or busted selling pot by the science lab.
Possibly the academics worded it more formally, but you get the picture: Families who eat together talk together. Communication is everything.
I'm researching family mealtimes because the stories in this week's Canvas have a common thread. It's the "family issue" and it has been brought to my attention that I forgot to include children. What do the little buggers even eat?
Kage has a kid's menu. For $14 you get dessert of the day and a main. Choose from a classic beef burger, chicken tenders, junior barbecue pork ribs and a mini chicken roti with peanut sauce. You're not in provincial New Zealand (circa 1976) now, kids.
In these gastronomically-inclined times, children's menus have fallen out of favour. According to one argument, the little buggers should broaden their palates early and learn to eat like adults. I'm not convinced. Six-year-old me would have loved the idea of a list specifically for my perusal. She would have ordered the mince and cheese pie, please and thank you. Something with chips and a traffic-light drink. Actually, 48-year-old me is also comfortable with this.
"Would the beer-battered fries be too much?" I asked the waitperson.
"Honestly?" he said. And then he noticed our crestfallen faces. "Why don't I do you a half portion?"
I was dining with a family of sorts. No one at this table was born in Auckland and one of us was not born in New Zealand. An age-and-stage whanau forged from workplace whines (and after-workplace wines). This is the family you choose, not inherit.
We chose the pinot gris. I have heard very good things about Kage's cocktails and I think that might be where this restaurant's future lies - tasty street foods and drinks starring mango. It's a place you might visit before a game (Eden Park is just across the walkway), with your workmates, or any other group with broad tastes.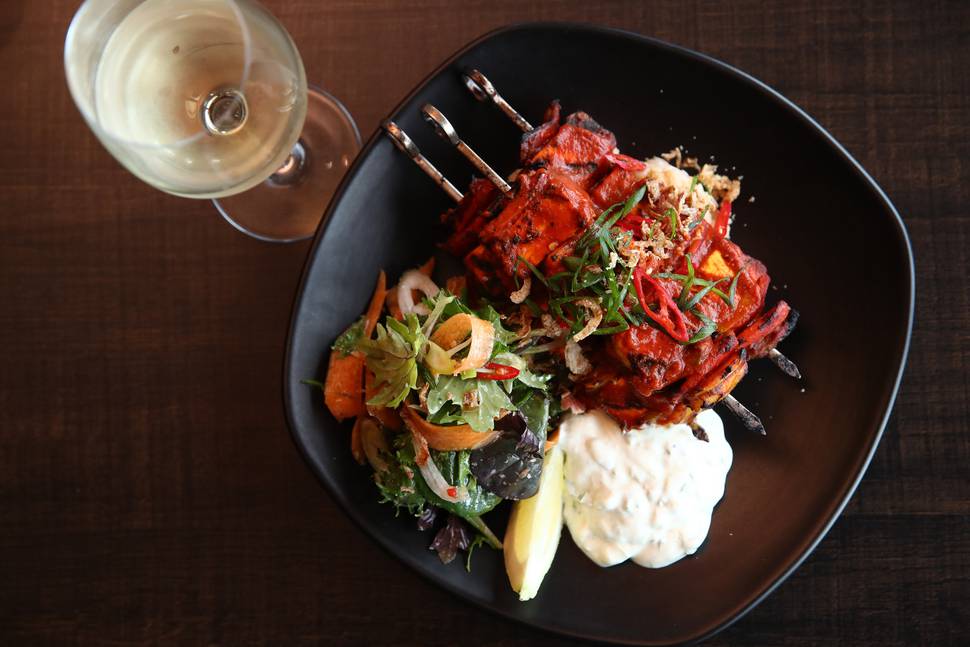 For my money, the best thing we ate were the grilled chilli paneer and pepper skewers ($16 for two). The curd was firm and smoky, the capsicum plentiful and the heat level higher than I had anticipated. The dish comes with yoghurt and salad and occupies a rarely explored space between bar food and yes Mum, I am getting enough vege.
Continue the theme with an actual salad. We ordered halloumi ($18) and we shouldn't have - delicious, but definitely on the Middle Eastern flavour spectrum, which didn't match our other choices.
My advice to future diners: Pick a destination and stay there. The curry, for example, was Malaysian beef ($24). It came with coconut rice that had seen better days but there was a bonus crumbed and deep-fried egg with a still-molten yolk that was the brunch dish you didn't know you were waiting to find.
We'd started with soft-shell crab bao, which proved divisive although not literally. After some convincing, the waitperson did agree to add a third bun to Kage's usual $17 two-piece offering (I'm still bemused by how much debate this caused). Flavour-wise I thought it was too salt-and-peppery, but the rest of the table loved it.
Asian street food is ubiquitous but one dish you don't find quite as often as dumplings, bao and bahn mi, is the luxed-up roti canai. Think szechuan duck, charred eggplant, and sumac chicken. Everything at Kage was piled with fresh, crisp salads and slaws and the roti was no exception.
The duck was, actually, a little sweet for my palate but when it comes to pastry, I'd eat this flaky Malaysian number over an old-school mince and cheese any day. Modern families don't know how gastronomically lucky they've got it.