Augustus Bistro
1-3 St Marys Rd
Ph: (09) 950 4855
Book online with Restaurant Hub

We thought: 14.5 - Good
We spent: $210 for two
When I was little, I loved those "spot the difference" quizzes. That lady has a red bag! That cat has only two whiskers! Etc.
All grown up and sent to interview famous people on movie sets, I became fascinated by body doubles. One of these men is not really like the other, but today, Nigel, you are Sam Neill. (True story: Neill, whose real name is Nigel, had a stand-in called Nigel when he made Perfect Strangers.)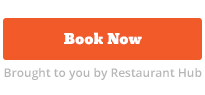 Mythology says doppelgangers are bad luck. Portents of death, harbingers of madness. I was thinking about all of this when I took a seat at the new Augustus Bistro, which looks exactly like the old Augustus Bistro.
The original went into liquidation earlier this year. A couple of months ago, the owners of Waiheke Island-based Mudbrick Vineyard and Restaurant announced they were taking over.
So here we are. Augustus Bistro: The Sequel. Same chairs, tables, foliage and folded paper menus; different staff, wine list and a more casual food ethos. When we visited, a change to the liquor licence was pending - perhaps the planned addition of streetside tables will encourage foot traffic that might not otherwise know there is a very beautiful restaurant and courtyard behind that historic facade.
Let's talk about the staff. Lovely, lovely, lovely, lovely. Altogether too much lovely. I recently complained about a lack of loveliness at another restaurant, so clearly it's a fine line. How do you cross it? Be the waitperson who spots a woman taking photographs of her food and comes bounding over to ask if she would like a photograph with her friend. I feel like tourists on Waiheke would love this. Dining on the Ponsonby-meets-Herne-Bay border with my former boss, a current member of a senior leadership team? Not so much.
I was excited when I read about plans to include pasta on the new menu. So was my superior, so I thought it prudent to let her order first. Her entree ($25) had a delicate scampi filling, divine lemony-buttery sauce and asparagus - green and (bonus!) white. But the point of pasta is the pasta and the ravioli wrapper was tough and definitely needed longer in the pot.
A $34 mushroom tortelloni (the bigger cousin of the more spell-check approved tortellini) featured pasta so thick and doughy it resembled the interior of an old-school casseroled dumpling. The flavours were all there. The tumult of mushrooms and karengo seaweed - rapidly becoming Auckland's ingredient du jour - was cut with little jolts of salty, sharp goat's curd and if someone had a lighter (firmer?) hand on the pasta machine, it might have been perfect.
In the latter category, I loved a pretty salad of smoked lamb loin ($24). Red and yellow capsicum had been roasted sweet, petals of shallot were charred just so on the edges and is there a meat better matched to smoke than lamb? I wouldn't change a thing about this dish.
Our final main was pork ($38). The crackle cracked, the meat melted and really, what else do you need? Kūmara, apparently, roasted to caramel and a crunchy little tangle of fennel and herbs. A New Zealand bistro darling, done well.
The old Augustus had a very French thing going on. This version makes a virtue of local produce - Te Matuku oysters, Houhora pork, Hawke's Bay flounder, etc.
Our (really very lovely) waitperson was anxious to tell us the $16 profiterole with praline icecream and salted caramel came as a single puff of choux. What she neglected to mention was the choux was little bigger than a large walnut and the jug containing the caramel sauce appeared to have been purloined from a doll's house. Pleasant but pricey. Go for the New Zealand-only cheese selection (Little River, Grinning Gecko, Mercer and Clevedon Valley Buffalo) and, at $14 per 40g, guarantee yourself a bigger flavour bang for your buck. Maybe wash it down with a wine. Waiheke, obviously.
Augustus 2.0 needs thinner pasta, fatter profiteroles and an understanding that, in these suburbs, the only photographs are selfies. Get that right, and it could be picture-perfect.