Serena Williams has revealed that she thought she would lose weight while breastfeeding daughter Olympia - but says she remained the same size despite following a sugar-free, vegan diet.
The 36-year-old tennis star, speaking to journalists ahead of her continued comeback at Wimbledon this week, joked that it was "a lie" that women shrank while nursing their babies.
According to the Daily Mail, the mother-of-one explained that she learned "everyone's body is different" and said that while she had initially planned to only breastfeed for three months, she kept going until daughter Olympia was 10 months old.
She said: "I was vegan, I didn't eat sugar. I was totally eating completely healthily and I wasn't at the weight that I would have been had I not breastfed."
"What I've learned is that everybody is different - no matter how much I worked out, it didn't work for me. I lost ten pounds in a week when I stopped. I just kept dropping."
The tennis legend also admitted that she shed a tear when she decided to finally stop feeding her daughter.
She said: "I literally sat Olympia in my arms and I talked to her about it and we prayed about it.
"I said 'look, Mommy has to stop and Mommy has to do this'. I cried a little bit not as much as I thought I would."
She admitted too that the return of her competitive edge shocked her a little bit.
"It definitely surprises me. I have this amazing child, all these grand slams... it was all super bonus. I definitely feel a lot less pressure out there but I'm a little bit shocked at how much I almost want that pressure."
Meanwhile, Williams' husband Alexis Ohanian says he's constantly left in awe of his wife's "resilience and toughness" as she juggles motherhood with a comeback on the tennis courts.
The Reddit founder, 35, says the sporting star, whom he wed in November after the birth of Olympia in September, has a "mom strength button" that is so "powerful".
Ohanian also revealed that he has no plans to play tennis with the seven-time Wimbledon champion.
Speaking to the Sunday Times, doting Ohanian said of his wife: "She's always had this resilience and toughness, mentally and physically, but now she has this 'mom strength button' that she pushes and it's just so powerful".
He also joked that Serena's superpowers had been taken up a notch since she became a mother, saying "I'm never going to play tennis with her".
Ohanian also revealed how he juggled paternity leave after the birth of Olympia, who he says has "grace and a lot of swagger", praising flexible leave for fathers.
He said combining days in the office with being at home meant he "didn't miss a beat" when it came to Olympia's first few months in the world.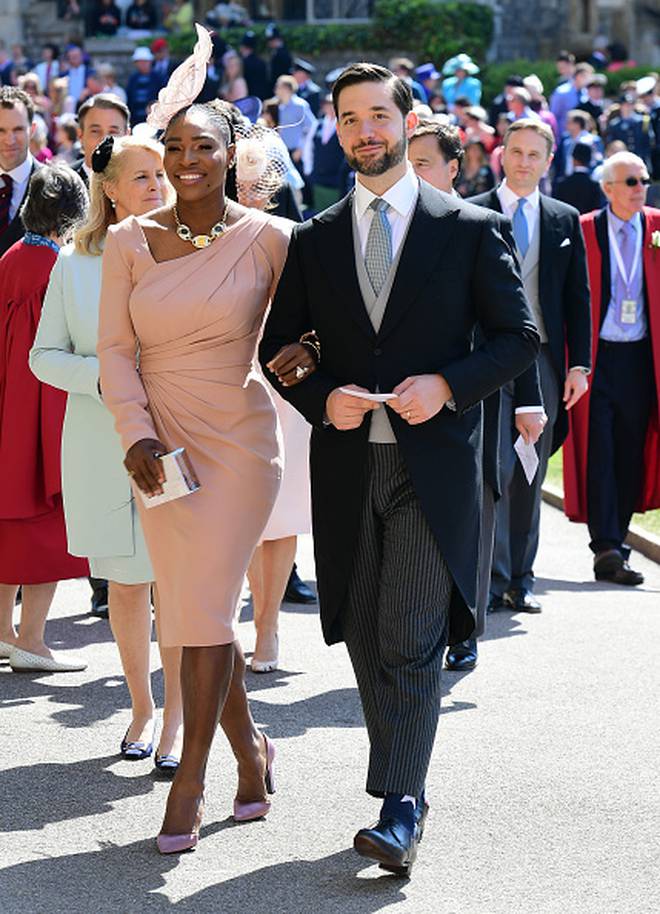 Yesterday, the tech whizz and Williams joined the Duchess of Sussex at the Audi Polo Challenge as they watched Prince Harry play.
The family are in town as Williams prepares to continue her comeback at Wimbledon this week.
The seven-time champion takes on Holland's world No 107 Arantxa Rus in the first round.
The American has been seeded 25 for the third major of the year, despite being well outside the world's top 32.
Williams and Ohanian married in front of close friends and family in New Orleans on November 16 last year, two months after the birth of their daughter. Williams walked down the aisle in a stunning Alexander McQueen wedding dress.
Her adoring husband took a moment to express gratitude for his beaming wife in his own sweet photo, shared on Instagram.
Captioning the shot, he wrote: "You are the greatest of all time, not just in sport – I'm talking about as a mother and as a wife.
"I am so excited to write so many more chapters of our fairy tale together. And my whole life I didn't even realize it, but I was waiting for this moment.
"And everything that I have done, everything that I am so proud of in my career, and in my life, for the last 34 years, pales in comparison to what we're doing today. And I am so grateful, and I am so in love."