The red carpet component of any awards ceremony has long been considered a spectacle in itself: The domain of bold couture, sleek celebrity physiques and the occasional wardrobe malfunction that often catches as much attention as the perfect choice in attire, this year the Golden Globes red carpet is being utilised for something far beyond fashion for fashion's sake.
Stars attending were encouraged to wear black as a form of silent protest following the spate of sexual harassment allegations that have rocked Hollywood in the last 12 months.
And as celebrities began their parade for the cameras, E! host Gulliana Rancic noted the poignant question this year is not what celebrities are wearing but why.
Amid what quickly became a complete wash-out of black, we've highlighted the strongest looks on this year's red carpet.
Milly Bobby Brown
Bobby Brown arrived solo on the red carpet in her most grown-up look yet: a satin mini with a heavy shoulder frill and cutesy silver heels.
Debra Messing
Messing opted for sparkles over tailored dress pants as she told Ranic she hoped the Time's Up silent protest would go some way to putting an end to gender pay inequality.
"I'm wearing black to thank and honour all the brave whistleblowers who came forward to share their stories of harassment and assault," declared a stern Messing.
"I'm wearing black to stand in solidarity with my sisters all over the globe ... we want diversity, we want intersectional gender parity, we want equal pay."
Dakota Johnson
Johnson focused on texture in this sleek velvet Gucci slip offset by a heavy buckled belt and elaborate, glittering train.
Elisabeth Moss
A simple yet eye-catching choice from the star of The Handmaid's Tale, Moss has picked perfect dimensions with this full skirt, sleeve and snappy collar.
Michelle Williams
Williams continues to evolve her pixie chic style in this off-the-shoulder black and embroidered number. As she expressed her support for the Time's Up protest, Williams said the movement leaves her hopeful her daughter won't endure what women of today have.
Mariah Carey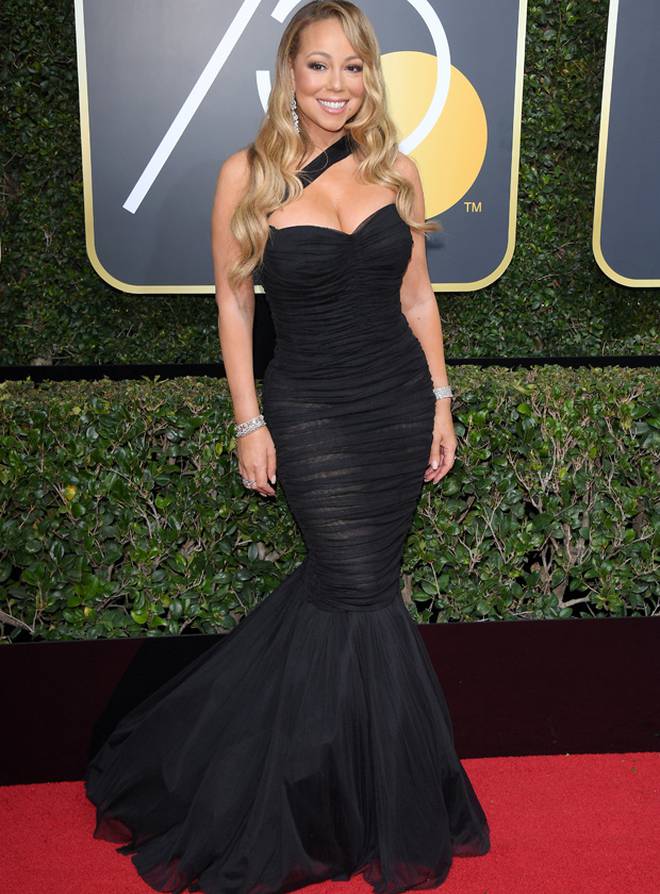 Nominated for co-writing the title track for The Star, Carey poured herself into this ruched, strapless number with tulle skirt.
Eva Longoria
A heavily pregnant Longoria explained that the satin collar on her dress was a nod to a tuxedo, aligning with a common theme on the carpet of gowns featuring traditionally masculine components.
Meryl Streep
Streep, who was slammed on Twitter as a hypocrite by Rose McGowan following her Weinstein allegations, looked regal in a black off-the-shoulder gown with full skirt.
The stars of Stranger Things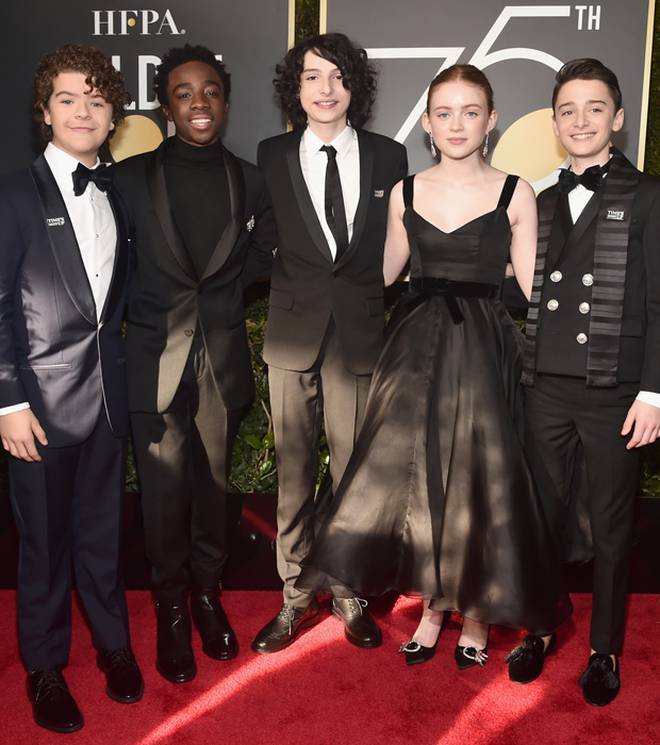 The kids of Stranger Things did well to choose fun individual looks while also supporting the Time's Up protest.
Octavia Spencer and Jessica Chastain
Friends since their star roles on The Help, Spencer went for full sparkle while Chastain looked sleek in a velvet halter that featured an intricate silver backing.
Margot Robbie
Star of the highly anticipated biopic, Tonya, Robbie epitomised old Hollywood glamour in black silk with a plunging neckline and intricate pewter applique.
Nicole Kidman
Picking up a Golden Globe for her role in Big Little Lies, Kidman looked ethereal in a floor length gown with embellished, semi-sheer detailing.
Claire Foy
Another star who opted for a masculine silhouette was The Crown's Claire Foy who sported a double-breasted blazer, tailored trousers and a slicked back, cropped 'do.