Address: 115 St Georges Bay Rd, Parnell
Phone: 027 520 8908
Rating out of 10: Food: 8 Service: 7 Value: 8 Ambience: 7
We spent: $190 for four

It was October 19 and it was time for a change.
The bookseller arrived on an electric bike. The fashion stylist was in an Uber. They wore mustard and plaid and anticipation.
"Any news?"
But on our phones live-streaming feeds from the Beehive Theatrette it was just limp flags and an empty stage.
We ordered fried chicken (safe spicy, not danger spicy) and tteokbokki. The latter looked like a pile of engorged cigarette filters but tasted of comfort.
Tteokbokki are soft, cylindrical rice cakes. In Korea, they're a snack food, eaten with a toothpick. At Simon & Lee they are fried to a slightly crisp exterior and seasoned with enough salty, spicy tang to make you wish you'd ordered beer. Stand down polenta chips: there's a new bar snack in town.
Meanwhile, outside, finally, there was a new government. In life and restaurants and the halls of power, there is nothing permanent except change. Gochujang is the new sriracha and Korea is Auckland's latest food obsession. Simon & Lee, for example, is a Parnell brunch stop that recently started offering a Thursday-Sunday modern Korean dinner. By the time you read this, Han (from the Uni-Ko foodtruck folk) will have opened just a few parallel streets over.
This is not a cuisine I'm familiar with in either its contemporary or traditional guise, but the bookseller used to live there (Seoul is the new Shepherd's Bush, etc). She pronounces "bibimbap" with purpose and is unfazed when the chopsticks are metal, not wood, but even she looks surprised when we each receive a single disposable plastic glove ahead of that generous plate of sticky, crunchy fried chicken ($22 - and next time, I'd try the "danger spicy").
I understand the intent of the glove, but I just cannot deprogramme a Pavlovian desire to to lick my fingers. My hand gets sweaty. I keep getting a mouthful of plastic. Later, when nobody brings fresh plates, we stuff those sticky, used gloves with chicken bones and regret. It is a low point in an otherwise tasty evening.
Our waitperson advised we get a dolsot pot apiece, and we should have listened. The stonkingly hot traditional stone bowls, filled with rice and piled with mosaics of pretty deliciousness, deserve to be attacked with gusto, not the forced politeness of a shared plate. Also, I could have easily gone solo on the tofu three ways ($19). Quivery tofu in tempura batter, pickled mushrooms, a firmer, marinated tofu, seaweed, beetroot and more, combined to create the best vegetarian main I've eaten this year.
We also shared a dolsot of bibimbap ($20) which, literally, translates as all-the-stuff-in-the-bottom-of-your-fridge plus rice. Of course it doesn't. But multiple origin stories include a romanticised take on leftovers, eaten on the eve of the lunar new year, clearing the way for a fresh start. Very good and again, best not shared, so that when you stir the freshly cracked raw egg into the hot rice and against the hot pot, you don't miss out on any of the delicious crust that has hopefully formed.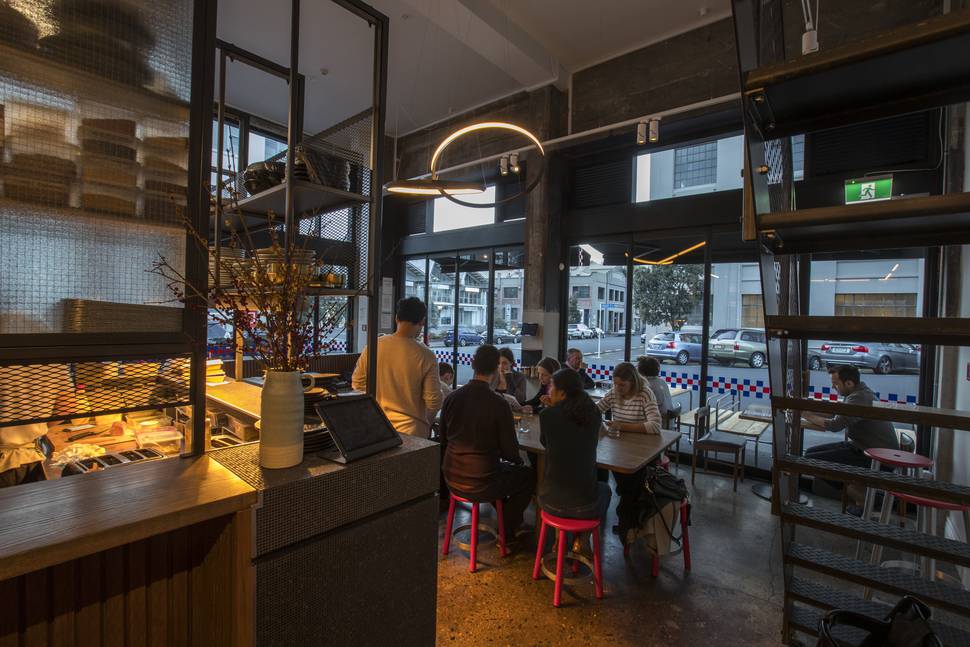 The metal chopsticks required next-level dexterity, but I was thoroughly enjoying my first foray into Korean cuisine. Kimchi ($5) was super-fresh and crunchy, those tteokbokki ($10) were a revelation and if you're worried you might not have ordered enough, just get the cheesy, chilli-y waffle fries ($12) and succumb to a carb coma.
When the most expensive wine is $14 a glass, there is a temptation to linger, but aesthetically Simon & Lee is still more daytime cafe than night-time restaurant. There is just the one dessert (which we weren't offered) and you may want to get there early to avoid sitting on a stool at a shared table - chicken in a disposable plastic glove is a dish best eaten in the company of people you know.