The first call about the accident in Paris came through to Robin Janvrin, the Queen's deputy private secretary, at one o'clock in the morning.
It was from the British ambassador in Paris, who had only sketchy news. Princess Diana had been injured, but no one knew how badly. Janvrin immediately telephoned the Queen and Prince Charles, who were in Scotland, asleep at Balmoral castle.
Meanwhile, in London, the Prince's team were being woken and told the news - ironically, by the red-top tabloid press. Their information, which came directly from the emergency services, was more up to date than the ambassador's.
So Charles knew before the Queen did that Dodi Fayed - the Princess's latest boyfriend - was dead, though Diana was still, at that stage, alive.
Never was the relationship between the Prince and his mother thrown more starkly into relief than it was on that terrible night.
An explosive biography of Camilla - to mark her 70th birthday next month - lifts the lid on the relationship between Prince Charles and the Queen in the days after Princess Diana's death.
There they were, just feet away in their separate rooms, divided by paper-thin walls, but they didn't go to one another either for comfort or to discuss logistics.
The comforting was left to Camilla - 500 miles away at her home, Ray Mill, near Chippenham, Wiltshire - and other friends Charles called through what remained of the night.
And it was his staff who tried to work out how he could get to Paris as fast as possible to visit his ex-wife in hospital.
The most obvious answer was to use an aeroplane of the Queen's Flight, but that required Her Majesty's specific permission - and her deputy private secretary was doubtful it would be forthcoming. At 3.45am, the debate became academic. A call came through from the embassy in Paris to say the Princess was dead.
Camilla had at first thought that Diana's injuries amounted to little more than a broken arm - which is what Charles had been told.
So when he rang at 3.45am with the news that Diana had just died on the operating table, she was as shocked as he was - and terrified for him.
They spent a long time on the phone for what remained of the night. Charles knew immediately what the public reaction would be: they would blame him.
The world would go mad, he thought, and the monarchy could end up being destroyed.
He said as much to his deputy private secretary Mark Bolland. And Bolland knew - just as Camilla knew - that his fears were justified.
And the children . . . he was absolutely dreading the moment he had to tell them their mother had died. Should he wake them and tell them straight away, or let them sleep until the morning?
It was the Queen, in the end, who said they should be left to sleep.
The next day felt utterly surreal. Thousands of people came out to line the 14-mile route between RAF Northolt, where the plane landed with its sad cargo, and the Chapel Royal at St James's Palace, where Charles had insisted the Princess should be taken.
The Prince, who had taken Diana's two sisters with him to Paris, then flew straight back to Scotland to be with his sons.
There followed the most extraordinary and dangerous week for the Royal Family, who remained in the Highlands while the rest of the country went crazy.
Their reasoning couldn't have been better - and, in the long run, I think, was right. They felt the two grief-stricken Princes, then just 15 and 12, were the priority, and they needed some time to adjust before being confronted with the public outpouring of emotion.
Meanwhile, the country bayed for their monarch to show her face in London and fly the Buckingham Palace Royal Standard at half-mast. There was a good reason, of course, why this hadn't happened: traditionally, it only ever flies when the monarch is in residence, and never at half-mast.
Yet the absence of the flag seemed symbolic of everything that was wrong with the monarchy - stiff, hidebound and out of touch - compared with everything that was so perfect about Diana, warm, compassionate and loving.
Meanwhile, from Balmoral there was no word, no tribute - just news that the boys had gone to church with the family on the morning their mother died.
Business as usual.
The family was not unaware of what was going on south of Aberdeen - plenty of people were telling them. But Charles knew better than to say anything.
The bulk of the blame, as he had anticipated, was directed at him. Not at Dodi, nor even at Dodi's father, Harrods owner Mohamed Al-Fayed, who had supplied the car and the driver who hurtled through Paris at dangerous speed, or the bodyguard, for failing to stop him.
No, for many people, the real villain was Charles. If he'd loved Diana as he should have done, if he had honoured his marriage vows and not committed adultery with Camilla Parker Bowles, then the Princess would never have been racing through the streets of Paris without proper police protection.
In the days following Diana's death, Charles went for a long walk over the Scottish heather, and cried. He's a deeply emotional man and he weeps very easily, as does Camilla. On this occasion, the tears flowed copiously. But they weren't tears of guilt.
In many ways, Diana had been the ex from hell. She'd spied on him, made it difficult for him to see his sons, upstaged him, embarrassed him, leaked stories to the Press.
But a part of Charles still loved her - she was the mother of his sons, and he loved her for that if for nothing else.
He wept bitterly at the sheer tragedy of it all; that their life together, which they had both so wanted to work, should have ended in such acrimony and anger.
And he wept for William and Harry, and for his failure to help Diana. He knew he'd done his best - no guilt there - but she had been beyond any help that he was able to provide.
He was also deeply worried about Camilla. Within hours of Diana's death, the Press were besieging Camilla's home, eager to talk to the woman who had apparently been the cause of so much misery in the Princess's short life.
"That must have been an appalling period for her, and I thought she was courageous and humble and decent, says Julia Cleverdon, who worked for the Prince for more than 30 years.
"He was in agony about it - he really, really was. And the fact that she was prepared to go through all this for him, I think, illustrates what an incredibly strong relationship and partnership they've had.
"Knowing a bit about it at that time, when we ever talked about it, he was in genuine agony about what she was putting up with."
Even Charles couldn't help the woman he loved. As she knew all too well, he needed to devote his energy to his sons and then to rehabilitating himself. The time had come for her to vanish.
Both divorced, before Diana's death they had been seeing each other again discreetly.
But now they were back to cloak-and-dagger antics - and long telephone conversations.
It was a few weeks before Charles summoned the courage to face the public, and he knew it would be a long time before his name could be linked to Camilla's again - longer still before they could be seen together. They had been so close but were now so far apart.
Yet he'd already made it perfectly clear to anyone who would listen that Camilla was a non-negotiable part of his life.
The Queen had wanted her gone before Diana's death, and felt no differently after it. Her private secretary, Sir Robert Fellowes - who was also Diana's brother- in-law - strongly reinforced her view.
It was nothing personal. She had been very fond of Camilla in all the years she had been married to Andrew Parker Bowles - but it was Camilla who had been responsible, wittingly or not, for all the disasters that had befallen Charles since his marriage.
The Queen's stance was one of monarch, not mother, and therein lay the problem. Her son badly needed support and this woman had given it to him.
She had rescued him from the depths of depression, given him love, comfort, approval and tenderness that had been so woefully lacking from any other quarter.
Amid conflicting advice, the Prince decided to go back on the road at the end of September, visiting various projects in Manchester.
He was particularly encouraged to do so by Julia Cleverdon, his former charities adviser.
Julia had been one of the first people he'd introduced to Camilla in 1996, the year of his divorce.
To her delight, she'd found that Mrs PB - as everyone in the Prince's office had taken to calling her - was a great giggler.
She could make Charles talk and laugh about what had happened during his day, while making it quite clear to him that it was his duty to do what he might not always enjoy.
It was obvious to Julia, too, that Camilla was interested in him as a campaigner and she cared about the causes he cared about. Above all, she was funny, and a good raconteuse, and she lifted the mood.
This was a common observation. Often, friends invited to Highgrove for dinner would try to find out beforehand whether Camilla would be there. The Prince was always so much more fun, and the evening so much more relaxed, if she was.
So the fact that Camilla could no longer be around, as a life-enhancer and support, was a blow not only to the Prince but also to his friends and staff.
Charles was terrified about his visit to Manchester - as were his staff. Diana had been dead for less than three weeks, Manchester can be a tough city, and none of them knew what sort of reception he might get. As the plane landed, he straightened his tie in front of a mirror for a second or two longer than usual, took a deep breath and stepped out to face the cameras.
Then, at his first port of call - a Salvation Army centre - he abandoned the speech his staff had all helped him prepare.
Speaking from the heart, he thanked the public for their kindness in what had been an unbelievably difficult time, and paid tribute to the courage of his sons.
William and Harry had returned to Highgrove after their mother's funeral, where Alexandra Legge-Bourke, known as Tiggy, was waiting for them. The 28-year-old daughter of a family friend, she was a delightful, bouncy nursery school teacher, who was like a big sister to the boys.
The Prince had contacted her after his separation from Diana, and asked her to keep an eye on his sons when they were staying with him. They adored Tiggy and she adored them - which the Princess had found very hard to take.
By good fortune, Tiggy had been at Balmoral with the Princes on the day Diana died, and her presence there during that week was a godsend. Soon after they came back home, she impulsively decided to take them to a meet of the Beaufort Hunt. The plan was for the boys to follow the fox hunt by car, as many people did.
Seeing them arrive, Captain Ian Farquhar, the master of the hunt, went over and said very simply: 'It's good to see you, sirs. I just want you to know we are all very, very sorry about your mother. You have our deepest sympathy and we were all incredibly proud of you on Saturday. That's all I'm going to say, and now we're going to get on with the day.'
'Thank you,' said William. 'Yes, you're right. We all need to get on with the day.'
Diana may have worried that her boys loved Tiggy more than they loved her - she'd once sacked a nanny for that reason - but at least she'd never had any worries about Camilla on that score. Since their separation, Charles had made certain that Camilla was never in the house when the children were present.
He had once broached the subject of Camilla with them. It was two months before their mother died, and he was hoping to gradually ease his lover into his life.
So he sat the boys down together and tried to explain the situation, but both of them went very quiet. He sensed William, in particular, didn't want to know, so Charles didn't bring the subject up again.
As time passed, the Prince longed more and more to make Camilla an integral part of his life. He knew this couldn't be done overnight, and above all he was sensitive to the feelings of William and Harry. More than a year after Diana's death, nothing had yet been decided.
By then, William and Harry had met with Camilla's children - Tom, who was the Prince's godchild, and Laura. They hadn't seen each other properly since they were children, and Charles had wanted them all to get together for Easter.
So he'd invited them to stay at Birkhall, the Queen Mother's former residence at Balmoral. And despite the difference in their ages, the four had got on well.
William had even told his father he would now like to meet their mother. But Charles didn't press it. One day, William rang from Eton to say he was coming to London for the weekend. His call caught everyone on the hop: neither of the boys was expected at York House - where Charles was living at the time - so Camilla was there.
She immediately said she'd leave, but Charles said: "No, stay. This is ridiculous." He then rang William to tell him that Mrs Parker Bowles was in the house, and to ask if that would be a problem.
To which his son had answered: "No.' Prince William wasn't expected till seven that evening, but he turned up at half past three and went straight up to his apartment at the top of the house.
Camilla was with her assistant, Amanda MacManus, and feeling decidedly anxious, as they all were. Charles came to find her. He's here," he said. "Let's just get on with it. I'm going to take you to meet him now."
Then he took her upstairs, introduced her to his son and left them alone to talk.
About half an hour later, Camilla came out saying, "I need a gin and tonic!" She was joking. It had gone well. William was friendly, and Camilla was sensitive enough to know things had to go at his pace.
She was a mother, after all, and understood how conflicting and difficult it was for him to meet her, particularly now that his mother was no longer alive. A few days later, William and Camilla met for lunch. And then she started spending the odd night in York House when he was there.
But she never stayed at Highgrove when either of the boys was home. There were no memories for them of their mother at York House, but Highgrove was a different matter. It had been Diana's house.
Shortly after Camilla's first meeting with William, news of it leaked to The Sun newspaper.
An inquiry was immediately launched, and days later Amanda MacManus fell on her sword. She'd gone home that night and told her husband, a Times newspaper executive, about the meeting and he'd mentioned it to someone else who had told The Sun.
Amanda was devastated, but surprised and touched by how upset her employer was to see her go. As they said goodbye at the door of Camilla's home for the last time, they were both in tears.
A few days later, Camilla rang her and asked her to come back. Amanda has been with the Duchess ever since - as a part-time private secretary, trusted aide and touchstone.
Another story that wasn't reported from the day Camilla met William at York House was that Charles, feeling buoyed by how well the meeting had gone, decided to introduce her to his mother's deputy private secretary, Sir Robin Janvrin.
Janvrin had been in the building that afternoon for a meeting, so Charles asked his private secretary Stephen Lamport to tell him that the Prince of Wales wanted him to meet Mrs Parker Bowles.
"I can't possibly do that," said Janvrin. "I couldn't do it without asking the Queen's permission and making sure it was the right thing to do.' He was not to be budged.
And when Lamport reported back, the Prince's language was unrepeatable. "In my house . . . how dare he be so rude in my house?"
To celebrate their father's half century in November 1998, William and Harry threw him an advance surprise party at Highgrove on July 31, with his godchildren and their parents among the guests.
There was also one very special guest: Camilla.
Whether or not it was because they knew she'd be there, Charles's parents stayed away from their grandsons' party.
However, all the Prince's siblings attended, including Princess Anne - who, not without reason, Camilla found terrifying. Anne is a notoriously abrasive woman
The party was a huge success. Charles was enormously touched by the trouble his sons had gone to, and by the fact that they'd invited Camilla and put her in pride of place.
Yet when the Queen gave an official 50th birthday party for Charles at Buckingham Palace on November 13, attended by 1,000 people, to celebrate his public work, Camilla - quite rightly - wasn't invited.
It was one of the rare occasions when Charles's mother has praised him in public - for his "diligence, compassion and leadership" - and he, in thanking her, delighted everyone by calling her 'Mummy".
But the public display of warmth between them that night belied the real situation.
Despite the warm speeches, the Prince was infuriated by his mother's continued hostility towards the woman he loved.
The following evening, there was another big party at Highgrove on his actual birthday, organised for him by Camilla and their friends the Earl and Countess of Shelburne. It was an extravagant event, with 350 guests - among them foreign royals, politicians, actors, artists, comedians and even Camilla's ex-husband Andrew Parker Bowles and their two children.
The two people Charles really wanted to be there, however, stayed away. His parents had turned down the invitation, as had all three of his siblings.
It was a watershed in his relationship with his mother. The Queen's presence at the party would have indicated, if not approval, at least a tacit acknowledgement of the woman who had meant so much to him for so long.
But it was not to be. Indeed, the relationship between Buckingham Palace and St James's Palace - mother and son, and the all-important courtiers, through whom they communicate - could not have been worse.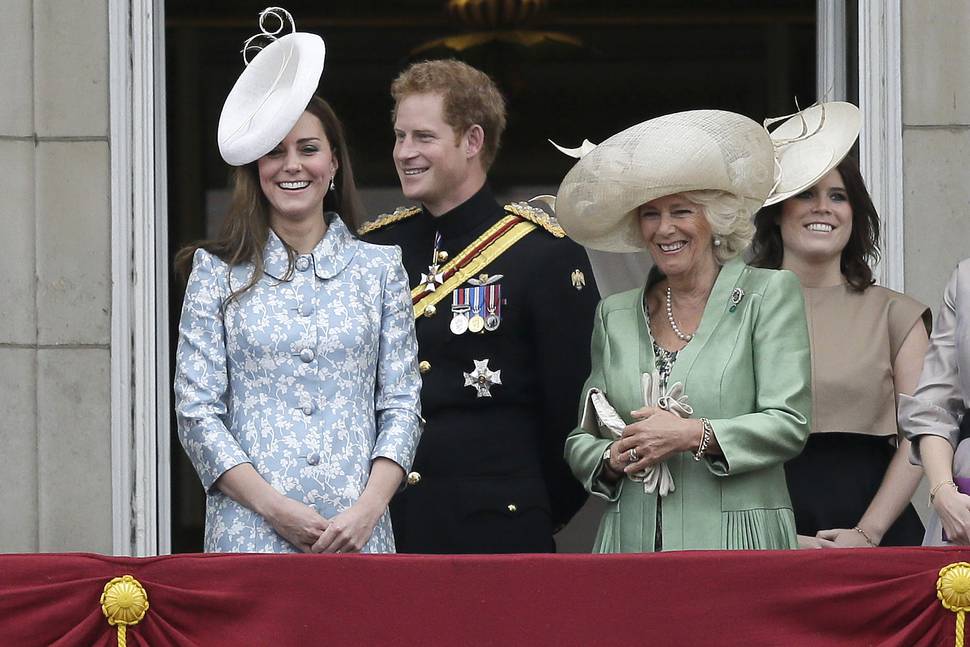 So, in February 1999, when the younger and more amenable Robin Janvrin took over from Diana's brother-in-law Robert Fellowes as the Queen's private secretary, there was a sigh of relief at St James's Palace.
Although Janvrin had snubbed the Prince by refusing to see Camilla at York House, he had subsequently had an amicable meeting with her. He was sympathetic to the couple's situation.
He hadn't intended to be rude, but he knew that what the Queen hates above all things is surprises. And he was right: if warned in advance of some departure from the norm, she is always 100 per cent supportive, even if things go wrong. But that didn't mean that, more than a year on from Diana's death, she had changed her mind one iota about Camilla.
The Queen still wanted her out of her son's life.
And still Charles dug his heels in, insisting that his beloved Camilla wasn't going anywhere.
• Adapted from The Duchess: The Untold Story by Penny Junor.