Eating at this place (which is something I urge you to do, soon) you learn stuff. I learnt that kokoda, the Fijian version of ika mata or ceviche, is pronounced as though there were an "n" before the "d". As in Nadi.
I learnt this from a very gracious waitress who resisted my correcting her pronunciation with all the forcefulness of a butterfly riding a breeze. Sensing I might be out of my depth I asked her - in a tone that pretended I was changing the subject - where she was from: "Fiji," she said, quietly and with a beautiful smile. The Professor flashed me a slightly pitying look.
It seems puzzling that in Auckland, the world's biggest Polynesian city, there has never been a real restaurant dedicated to Pacific food. Menus often refer to "Pacific rim" cuisine, referring to Southeast Asian, Japanese or Latino influences, but that "rim" makes it plain that they are staying away from the vast ocean in the middle.
The man behind Kai Pasifika, which has set up home where Ika used to be, is Robert Oliver, whose achievements go well beyond being a judge on My Kitchen Rules. Born here but raised in Fiji and Samoa, he has devoted much of his energy to developing the profile of Pacific food as part of an initiative to reclaim cultural traditions and stimulate local economies.
Chefs who talk fluently about cultural colonisation and the political economy of food are a rare breed, but Oliver is an entrepreneur of a different stripe: the Kai Pasifika website has a diagram of its mission which is worth inspecting just before you book.
The crowd-funded venture has been open less than a month, but the night I was there, was doing a brisk trade: a large table was taken by a Pasifika group who seemed to be eating with a kind of reverent nostalgia. This is scarcely surprising: the food retools old recipes, such as those collected in Me'a Kai, the award-winning cookbook Oliver co-wrote with Tracy Berno. It is as far as may be imagined from the hideous, salt-laden nosh you may associate with the Pacific, which, of course, has been exported there from New Zealand.
The room is a bit cold and stark for my liking and for the vibe the food creates: some greenery and colour wouldn't go amiss, but the menu that came out of Bertrand Jang's kitchen delivered tastes that sang of the South Seas.
We tried two of the three-raw fish options: that kokoda, in which tiny Curious Cropper tomatoes and slices of apple cut through the creaminess of the coconut milk; and a much more astringent ahi poke, a dish of Hawaiian origin that drenched slices of salmon in sesame oil and soy.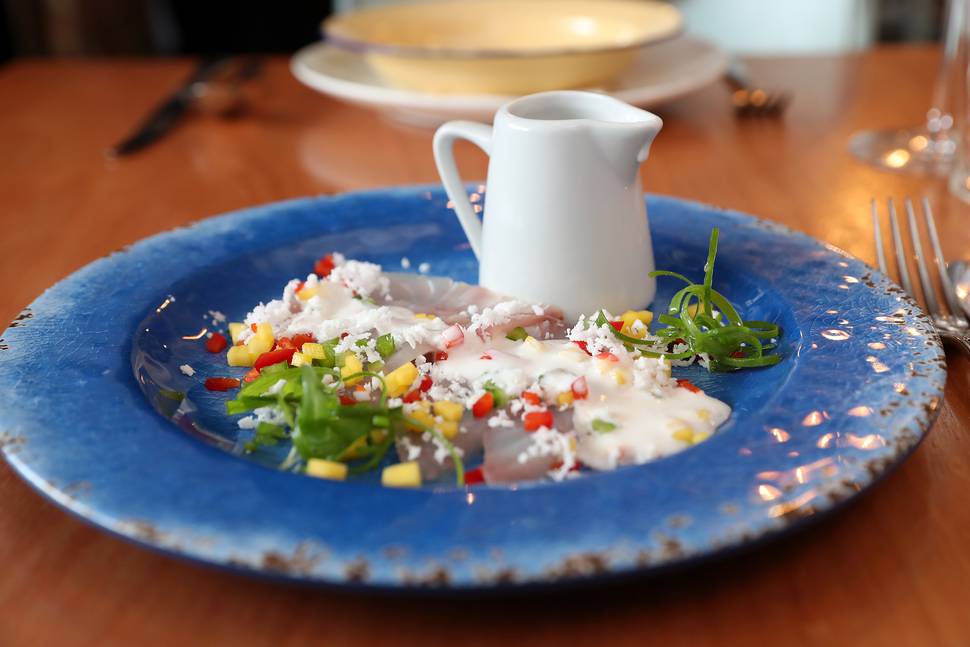 Sipi (sheep) were small and deliciously fatty lamb ribs, an inclusion that seemed slightly ill-judged, reminiscent as it was of the New Zealand mutton flap that has played such a shameful role in the creation of obesity-related disease in the Pacific. In any case, the dish could have done with more accompaniment than a chutney.
But a fist-sized chunk of roasted wahoo was probably the best piece of fish I've ever eaten: encased in a crunchy coating of sesame seeds, it was dense and creamy and the highlight of the evening.
The cholesterol profile of coconut cream may argue against dining here too often - one soup has it 50/50 with blitzed taro leaf - though there's no denying it delivers on flavour. And there was none in a cocoa-flavoured bread-and-butter pudding that achieved an almost mousse-like texture. It's a place you should try soon: after all, there's nothing quite like it anywhere on Earth.
Starters $7-$17; mains $28-$32; sides $7; desserts $12