Short of having generous parents or lottery wins, buying a first home is now well out of many Aucklanders' reach. Emily Winstanley talks to four people who've found alternative ways to put a roof over their heads.
ALIX WHITTAKER
Film producer, 27
Lives with her husband Jordan Dodson, 29, and 6-month-old Willow, in the Candlelit Clubhouse Urban Commune
"We were looking for a place where a bunch of us could live cheaper than in our respective flats. This 13-room place came up on Trade Me, it used to be a rest home. I came and had a look at it with a colleague (at production company Candlelit Pictures) and we were like, "Yup, I think we can make this place work." Then we had a viewing with everyone, and they were like, "Oh my gosh, it's so gross."
It was really grubby, it needed a lot of cleaning, but we decided it was a really good option for us. We took the lease and spent a couple of weeks cleaning it up. We painted it, pulled up the lino and carpet, sanded the floors.
The owner had bought it without even looking at it. He's like, "I'll never put the rent up if you never cause me any trouble," so we just fix things for ourselves if they go wrong.
We moved in three years ago. We will leave when we find our own place to do something similar, but we'll live like this forever.
We've got a waiting list of people who have expressed an interest in living here, so if someone moves out we'll go to our favourite one of those. People usually last a year, year and a half. Most of the people who have left go overseas.
It costs people around $200 a week to live here, including food and bills. We each have our own rooms, plus shared spaces. Whoever wants to cook, cooks, but they always cook for everyone.
Cleaning we have a roster for. Everyone puts in a little bit of money and we pay one person in the house to do a weekly deep clean of all the bathrooms and the kitchen.
Sometimes on a Friday or Saturday night it's like a party. We don't have to throw a party, it's a party here already. And so our neighbours get peeved at us. When we actually do have a party it can be quite loud.
It's so amazing living here with a baby. All of my friends from my antenatal class have hard times with needing to have a shower or something when their partner is at work. It's completely different here, there are heaps of people around, so if I need to do something there's always people around to take care of Willow. All her pals will come say hello to her in the morning. It's awesome.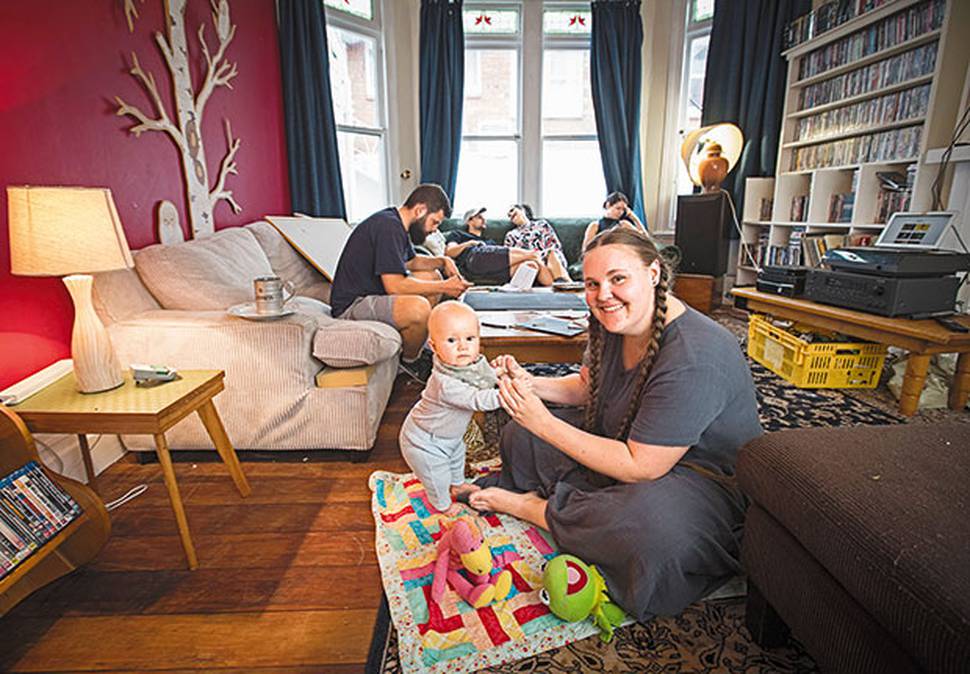 We've all been surprised at how harmonious it is. That's largely because there are so many people, it's hard to hold a grudge, everyone is very mature. There's not a lot of drama-mongering going on.
Because we all make films, being able to wake up in the morning and say, "I've got a new version of my script do you want to come and read it?" and they're right there, makes the work we do so much easier. We've all done a lot more work since being here.
We call it a commune. A lot of people would say, "I never thought I would enjoy living in a place like this, but now I've lived here, I would struggle to live on my own or live in a small flat."
We used to have weekly meetings but in a house this big, it takes three hours. It's a dictatorship that I run, if you have a problem with anything you come to me, and I'll help you sort it out, or tell you to suck it up. I started it, it's my name on the lease, I do all the financials, I order the food, if anything breaks I fix it. I'm the matriarch."
NATALIE SIMPSON
Neonatal ICU nurse, 31
Lives in a house truck with her 12-year-old daughter while waiting for her tiny house
"In 2015, I was living on the North Shore in a big house with a granny flat, and my partner and I were paying about $700 a week in rent.Then we separated and my life flipped upside down. I just decided then and there that I didn't want to rent at all. I'm on a single wage, we just wouldn't have coped. I've been wanting to get into my own home for the longest time, and if I continued renting that was never going to happen.
I bought an 18ft Oxford 1976 caravan with the idea that it would be a stepping stone to something else, but I didn't know what.
I renovated it, and lived there for a few months with my daughter, when I started to learn about tiny houses. I commissioned my own tiny house, and sold the caravan. While my 12-year-old daughter and I wait for it to arrive, we are living in my parents' house truck. It's a 6m x 2.4m wide, fully self-contained mobile home. We were only going to be in it for about two weeks between the caravan and the house, but there have been so many delays that we've ended up being here since January.
There are quite a lot of builders who will build tiny houses, and there're a few different places online where you can get plans. I'm using a company in Christchurch. It has been made completely from my own drawings. They took my designs, and engineered them into something that is structurally sound.
When people think of a tiny house, they're usually surprised when they see it and walk into it. It's quite amazing. You're not hobbling around, having to duck through tiny doors into tiny spaces. It's actually really spacious, light and inviting.
It doesn't plumb into anything, it's completely self-sufficient. It's run through solar energy and gas for the heating and the water. It collects its own rain water, and grey water goes into a separate tank. It's got a composting toilet so it's completely eco-friendly.
I think if the cost of living was cheaper in Auckland I might not have gone down this path but I'm actually really pleased I'm doing this. I feel like my footprint in the world is going to be a lot smaller than it could have been.
Going from a big house to a caravan, I've needed to downscale my belongings substantially. With that in mind, I think in total the tiny house is costing around $80,000, which includes new beds, fridge, all the household things. I'm looking at a two to five-year plan of saving up and finding either a space that I can go into a tiny house community, or buy my own piece of land for it. My options are open.
When I was a child, from the ages of about 7 to 13, my family lived in a house bus, and we travelled the country. There were five of us, six chickens, two cats and a dog. So I suppose alternative living is something that's been in my bones for a really long time.
My daughter was initially pretty embarrassed about living in the caravan, like, "Oh my gosh I can't tell anyone where I live."
My son, who comes alternate weekends, thought it was pretty odd. Me? I'm like yes, I'm so free! I've got no mortgage, no big financial debt, I don't have all these things that are tying me down, except a manageable loan from a family member. I've got so much freedom and financial independence. The caravan was all mine and now the tiny house [will be] all mine too.
Towards the end of 2015, I felt like my whole life got thrown out the window and I started again. This has been me regaining myself and my own independence."
Footnote: The company building Simpson's tiny house has since gone into liquidation. She is currently in negotiations with the company over the ownership of the house.
JENNIFER ADAMS
Designer, 27
Lives in a granny flat with husband Paul, 36, and sons Liam, 4, and Amon, nearly 2, on a block of Totara Park land shared with family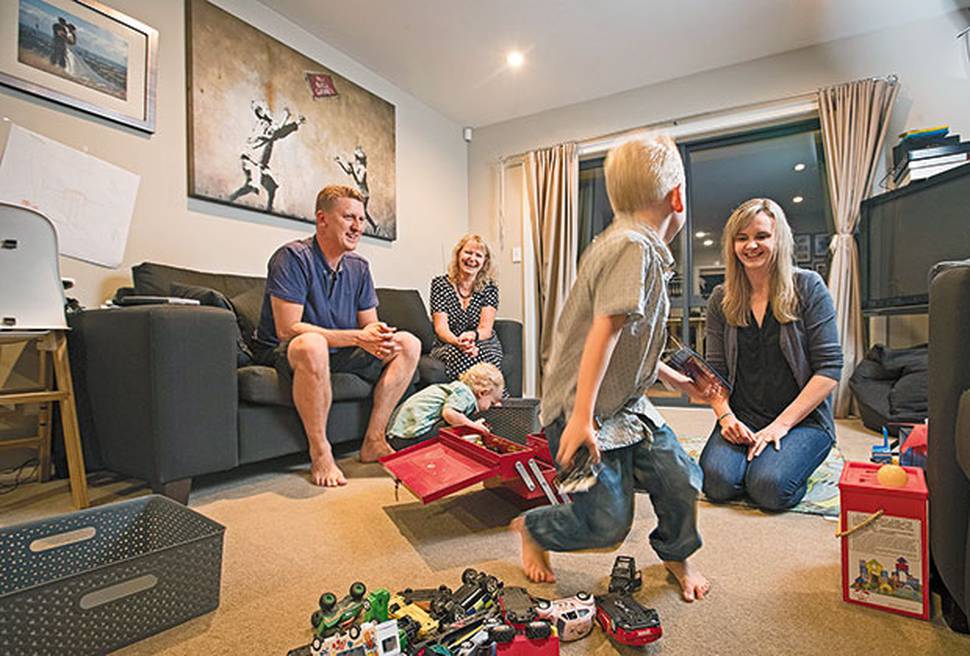 "When we first got back from London, we didn't have a whole lot of money. We needed to live in Auckland because that's where the jobs were, and at the same time my mum wanted to move closer to her work. Turned out we were helping each other out really, because none of us could have afforded to buy a section that large on our own, so we ended up buying two properties on one title, with separate mortgages.
We looked for a while actually. A lot of places that have two dwellings are really close together, you'd be living on top of each other. We were really lucky we found this. It feels like we're just neighbours. Sometimes we can go a week without crossing paths, but living so close is fantastic when you've got small kids. Paul at first wasn't sure how it would work having the in-laws so close, but he's fine with it now.
I like living here because you feel like you're living in the country but you're still close to everything. I only commute two days a week, so it's fine, and my husband works locally. I take the train, it's about one hour, 20 minutes door-to-door, which is quite big really.
There is quite a movement towards smaller houses, and there are advantages, definitely. It takes two seconds to clean, and it stops you buying heaps of stuff. You don't hoard because you got nowhere to put it. But obviously we're going to outgrow it soon. The plan was maybe to swap houses eventually, but not sure if everyone would be ready to do that yet. We couldn't sell them separately because they are one title, and we can't subdivide because of the way it's zoned. If we wanted to leave, we'd have to sell the whole lot. Everything works so well, we don't really want to, apart from the indoor space. Because it's working, we're just going to hold out as long as possible.
A lot of people I've spoken to say they know someone who's doing the same, or their parents are building something with another wing for family, that kind of thing. I really feel like it's getting common.
If you get on well with your family, and it works for everyone, do it. With the property market like it is, you've got to look for other options. It's weird how it's worked out, but it works."
TIM WATTS
34
Bought a house with his best mate
"My girlfriend Lauren and I had been to a few auctions and bid on properties, but kept on missing out. We were just like everybody else, young professionals trying to get into the market. My best friend Grant was looking at units on his own, which he wasn't so keen on. We thought heck, if we could combine the three of us, we'd pass that bracket where everybody was trying to buy, so we got a lot more bang for our buck.
For us it was a way that we could get into an area we wanted to live in - Grey Lynn/Ponsonby. We weren't really ready to shift out to the 'burbs and start that next stage in life. It was basically a flatting scenario still, but rather than paying someone else's mortgage we were paying our own.
Lauren and I bought two-thirds of the house, Grant one-third. We did a three-year property agreement and, at the end of that time, there was an option that either party could buy the other out. Alternatively we would put the house on the market.
We did think about holding it longer, but I suppose we were ready for that next step. Lauren and I had got married during that time, as had Grant. It worked for that period of time, but we were ready to move on.
We didn't really have any issues, yes we were friends, but we treated it properly. We both made sure we got legal advice, put together a proper agreement. No one was in there to screw the other, we both wanted the other one to do well, which we were lucky to do.
We've taken quite different approaches since. For me, I grew up in a rural area so I wanted to get to more of a rural setting, so we purchased land in Matakana. Grant and his wife purchased a house in Sandringham. It allowed us both to get ourselves into the property market. Putting it in finance terms, it allowed us to hedge the market.
If you're going to have to be in Auckland and want to grow your career, you might as well think differently about this. It's frustrating to see people worry about it, and read the paper every week about all the reasons it's so hard to get in. People can bitch and moan about why the market's doing this, but get over it. It isn't ideal, but everyone's got options."