A former Chili's waitress has hit out at the restaurant chain - after claiming she was sexually harassed by her manager for a year - before her co-workers threw a party seemingly celebrating his behaviour after her private complaint about him was made public.
Emily Houser, who is now 18, began working at her local Chili's in Whitehall, Pennsylvania, when she was 16, and claims that her manager Josh Davidson, then 24, began making sexual advances towards her soon after.
Houser alleged to BuzzFeed that Davidson would shower her with gifts and "force" her to go on dates with him by showing up at her house unannounced.
The teen insists that she shrugged off the romantic pressure from Davidson for months, but claims that things unexpectedly escalated about a year ago, when she turned 18.
On her birthday, Houser even claims that Davidson appeared outside her high school and then asked her to be his girlfriend "in front of a bunch of people". Despite what she says was a very clear refusal, however, his pursuit allegedly continued.
Eventually, Houser says, she got her message across to the manager, however she claims that her rebuttal simply caused his affection to turn into verbal, and even physical, abuse which actually took place while they were work.
Houser hoped she could simply brush off Davidson's actions and comments, but ultimately decided to contact Chili's corporate headquarters after she says she noticed Davidson taking an interest in a new underage employee.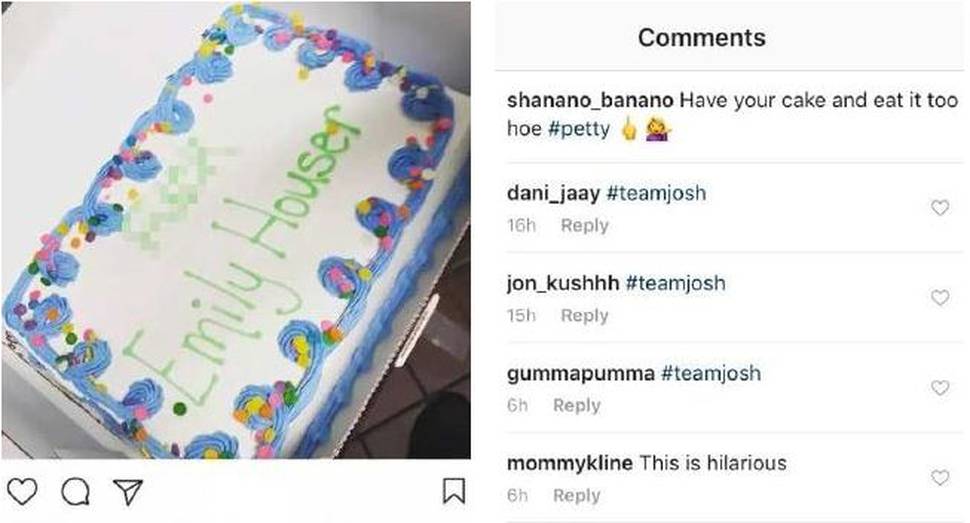 She handed in her two weeks' notice at the same time.
According to Houser, in response to her accusations, Chili's did not immediately fire Davidson, but instead chose to relocate him to another restaurant in Montgomery, Pennsylvania - approximately an hour away - much to Houser's dismay.
She claims that her accusations against her manager, despite being made privately, quickly spread among her fellow Chili's employees - who made it clear that they were on Davidson's side, throwing him a "F**k Emily Houser" party at the restaurant on his last day, complete with a cake bearing the same words.
Houser, who was not present at the time, says she understands many of her co-workers were in attendance, as well as the general manager of the location.
To add insult to injury, images of the cake were then posted on social media, where several of Houser's former colleagues left a series of malicious comments, with some simply posting the hashtag "#teamjosh", while one went as far as to say: "Have your cake and eat it too hoe #petty"
Posting an image of the "F**k Emily Houser" cake - and subsequent social media comments - on her Facebook page, Houser wrote: "This is what you get when you report a grown man for forcing relations on you and manipulating you as a minor for over a year, and you report it, I guess.
"My now-former manager told my former co-workers about these allegations that were meant to stay private they threw a "F**k Emily Houser" party. The world is a heinous, ugly place."
After sharing her story on social media, Chili's posted on its official Twitter feed in response to tweets about the incident stating: "We take this seriously and we do not condone this behaviour.
"As a result the team members involved are no longer with the company."
However, when speaking to Daily Mail Online, a Chili's spokesperson declined to comment on why Davidson was not immediately fired.
Following the incident, Houser says she was left devastated and claims her struggles only continued when she attempted to work with Chili's to resolve the situation.
In a recent tweet aimed at the restaurant, Houser says the company "never returned any phone calls I placed directly after the incident" despite making a public statement about the incident on its Twitter feed.
Chili's has not yet responded to the tweet.
A spokesperson from Chili's added to Daily Mail Online: "When this issue surfaced, our franchise partner conducted a thorough investigation."
It remains unclear which Chili's employees have actually now left the restaurant. However, the Instagram users who posted the photo from Davidson's party are no longer active.
Meanwhile, Houser has been receiving a slew of support and well-wishes on Twitter. Many have even taken to sharing Chili's customer support information and organising calls and emails to express their concern to the company.
Others are flooding the Chili's Instagram account with a "#TeamEmily" hashtag.
Houser herself seems to be remaining positive: posting pictures with her 'big-hearted' boyfriend and saying she took a break from social media.
"I don't want any personal gain from this whatsoever," Houser told Buzzfeed. "I just want the people that were involved to understand what they are doing, and what they did to someone."