Address: 34D Portage Rd, New Lynn
Phone: (09) 826 5454
Open: 7 days, 8am-4pm
Cost: $57.50 for two adults and two pre-schoolers.

SET UP & SITE
Portage Rd is not an especially lovely road, but it does have a good end. Huckleberry is not on it. The cafe is part of a large, green Huckleberry supermarket, its great bulk standing directly alongside the railway tracks at the end of a vast, ugly, wire-encased carpark, surrounded by businesses including a cash-for-scrap place, some garages and a yard with a lot of shipping containers. But when you're funnelled between two buildings, up the protected, astroturf-covered outdoor seating area, and further still into the cafe itself, while it doesn't feel like you're in Mission Bay, it's surprisingly nice, if you don't look back at the carpark.
SUSTENANCE & SWILL
Before it became Huckleberry, this place was called Ethos, part of an organic, vegan-y, sustainable-ish place called East West Organics, and it's still so deep in the changeover process that the menu still says Ethos at the top. It makes for an unsettling read too, starting with two egg-based options, transitioning into burgers (tofu, Thai chicken, beef and mushroom), then returning to eggs. It's a sign of a place that doesn't seem to know what it is: Brunch? Lunch? A full-day hippie picnic spot? Unlike some other emerging health and sustainability-flavoured brunch spots, Huckleberry serves meat, but it is all organic, free-range and ethically sourced.
We ordered the French toast ($16.50) and baked eggs with bacon ($18.50) with a side of hashed potatoes (small $6, large $11). The servings were astonishingly large. The hashed potatoes, for instance, could almost have been a meal in themselves, even though we had only ordered the small version. The food was fine, but more plentiful than wonderful.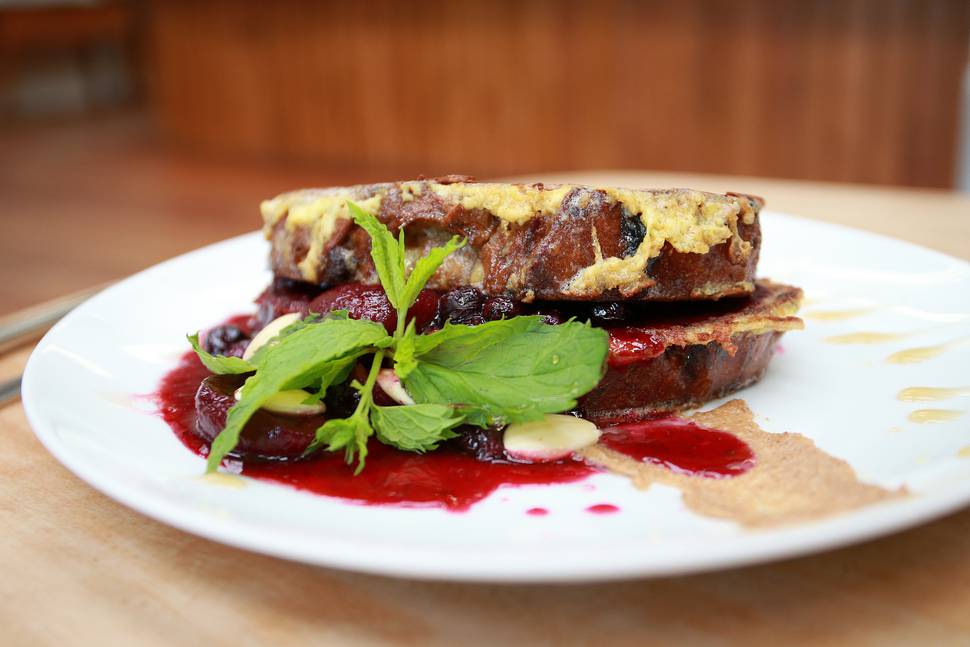 SERVICE & OTHER STUFF
Although it doesn't specifically offer toys, colouring equipment or any other such thing, this is comfortably one of the best places in town for bedraggled parents to bring their unruly pre-schoolers. The amount of space at and around tables, particularly outside, provides room for kids to play and wander without much bothering those around you, and the astroturf is ideal child-padding. If you have small children, add an extra half-point to the score.