For years, Vicki Walsh and her best friend, Maree Morpeth, went running together, meeting most weekends to run the Manawatu Gorge track.
And so when Walsh was diagnosed with terminal cancer and left unable to walk thanks to two strokes, the running partners knew they had to find a way to run together once more.
Last weekend, the 49-year-old friends completed the Round The Bays half marathon in Wellington, crossing the finish line with Walsh in her wheelchair and Morpeth pushing her:
"I was bawling, Maree was bawling. I remember just shouting: 'We did it!'," Walsh told the Daily Mail.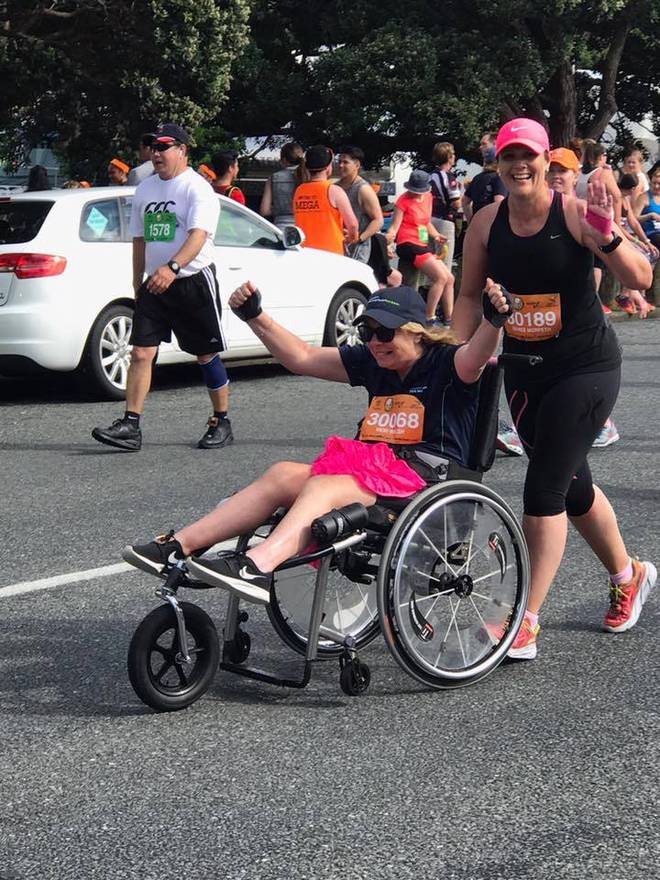 Walsh was diagnosed with glioblastoma multiforme - a form of brain cancer - in 2011.
"I remember the exact lead-up to my diagnosis. I started forgetting things, like while I was driving I would forget how to stop the car, and when I was walking I would forget how to walk.
"I thought nothing of it at first. I was fit and healthy, I didn't smoke or drink. But when I started getting a twitch in my foot and leg, I thought something must be wrong."
When she went to the hospital, and was eventually diagnosed with GBM, Walsh was given just 12-14 months to live:
"I remember being taken into the cancer ward and that was the first time that I realised that the 'mass' on my brain the doctors were talking about was cancer.
"I thought: 'F**k me, I've got cancer."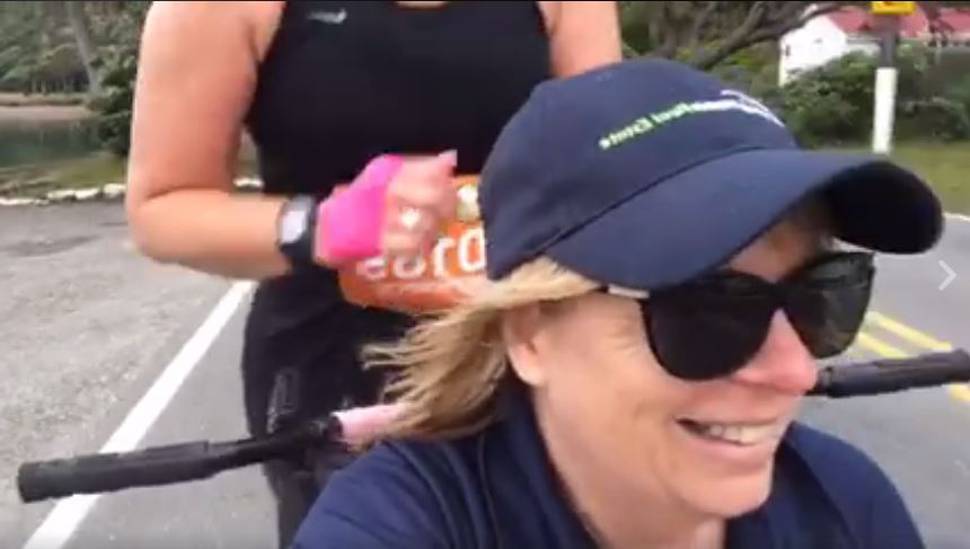 Walsh's weekly runs with her best friend were quickly replaced by bouts of surgery, chemotherapy and radiotherapy.
"It was all a bit of a blur at that point really," she said.
"I doubled in weight from 58 to 99 kilos with the steroids and was in a really bad place."
But she found soon that the best way of coping was acceptance:
"Life is hard. I'm no hero, I don't fight and I still have the things that are important to me, like my partner and friends. The only control I have is to accept my situation."
On the fifth anniversary of her living with cancer, Walsh set up a Facebook page, to both update her followers and friends, and speak to other people who suffer with GBM.
"Around that point, I texted Maree telling her how much I missed running," she said.
"Before I knew it, Maree and her husband had hatched a plan. We would do a half marathon together, and she would push me.
"We only had one proper practice before with the chair, but we had great fun kitting it out with a boom box and a drink holder."
The pair, competing as team 'I'm possible', finished the 21 kilometre run in two hours, and 36 minutes.
"It was awesome," Walsh said.
"Maree deserves all the credit, she's the one that did the running, but I know from running with her in the past that it takes her five kilometres to get into her stride and then she's fine.
"It was the same with the race. As soon as five kilometres had passed we were doing well, the atmosphere was great, and we chatted the entire way through.
"The day couldn't have been more perfect."
Several days later, Walsh confessed she's still wearing her medal:
"I've only just taken it off," she said. "To do this was amazing, as I thought that ship had sailed for me. We now hope to do two other half marathons in Taupo in August and Hamilton in October.
"Everyone needs hope and something to believe in. Hopefully we can inspire others in similar situations to do the same."