Each week Greg Bruce challenges a chef to make him lunch in less than 10 minutes.
Including the recipe's two optional add-ons, Vietnamese mint and tamarind water, there were 26 ingredients in the raw vegetarian pad thai served to me by Megan May at her lovely home in Mt Eden last week.
She was never going to make this dish in 10 minutes, or even 20. When she later forwarded the recipe to me, she brazenly wrote: "Make time: 30 min". It demonstrated an incredible lack of respect for the rules of this particular challenge, which I greatly admired.
As with almost everything of value in this great country of ours, May's raw, organic, vegetarian empire, Little Bird, is built on a maverick streak. Who ever achieved anything great by sticking to the rules? I was so inspired by her disregard for the time limit, of which she never even once acknowledged the existence, that I decided to also completely ignore it.
At one stage, May picked up a short-handled axe and started smashing at the top of a young coconut with potentially amputational force. This one act took a good 10 per cent of her total allocated time.
"We call this the kitchen axe," she said, taking a brief break from the violence. How many axes did she own that she needed to name them by room? And what might - say - the bathroom axe be used for?
She chopped and sliced so many herbs and vegetables that, just by watching, I developed several separate cases of RSI. The temperature outside was in the high 20s, but in Megan May's sunny open plan living / dining / kitchen, it was comfortably in the low 60s. I prayed we would eat soon, but of course we didn't.
She created such an immense pile of food that I wondered if I would be able to eat even half of it, but, as we have already seen, time in the May household is a slippery concept, and in what seemed like seconds I had demolished all of it and was going home in a taxi with a superbly rich Little Bird raw cake and two fine raw cookies.
When I later attempted to describe May's dish to a friend, she said, "The reason Pad Thai is so good is because it's unhealthy and it's made with noodles and that is neither of those things," but the truth was the dish had been so delicious, zingy and fresh, with so many ingredients and such complex, unlikely geometries of taste that it was hard to believe it had been made in just 10 minutes.
Megan May's scores (out of five):
Amount of work: 4
Amount of meat: 0
Amount of disregard for rules: 5
Kitchen axe bonus (Y/N): Y
Recipe: Pad Thai with Coconut Noodles & Spicy Almond & Cashew Sauce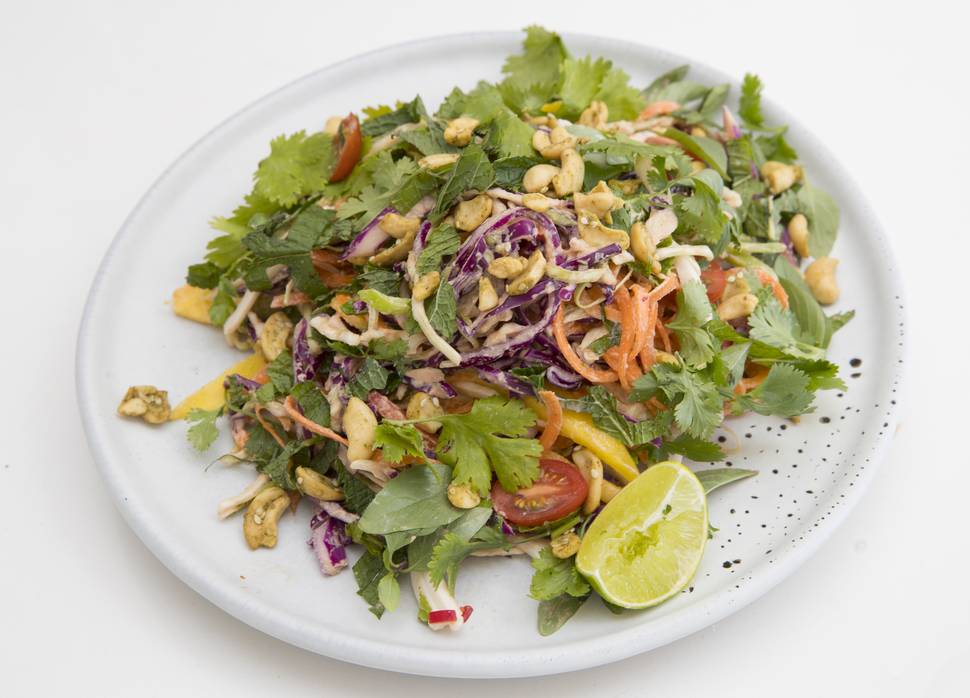 Make time 30 min
Serves 2-3
Pad thai Sauce
3 Tbsp raw almond butter or 1/4 cup almonds (soaked for 12 hours)
1/4 cup cashews (soaked 2 hours)
1 clove garlic, crushed & chopped
1 Tbsp ginger, chopped
1 kaffir lime leaf
4cm piece of fresh lemongrass
1 small chilli pepper, seeds removed & finely chopped (or 1-2 tsp. dried red chilli flakes - depending on how hot your chillies are)
1 ½ Tbsp tamari
4 Tbsp lemon or lime juice
2 Tbsp coconut sugar
1/4 - 1/2 cup water
Pinch of salt
2 Tbsp of tamarind water (optional)
Noodles & vegetables
½ the flesh of a young coconut scooped cleaned and chopped into thin noodles
1 carrot, julienned
½ cup cherry tomatoes, halved
3 cups white cabbage, finely shredded
½ mango, chopped into thin slices
½ cup snow peas julienned
¼ cup snow pea tendrils
1 big handful of fresh coriander, chopped
½ handful of Thai basil
1 tsp Vietnamese mint, finely chopped (optional)
Serve with
4 Tbsp cashews
Fresh chilli, finely chopped, to taste
Fresh lime, chopped into wedges
Method
For the soaked nuts you will need to rinse well before using in a sieve.
In a blender, combine almond butter or almonds with cashews, ginger, garlic, lime leaf, lemongrass, chili, tamari, and lemon or juice. Add 1/4 cup of water and blend well. You may need to add more water (add a little at a time) to get this to a consistency that is similar to mayonnaise. Make sure it is not to runny or the flavours will be watered down and the mixture won't hold on the vegetables.
Scoop and clean the young coconut flesh and slice into thin noodles.
In a large bowl place 2 cups of the finely shredded cabbage and mix with ¼ of the sauce mixture until very well combined. Very lightly fold through the rest of the vegetables, mango and coconut noodles, you don't want to coat everything in the sauce or you will lose all the beautiful colours. Throw the herbs and snow pea tendrils over the top.
Serve the rest of the pad thai sauce on the side for people to add themselves, along with the cashews, finely chopped chilli and a wedge of lime.