An obese Minties addict who ate 4,000 calories of the chewy treat every day, looks unrecognisable after losing 70kgs and her 'flappy' excess skin.
Judith Pallanza, 34, from Camden South, in NSW, Australia, weighed a whopping 150kgs at her heaviest after gorging on sugary treats, including a kilo of Minties every day and huge bowls of cereal.
Frustrated her weight was holding her back, her doctor prescribed her with appetite suppressant and she lost 40kgs in three months.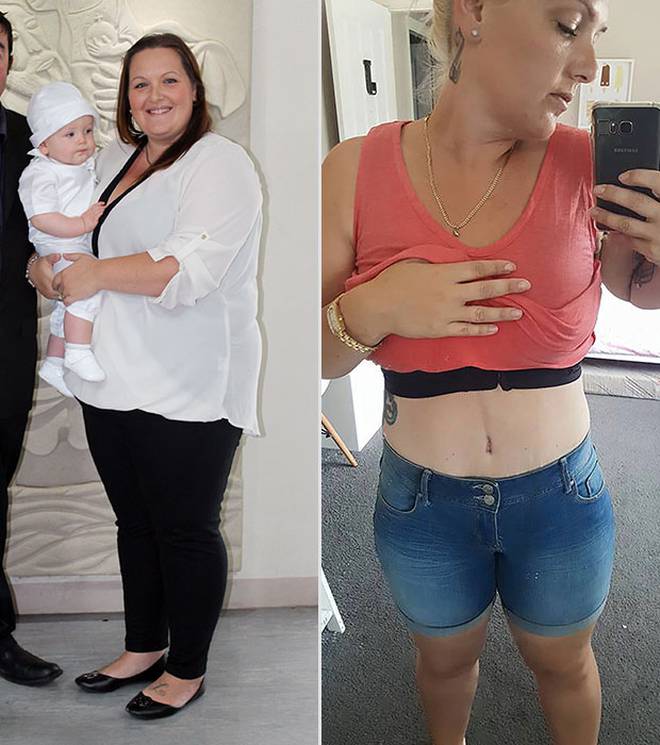 But when the drug was banned for safety reasons, her weight shot back up to 120kgs and she realised she needed to address her mindset.
After undergoing a gastric sleeve operation in 2015, the mum-of-four educated herself on healthy food choices and slimmed down to a size 14.
Despite her incredible transformation, Judith felt tortured by an inner shame after being left with a hideous 'apron' of excess skin that she had to tuck into her knickers.
Now finally, she has the size 12 body of her dreams after splashing out $51,000 on a full body lift and breast implants, and losing almost 5kgs in excess skin.
Judith said: "My whole adult life I have been big and it's always got me down. Especially when I had kids as I struggled to run around after them.
"But I loved the feeling of having food in my mouth. When it wasn't there, I'd feel restless and upset.
"Most days, I'd chew on a huge kilo bag of Minties between meals which had double the amount of calories I was supposed to eat in a day.
"Then I'd make unhealthy food choices, such as eating packets of noodles for dinner and eight Weet-bix and toast for brekkie.
"I tried dieting but was constantly up and down. It was at my heaviest of 150kgs when a photo of me by the beach in Fiji on my honeymoon, made me realise how bad my weight had got.
"I knew I needed help and eventually my doctor suggested surgery. It changed everything, most importantly my mindset."
She added: "After having the gastric sleeve operation, I lost almost 70kgs and changed the way I ate.
"But I was left with this unsightly, flappy apron of skin.
"My once full DD cup breasts were like deflated balloons and I was desperately down and depressed.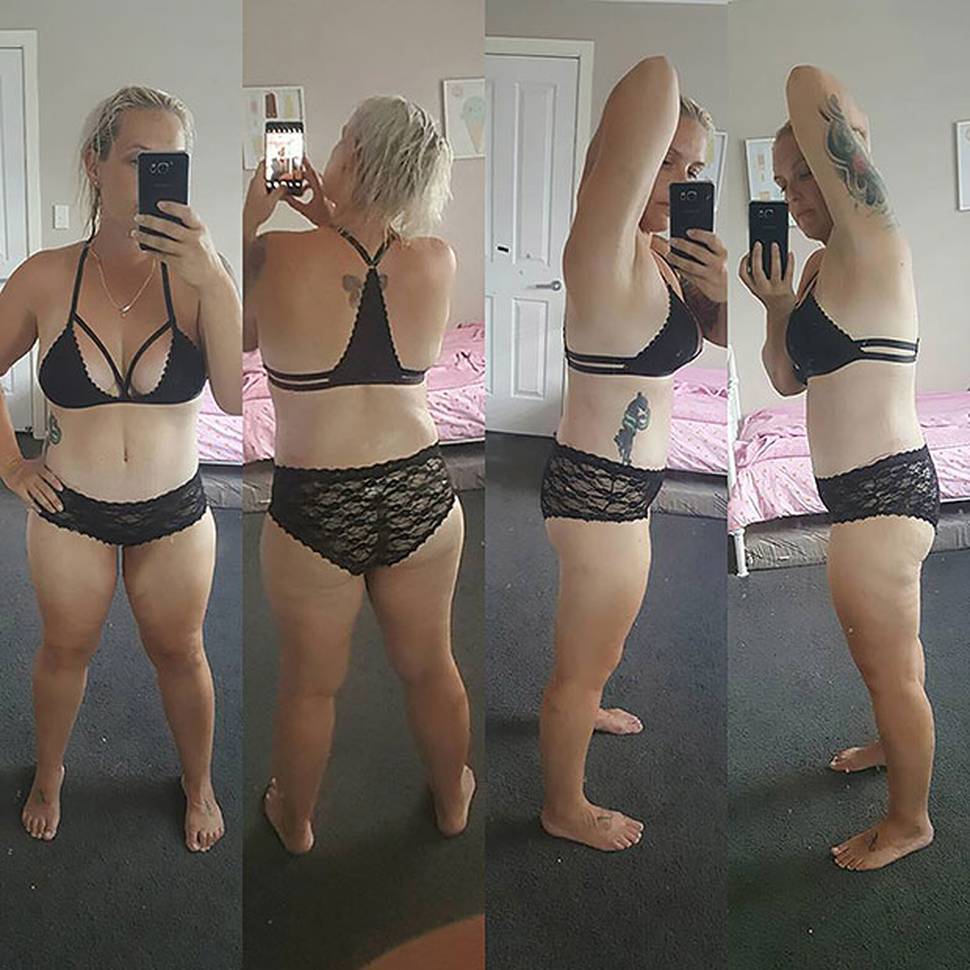 "My now ex-husband saw how badly it was affecting me, and stumped up the $50,000 I needed to have the skin surgery from his super.
"After surgeons cut off my ghastly apron, I had a body I was extremely proud of."
Judith has always battled with her weight, but it was during her second pregnancy, when she was expecting twins, that the weight really piled on.
She said: "I was about 90kgs when I fell pregnant with my eldest daughter, Jasmyn, 14, when I was 20.
"By the time I'd given birth to my twins, Jacinta and Harrison, 10, I'd ballooned up to a huge 120kgs.
"I was wearing baggy size 26 clothes and hated the way I looked. But I had no motivation to do anything about it.
"After the birth of my youngest, Hunter, now three, I got married.
"I didn't bat an eye at waltzing down the aisle wearing a size 28 wedding gown. I was just happy to be getting married.
"But when I saw a photo of me on the beach on honeymoon, I was horrified. I weighed 150kgs and looked like a beach ball."
After returning home, she saw her doctor who prescribed appetite suppressants, Reductil, to kick her sweet tooth.
Judith said: "Once I started taking the medication, I stopped eating all the crap I was usually putting in my mouth, 24/7.
"I was barely eating and managed to lose 40kgs.
"But when the medication was banned for safety reasons, my appetite came rushing back and I piled on the weight again.
"It made me realise that wasn't the way to beat the weight. I needed to tackle it head on."
After her GP referred her to a surgeon for VSG surgery, Judith began to educate herself on the nutritional aspects of food.
She said: "My kids were growing up before my eyes and I wanted to make sure they didn't inherit my terrible food habits.
"After my operation, I completely changed what I was eating and instead had lean meats and vegies.
"Of course, my portions were much smaller too.
"Within a few weeks I was seeing results and it really spurred me on.
"After nine months, I'd dropped to 79kgs. It was amazing to wear a size 14 and I was so proud of myself."
But the rapid weight loss caused Judith to be left with folds of saggy skin that really affected her confidence.
She said: "The skin was awful. It would hang down like an apron and I'd have to tuck it into my knickers.
"I started going to the gym about six months after my surgery, and it made training really difficult as my boobs and belly would wobble and feel uncomfortable every time I moved.
"Eventually, my husband offered to pay the $50,000 to have it removed. I've never been so grateful."
After having almost 5kgs of excess skin removed, Judith has been left with a svelte size 12 body and is happier than ever.
She said: "Without my saggy skin, I feel like I can do anything.
"Exercising is so much more enjoyable and I've been able to buy a pair of jeans for the first time in my life. Life suddenly seems so much more exciting."
She added: "Losing 70kgs has changed my life and I'm so happy I can finally be a good role model for my kids, especially as I've recently split from my husband.
"Best of all, I've finally beaten my addiction to food. I don't think I could ever eat another Mintie again."
- Caters News