"I have got to fight, I can't give up. I'm going to have to do it again."
Leanne Thompson fought for her husband, her family, friends and students at Omokoroa No.1 School each time she battled cancer.
Despite her determination, the 36-year-old passed away last week after spending 10 years fighting the disease which raged through her body.
The bubbly primary school teacher, known for her colourful dress code and orange painted toenails, never gave up hope she would get better, be able to teach and live a normal life.
Born at Thames Hospital on October 3, 1980 she grew up on Hauraki Plains with her parents, Audrey and Allen Sarjant, older brother Dwayne and younger sister Tracy.
Husband Gavin Thompson said he met Leanne at a mutual friend's house in Hamilton in 2000, just before she was to head over to Australia for six months. The pair kept in contact while she was gone and when she returned, he picked her up from the airport.
"We've been together ever since," he told the Bay of Plenty Times.
In 2001 Mrs Thompson enrolled in Waikato University and spent the next three years training to be a teacher.
She taught at Leamington Primary School in Cambridge before getting a job at Omokoroa No.1 School in 2005 at which time the pair moved over to the Bay.
Mrs Thompson was first diagnosed with acute lymphoblastic leukaemia in January 2007. After attacking the cancer with chemotherapy she went into remission. Soon after, the pair flew to Hawaii where Mr Thompson proposed to the love of his life on top of a volcano.
They married in Vanuatu in 2009.
In 2011, she was diagnosed with breast cancer. Again she battled. Two years later, the leukaemia was back. Once again she fought.
In March 2016 they were given the devastating news the cancer was back and there was not much more doctors in New Zealand could do.
Mrs Thompson's response: "That's not good enough, I've too much living to do. We have got to find something."
They discovered immunotherapy drug Blinatumomab (or Blincyto) only offered in Australia, and started fundraising to get her to Melbourne where it was offered.
Friends, family and Omokoroa No.1 School helped raise $43,000 towards the $145,000 needed to help pay for the treatment, granted under compassionate consideration, which would give her more precious time.
After five one-month treatments in Australia they decided the next best course of action for her was another bone marrow transplant.
On January 2, the couple drove to Wellington where Mrs Thompson was admitted to hospital the next day.
After 10 days of conditioning treatment, including multiple doses of chemotherapy, doctors gave Leanne a bone marrow transplant.
Three days later it was discovered she had an infection. She was moved to intensive care. Doctors called a family meeting and said, while there was hope, they were losing her.
On January 21 she passed away with her husband and other loved ones by her side.
Mr Thompson said he and the family were devastated and broken by Mrs Thompson's death.
Mrs Thompson often said she did not want to be defined by her cancer, he said.
"She wanted to be a normal person. She was always so positive about it. Once she had finished treatment, she would say, 'right that's done. I can get on with my life now'. She just wanted to get back to living."
Mr Thompson spent the last few days going through photographs from his wife's journey. He was amazed by the number of images there were of her in hospital - always with a smile on her face.
"She was always smiling, laughing and joking around with people. She would be the one trying to cheer up the people who were unhappy with how sick she was."
He would miss everything about his wife, he said.
"Shy, but funny. A friend to anyone she came in contact with. I don't know how many people would have fallen in love with her over the years.
"She cared so much about the kids at school. She loved looking after children. When she was first diagnosed, it was a week before the school year started and she said 'I don't have time for this, I have to go to school in a week'."
Mr Thompson said his wife fought a brave battle till the end, and she would be sorely missed by her friends and family for the rest of their lives.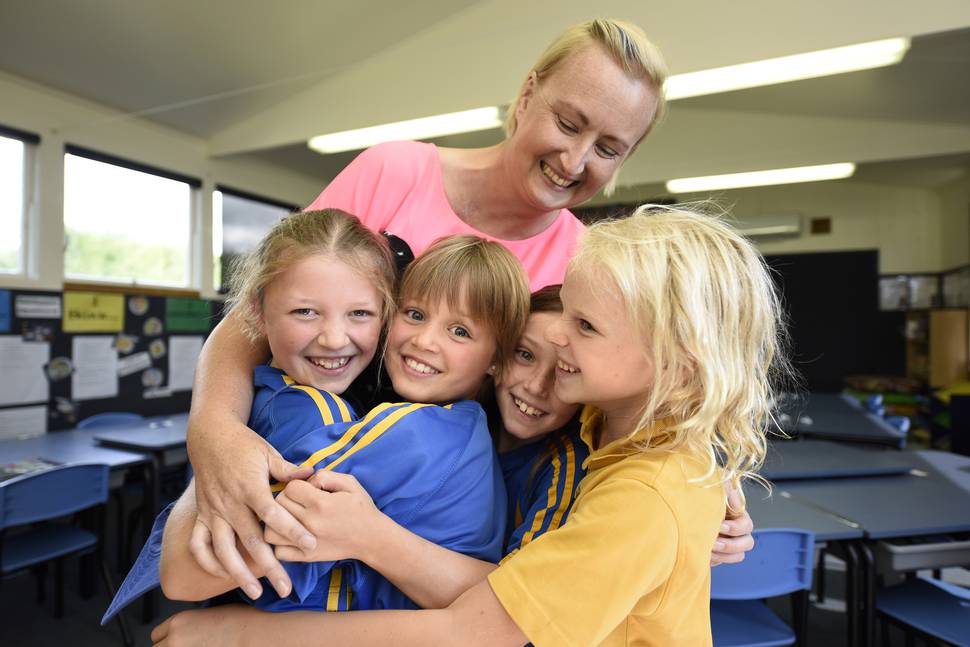 Yesterday, Leanne's family drove from Wellington to Tauranga. a celebration of Leanne's life will be held at Trinity Wharf. Those attending were asked to dress colourfully, paint their toe nails orange and remember the woman they love.