Told he could do whatever he likes on his birthday, little Eddie is determined to spend it raising money for sick kids.
We told our little one that for his fourth birthday we would all take the day off - no work, no kindy, just us - and he'd be able to pick what we did for the day. High tea? Staglands? The Zoo? Looking for penguins at Greta Point? A bush walk? A ride on the cable car? Whatever he wanted - we would try to make it happen.
He asked us about whether we would be collecting again for the "hosdiddle" because he remembered that sometime near his birthday last year he'd stood at the railway station and shaken a little bucket. He had filled the bucket with coins, met some new friends, and given all of the money raised to the Wellington Children's Hospital.
"I want to get moneys again for the sick babies" he said. I flicked an email to the lovely Sara and lined us up for an hour collecting - this year the street appeal actually falls on his birthday.
A week or so later I said - have you decided what you want to do on your birthday? We could go on a ferry if you like? Or maybe to Zealandia? And he said - "I told you! I want to get moneys for the sick babies who getted made better at the hosdiddle!"
Oh OK I said to him - but you only collect for an hour - so we can work that into your day. And he said - "No, that's what I want to do all day! I want to get moneys for all the babies all day for my birthday!"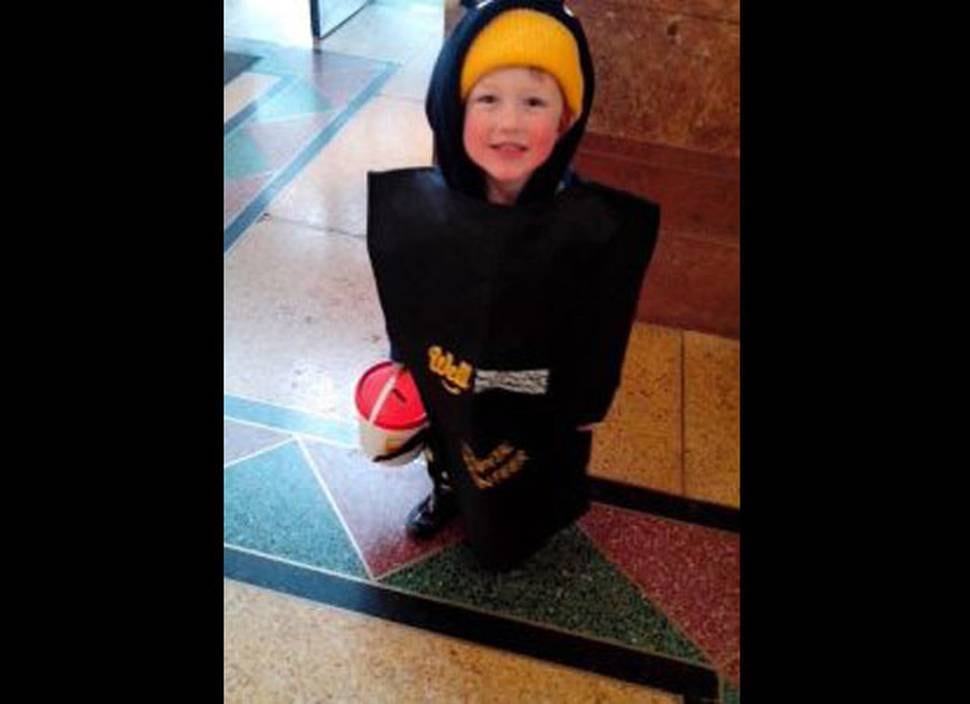 I got a bit teary because it was just so sweet. I mean, gosh. But I thought, does he really want to do this? So I said, "do you just want to see Hospi again? Because we might be able to see him even if you just collect for an hour. You don't have to collect all day to see Hospi."
And he said yes, but then continued on in that stream of consciousness way of talking that three-year-old's have: "an I not only want to see Hospi I want to collect moneys all day because when I was a liddle a couple more years ago I seen Hospi all the time an he maked me ged all better when I couldn't do breaths an I had to be at the hosdiddle. An Hospi maked my baby brother ged all better too. An they maked better the sick babies when they come to the hosdiddle. So I want to get them not jus one whole bucket but six whole buckets of moneys".
I sometimes wonder how much he remembers from his time in the children's hospital. We - my husband and I, our family, and all of the doctors and nurses - worked hard to support him. We tried to help him understand what was happening but he was so, so small. It was so hard to explain what was happening to him during surgeries and tests. We tried. It was ever harder to put him through procedures and wipe the tears away before, during, and after. We all cried so much during that horrible time. But we tried not to do it in front of him. We tried to make the environment a good one for him, and so did the hospital.
Sometimes it's hard to believe we are through the other side, but we are.
And when we hear our precious baby say he wants to collect money for the hospital for his birthday it reminds us that they did more than care for his tiny body. The children's ward is a breathtakingly sad place a lot of the time, but there's so much kindness there. There's so much love, it's overwhelming in its abundance.
Now my baby can breathe, because of the wonderful people at Wellington Children's Hospital. Now he just takes my breath away. And that kindness that enveloped him during his time there has turned him into this beautiful little boy who wants to give back.
How you can help
Eddie and his family will be heading around Wellington on September 30 to fulfil Eddie's little wish to collect six whole buckets for the place that was so gentle with him and his very grateful parents.
If you think your workplace would tolerate a visit from Eddie and his bucket, let me know by emailing emilywritesnz@gmail.com.
Please make sure it's OK with the boss! All funds raised will go to the wonderful folks at the Children's Hospital. We'll also end our day collecting at the railway station so we might see you there!
Or you can make a donation directly to the hospital via Givealittle.
To anyone who donates on the day, whether it be to any of the collectors, directly into Eddie's bucket, or via Givealittle, I want to say thank you! Thanks for supporting my little one and showing him he can make a difference in the world. More importantly, thanks for supporting a wonderful cause. The Children's Hospital staff are just wonderful, amazing people. And we love them.
READ MORE:
• You'd never know my son was so sick
• Hospital days without my son
If you have a little one you think would love to shake a bucket for a great cause you can apply to be a collector for the Children's Hospital here.