Peter Calder goes in search of the most expensive dish in Auckland.
So there I was, exchanging memories of university days with a dermatologist. It may seem foolhardy, but he doesn't charge by the minute: you pay several hundred dollars to walk in the door and the consultation is free.
Anyway, all of a sudden he mentions the "inexpensive" wine that he used to drink at university and I'm thinking, I drank jugs of beer at The Kiwi and what the hell kind of word is "inexpensive"? And it hits me that "inexpensive" is an expensive word for "cheap", which is a word that wealthy people wouldn't be caught dead saying.
In Auckland, there is no shortage of cheap eats - or what a dermatologist would call "inexpensive dining options". But at the surrealistically expensive top-end, the pickings are slim.
For a while, wagyu beef (grade 12+ at Jervois Steak House is $140 for 250g) was the state-of-the-art in excess, but now that you can get wagyu beef in hamburgers, it doesn't have the flavour of the truly decadent.
You'll search hard around town for an Italian restaurant that brings the black truffle to the table for you to shave on to your own pasta, safe in the knowledge that you won't even blink at the bill. If there is beluga caviar on a menu here, I haven't found it.
There is something satisfyingly symmetrical about the fact that Chinese cuisine, which offers the cheapest eats in town (my current favourite is the $6 plate of cold ox tongue at Sunrise Cafe in Khyber Pass) also offers the priciest: the abalone at Jade Dragon, the Chinese fine-dining restaurant in SkyCity. It's listed under seafood, braised in oyster sauce, at a cool $128.
On the page headed "Premium Live Seafood", it offers stir-fried options (with XO sauce or vegetables) at "market price".
It sounds intimidating, but the raw ingredient is not ... inexpensive. Last week, the Auckland Fish Market was selling live abalone, the sea snail we call paua, for $100 a kilo; a single specimen weighs about 500g.
To a native New Zealander, this gastropod mollusc (Haliotis iris, aka blackfoot paua, endemic to New Zealand) is not something you find on a fine-dining menu, or even a plate. A serving - the technical term is "a feed" - is best consumed at a beach barbecue within minutes of being landed and after it's had the bejeezus bashed out of it with a rolling pin.
Some take the view that the best way to eat paua is not to. To each his own. But among the Chinese, abalone is regarded as more than just a delicacy: it's a luxury item, its mystique amplified by reputed aphrodisiac qualities. (There is not a shred of scientific evidence for those, of course, but if you can casually shell out for a few, along with a bottle of good Champagne, you will surely arouse romantic interest in some quarters).
So when Cai Zhi Hua, the head chef at Jade Dragon, agrees to prepare me a feed ... sorry, a dish of abalone, it is hardly surprising that he approaches the task with some reverence.
Among the Chinese, abalone is regarded as more than just a delicacy: it's a luxury item, its mystique amplified by reputed aphrodisiac qualities.

SHARE THIS QUOTE:
The animal he's selected, farmed in Kaikoura, is only moments out of the tank and pulsating slowly on the bench when I arrive. Zhi hooks his fingers under the black mass and levers it from the shell. He has cut away the oyster-coloured gut sac before it has stopped moving.
I look around for the bread bag and rolling pin with which he will effect the tenderising process but he is already taking to it with a pot scrub, removing the film that give paua its distinctive blackness.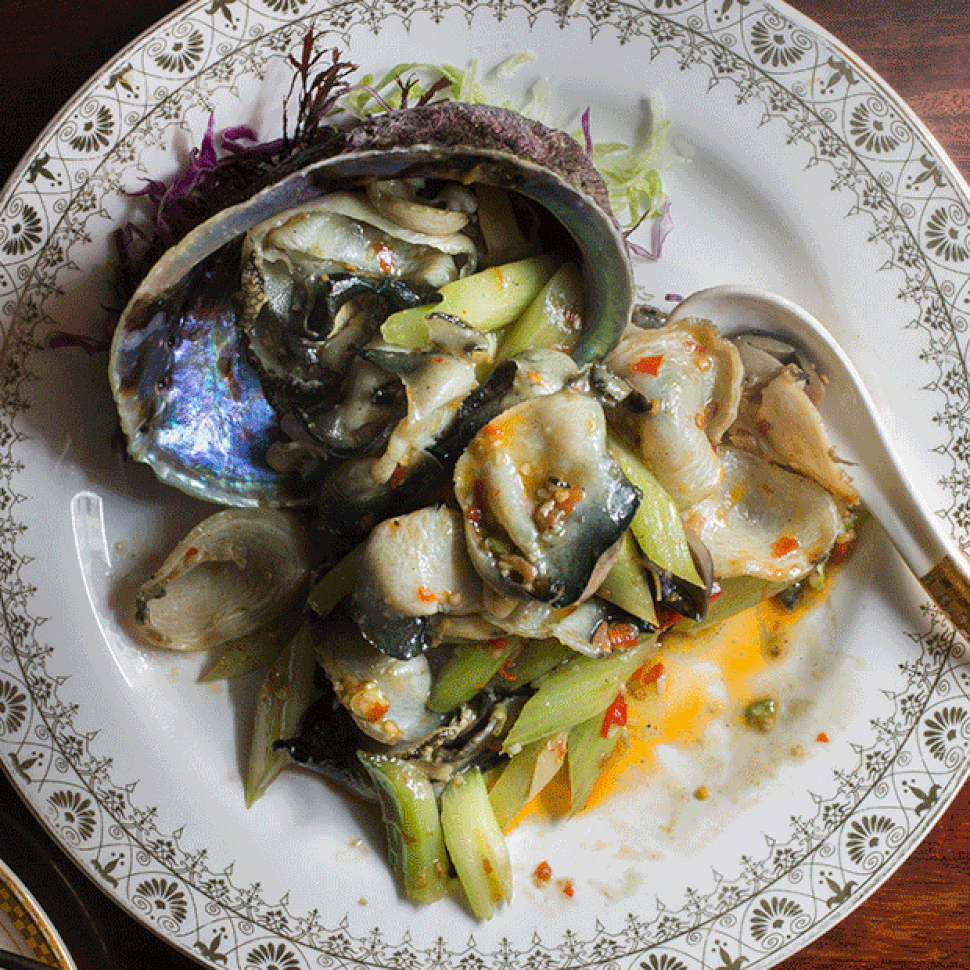 Chinese diners are used to abalone - much of it from Japanese waters - that is smaller and paler, he explains. They are "happy to try" the local version, he says, though you have to assume that their gastronomic adventurousness is not boundless if they need it to be scrubbed clean first.
The paua flesh is the milky grey of mussel meat by the time Zhi lays it on a board and, using a razor-edged cleaver big enough to behead a bull, slices it into parings thin enough to be translucent. He piles the accompaniments into another bowl - celery, carrot, snow pea and that XO sauce (a finely minced mixture of chilli, garlic and dried shrimp, scallop and ham that is the essence of spicy Cantonese food).
The rest is a blur of activity at a wok atop a fuel-injected flame that roars like a 747 engine. The paua and its accompaniments are poached in a raging broth for barely 20 seconds, and flash-fried for less than half that time, before being plated along with the iridescent shell (which diners love to take as a souvenir).
As I eat it, I try to calculate the cost per mouthful or minute (a theoretical exercise only, thanks to SkyCity's generosity) and my mind boggles.
The morsel between my chopsticks is the price of a decent homecooked meal for a family - and I don't want to be rude to the host, but it just doesn't taste like $128.
Perhaps the point of eating the dearest dish in town is to show that you can. Executive chef Paul Hoeps confirms as much when he answers my question about why you would order the abalone: "To impress people," he says.
I remember tales of the Wall St traders in the early 80s who would go to the flashest place in town and order the most expensive dish on the menu and not eat it: that was the point. At least this paua is not getting sent back untouched.