As a designer and mother of four, Victoria Beckham is often touted as a woman who "has it all". But it appears something is missing in the 41-year-old's latest photoshoot for Vogue China.
A new image sweeping the internet has viewers asking where part of Beckham's thigh has gone. According to her followers, it seems the former Spice Girl has fallen victim to a Photoshop fail.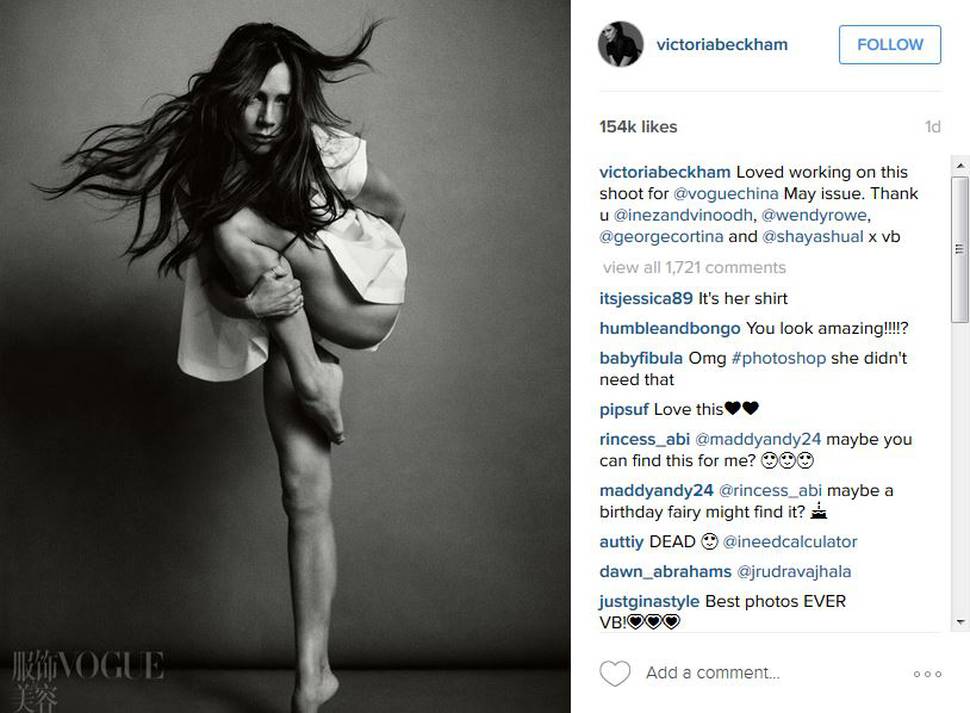 Part of a series of black and white images, the designer is captured in minimal makeup, posing in kooky positions quite different from her usual poker-faced shots in slick, sometimes severe attire.
But the artistry of her new images was lost to many of her 9.8 million Instagram followers, who have pointed out a strange gap where part of Beckham's upper thigh should be.
In the offending image, Beckham balances on one leg, hiking the other up and wrapping an arm around it as she leans into the lens.
Seemingly oblivious to the error in the image, the 41-year-old posted: "Loved working on this shoot for @voguechina May issue.
"Thank u [sic] @inezandvinoodh, @wendyrowe, @georgecortina and @shayashual x vb."
Fans were quick to highlight the error, with Taylor_morcom, writing: "The pic when she is holding her leg the thigh of her back leg is missing".
Others posted "Bad photoshop" and "Photoshop fail".
But friends of the star disputed the claims. @Estmanning wrote: "Stunning!! Someone said the thigh of her back leg is missing but it's just her shirt."
Similarly, @Josephinekent84, wrote: "Her leg has been 'cut out' she hasn't it's the shorts coming underneath and between her legs."
Since leaving pop group the Spice Girls, Beckham has turned her attention to fashion and has recently opened a boutique in Hong Kong, her first in Asia.
- nzherald.co.nz