Address: 5 Akiraho St, Mt Eden.
Phone: (09) 638 6191
Rating out of 10: Food: 6.5, Service: 6, Value: 8, Ambience: 8
Michael Pollan, the food writer who famously made us think harder about where our dinner comes from, has this to say about pig flesh: "With enough smoke, time and maybe a little barbecue sauce, you can redeem any kind of pork."
At Brothers Juke Joint BBQ, four of us had ordered the pulled pork. Four of us said we would never do that again.
The meat was a nest of stringy fibres soaked in a sauce that was just too sweet. It lacked bite, fat and - crucially - the taste of pork. Fortunately, for the sake of filling this page and saying some nice things about a place that won't cost you an arm or a leg and has an interesting, worth-visiting-at-least-once vibe, we were greedy, er, pigs. We kept eating.
At Juke Joint, you tick the boxes on a pre-printed form. You present it at a serving counter, where your food is sliced and slopped to order on metal trays lined with brown paper. It's not fancy, and with just one meat-slicing man on duty, it took a while, because we had ticked every box we could find.
Begin with sandwiches or "naked meat" ordered by the 100g. The protein is available until it's not. At 7.15pm on a Thursday that meant no chicken, only 30g of beef rib, and just one portion of mutton (I could have eaten an entire tray of the latter - rich, smoky and redolent of the best childhood hangi).
The beef rib and brisket was good; the pastrami thick-cut, deliciously burnt on its fatty, nubby ends and, along with the sausage, made the "would order again" list. The cheapest option, $7 pork rib, was dry and too fiery-hot to bring out the best in the meat. Juke Joint promises "authentic American BBQ cuisine", but to really deliver, it's going to need to lift its hog game.
American barbecue purists quibble about the role of sauce, but we had ordered them all - $1.50 each and ranging from kimchi to white (traditionally, a mix of mayonnaise, vinegar and horseradish) to espresso. The latter showed promise but ultimately over-delivered on the coffee. If the evening had a theme that was it: too much flavour. An odd criticism perhaps, but we wanted to taste meat and method - smoke and slow heat - not sugar and brushed-on trickery.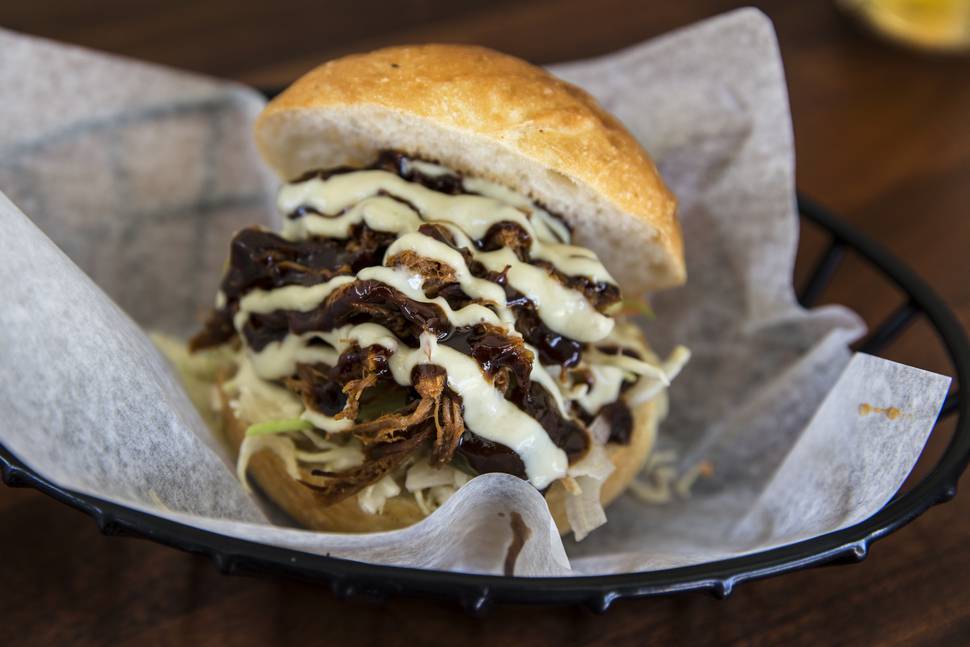 Juke Joint is an eatery inside a brewery. The vibe is upmarket student flat (recycled wooden tables, couches circa 1970) and it's cavernous enough that you can be quite loud without annoying a dining neighbour. (The actual neighbours are a different story - we sat outside after dinner, but only until 9.30pm, when noise restrictions kicked in).
When at Brothers Brewery, drink Brothers Beer. We did, and we thought this would be a good place to bring a hangover: tick boxes, eat meat, no small talk required. Also, macaroni cheese and collard greens. There was nothing fancy about the pasta (perfect) and plenty of pork taste (finally!) in the latter. Meat is the obvious attraction at a barbecue joint, but make room for this pair of southern comfort side dishes ($10 for a large and $6 small). The others? Sauerkraut and a citrus-dressed green salad were refreshing, but a $2 dill pickle was too soft to be taken seriously. Tater tots were, surely, packet-bought pom poms by any other name - though who doesn't love fried potato?
For a nation that loves to burn meat on the weekends, it's a surprise that Southern American-style barbecue, with its spice rubs and enclosed cookers, has taken so long to get a foothold here. Juke Joint is not the perfect specimen, but it's a good start.
The bill: $152 for meat and sides for four, plus five beers, a cider and a glass of wine.
The verdict: Beer and meat in a cool, cavernous eatery that draws on Southern American BBQ's best principles: maximum flavour, minimum frills.