First he drove the internet mad trying to find a panda among a group of snowmen, then he challenged you to pick out a cat blended into rows of owls.
Now Hungarian cartoonist Gergely Dudas is back with an Easter-themed puzzle that involves an egg cleverly disguised alongside a group of bunnies.
(Scroll down for reveal)

Since being posted to his Facebook page on Friday morning the image has been liked almost 4,000 times while another 2,000 people have shared it among their friends.
As it typical with his drawings the cartoonist, who goes by the name of Dudolf, has thrown in a few red herrings to keep those trying to solve the puzzle distracted.
One of the rabbits wears a top hat, two others hold a tin of paint while a fourth munches on a carrot, drawing the eye away from the real prize - the elusive egg.
The peach-colored egg is actually located towards the left hand edge of the drawing, two rows up from the bottom, hiding behind a white rabbit's head.
Jan Josleyn wrote: 'I am always very good at these but ... I sure can't say that NOW. this one almost got the best of me!'
Meanwhile Peggy Prawdzik praised the artist, saying: 'Dudolf - You're the smile this world needs. Thanks for your posts!'
However, others were not so impressed. Calvin Sie wrote: 'Ah I noticed the egg, but I wasn't sure whether it was the egg or just a bunny with a round belly-fur.'
Cherie Chione Miller added: 'If that's the egg above the white bunny's head, that is a poor excuse of an egg!'
Dudolf first found fame in December last year with his drawing of a crowd of snowmen with a panda hiding in their midst that was shared hundreds of thousands of times.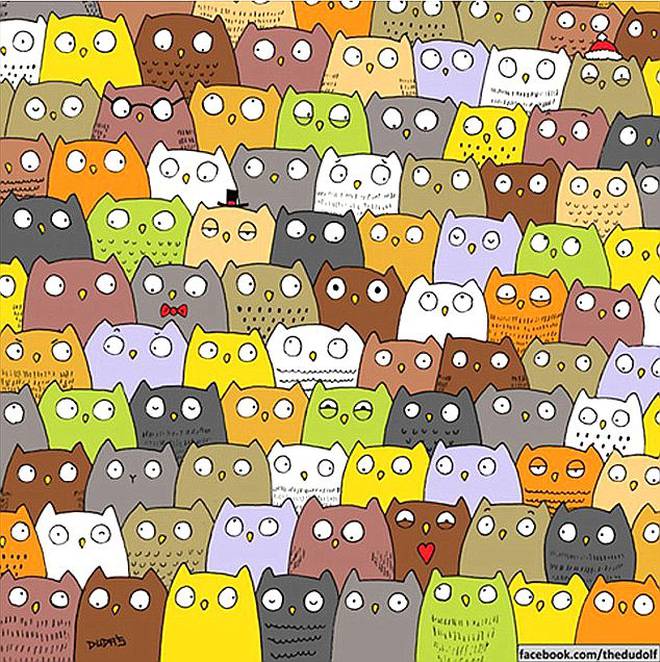 The Where's Waldo-style cartoon was quickly followed up by another featuring cats and owls, before several imitators added their contributions.
Reddit user Oneste stuck with the panda theme, but this time drew the fuzzy creature hiding among a group of Stormtroopers to mark the release of Star Wars: The Force Awakens.
- Daily Mail