Nothing beats a salad made of ingredients you have grown yourself.
The weather has been a bit all over the show here in Maketu this month. From scorching hot days to wind and rain, it has definitely kept us on our toes. It does make you appreciate the days that are nice and sunny and we always make the most of them. The rain has been great for our vegetable garden and the bounty of produce means our table has been full with sweet summer fruit and veges.
We are the kind of cooks who love to create recipes on the go, using whatever is at hand and in season, and coming up with new and inventive ways to use the fruit and vegetables from the garden is one of our favourite spare-time activities. During summer, we like to make sure our dishes are fresh, light and as quick and easy as possible. Produce this good doesn't need to be messed with for it to sing.
Recipes:
Courgette noodles
Serves 4
It is one of the best parts of our year when the happy yellow courgette flowers start to appear. For this recipe we used a special peeler (readily available in most kitchen stores) to make courgette noodles. We blanched them in hot water and we have to say, our family is now hooked. The noodles are a great substitute for pasta if you want to make a gluten-free spaghetti bolognese. This salad makes a great light lunch.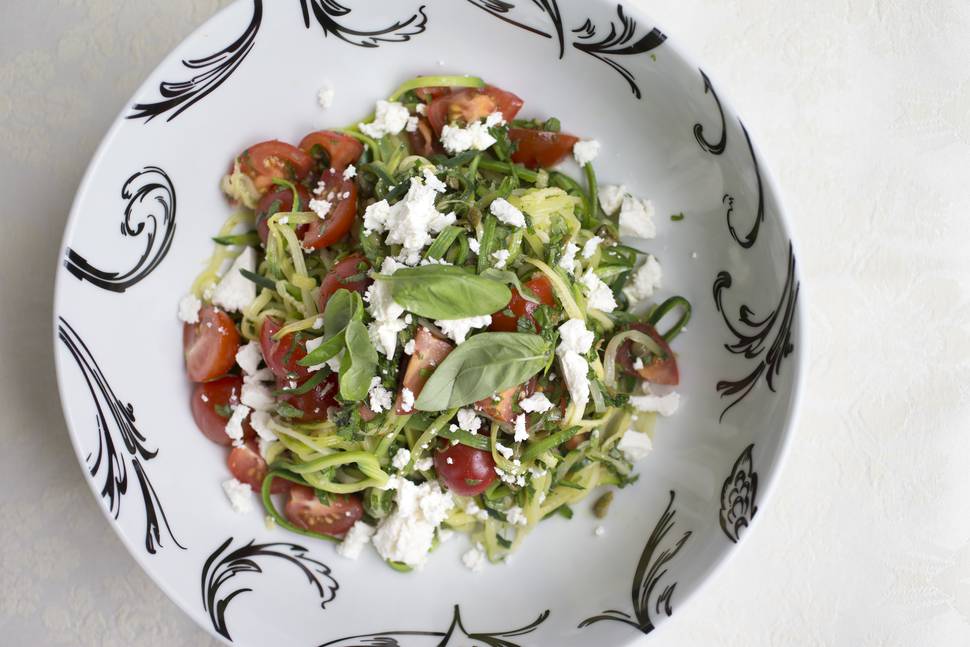 3 courgettes
1 punnet cherry tomatoes, halved
½ cup pesto
¼ cup feta, crumbled
¼ cup basil leaves (smaller leaves are better for this)
1 Bring a generously salted pot of water to the boil.
2 In the meantime, peel the courgettes with a julienne peeler and prepare a bowl of iced water to place the courgettes in after they are cooked. Place the courgettes in boiling water and cook for two minutes. Strain and place straight in the ice bath to stop the cooking process.
3 Strain the courgette noodles and place in a bowl. Stir through the cherry tomatoes and pesto, sprinkle the feta, and season to taste. Garnish with basil leaves to serve.
Lamb and pita salad
Serves 4
This is something we created when we had planned to have lamb pita pockets but unexpected whanau arrived for lunch so we had to feed a few more mouths. We toasted the garlic pita pockets and cut them into small pieces to act as croutons for a fresh green salad. We also cut the barbecued lamb into bite-sized peices. We dressed it with our yoghurt and mint dressing and patted ourselves on the back.
2 pita pockets
Olive oil
2 lamb steaks
½ tsp paprika
½ tsp cumin
½ cup yoghurt
½ clove garlic, minced
4 mint leaves, thinly sliced
Zest of 1 lemon
1 packet rocket
¼ red onion, finely sliced
1 Cut the pita pocket in to wedges. Brush with olive oil and grill in the oven until crisp. Remove from oven and season with salt.
2 Coat the lamb steaks in the paprika and cumin and season well. Heat a pan on a high heat and sear for 3 minutes on each side or until cooked pink in the middle.
3 Mix the yoghurt, garlic, mint and lemon zest and season to taste.
4 Cut the pita and lamb into bite-sized pieces and mix together with the rocket and onion. Drizzle over the yoghurt dressing.
Macerated berries with yoghurt cream
Serves 4
Berries are a staple on our menu in the summer months. There is rarely a day that goes by without having at least a few of nature's sweet treats. Whether it's with yoghurt in the morning, in a smoothie for lunch or in this simple dessert which we have at least once a week, mainly because it is so simple and doesn't leave you feeling guilty.
Assorted seasonal berries (enough to fill 4 glasses or small dessert plates)
1 Tbsp icing sugar
1 Tbsp Chambord (or other liqueur)
2 tsp vanilla extract
½ cup cream, whipped
½ cup strawberry yoghurt
Chopped nuts, to garnish
1 Mix together the berries, icing sugar, Chambord and vanilla extract. Leave in the fridge for at least an hour.
2 Fold together the whipped cream and strawberry yoghurt.
3 Spoon the berries between 4 dessert glasses or plates and top with the yoghurt and cream mixture. Garnish with chopped nuts.