Ricardo Simich, Spy editor
Best: Kate Bosworth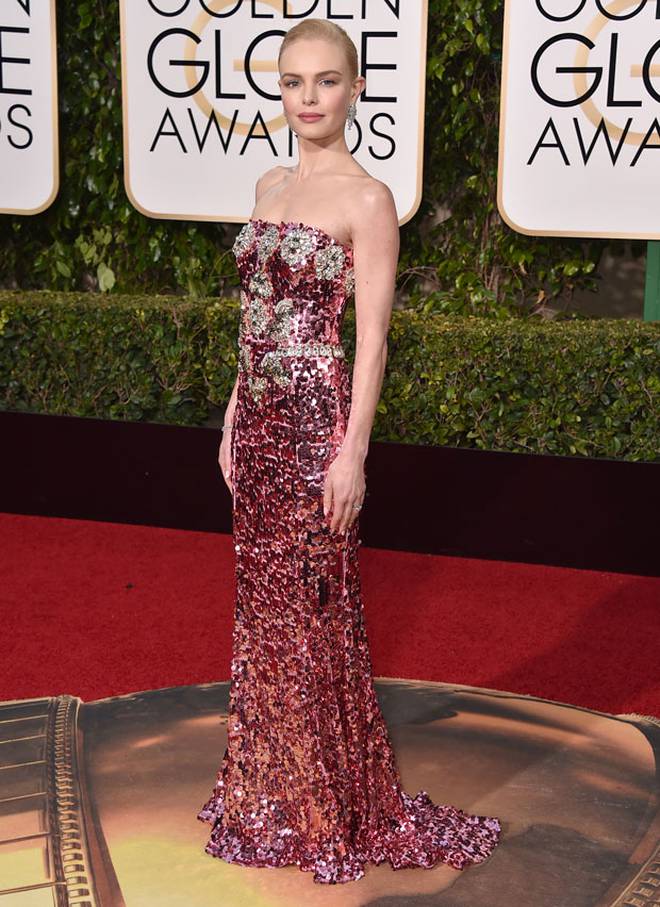 Wearing Dolce and Gabbana, it was love at first sight when I saw the back of the dress on social media, a river of pink sequins going into a train. Front on, the dress didn't photograph as well with silver rose details on the bust, but it wasn't enough to take anything away from the blonde belle of the ball.
More from Spy:
• Lorde's heartfelt tribute to Bowie
• The Bachelor's summer of love rolls on
Worst: Cate Blanchett
The best-dressed woman in Hollywood became my worst on the Globes carpet. An avant-garde hairdo was just plain wrong, mixed with a dusky pink Givenchy gown that was a fringe mess.
Megan Sellers, ZM breakfast host:
Best: Olivia Wilde
I know this may seem like a boring choice, but maroon is my favourite colour and who can resist sequins on the red carpet? This wet-look, sequinned Michael Kors beauty looked stunning on Olivia. I loved her beach waves, which were tied into a loose ponytail. Everything was on point. It was just a shame about hubby Jason Sudeikis' shoes ... Dude! Not on the red carpet.
Worst: Emilia Clarke
Emilia could have taken anything from Daenerys Targaryen's wardrobe on Game of Thrones and looked better than this. Who doesn't love this woman, but this dress does her zero justice. This black lace Valentino gown, equipped with an on trend cape was creepy. The high neck with buttons all the way up was such an odd choice. Maybe removing the cape would have helped, but I didn't dig this Addams Family get-up at all.
Rosie Kelway, Viva fashion writer
Best: Alicia Vikander
Swedish actress Alicia Vikander wowed on the red carpet in a white, frilly, pleated, sequin apron Louis Vuitton dress. The Golden Globe double-nominated actress has become a prominent fixture on best-dressed lists recently and it's obvious to see why.
Worst: Melissa McCarthy
You have to take your hat off to Melissa McCarthy, she has lost more than 20kg in the past year and showed off her new figure in a floor-length, inky metallic panne velvet dress which, believe it or not, she designed herself. The dress was supposed to channel Studio 54 and resemble a kimono dress, however it looks a little more wizard costume crossed with a bathrobe to me.