What do you do when you're short on time and cash but you've got a family to feed?
An increasing number of Kiwis, such as 33-year-old sales assistant Jennifer Park from Auckland's North Shore, grab a meal from the local takeaway.
According to food historian Tony Simpson, the first fish-and-chip takeaway opened in New Zealand before World War 1.
The "northern England working-class meal" of deep-fried battered fish and potato chips became a firm favourite of New Zealanders and is the nation's preferred takeaway, a Te Ara report said.
Traditionally, Friday night was fish-and-chips night, especially for Catholics, who until 1965 were prohibited from eating meat on Fridays, and this was enthusiastically embraced by most New Zealanders, said Massey University sociologist Paul Spoonley.
"Fish-and-chip shops were often owned or run by immigrants, notably Croatian, Greek or Chinese," Professor Spoonley said.
The takeaway scene has been totally transformed by recent migration, especially by Asians who bought fish-and-chip shops and food businesses and introduced cuisines from their countries of origin.
"The food scene, in terms of products and ownership has changed dramatically, takeaway businesses are ideal starter businesses for immigrants," he said.
"There are some interesting cross-overs, as Cambodians are in bakeries and they feature in terms of the best pie contests. Koreans are largely responsible for sushi while Thai options are everywhere."
Professor Spoonley said he has sushi takeaways between three and four times a week and Thai or Japanese takeaways on Friday nights.
"It is still fish, and sometimes battered as in tempura, but with wasabi and pickled ginger."
A survey by transtasman takeaway company Menulog found more than half of Kiwis turned to takeaways rather than cooking at home, and a third thought takeaways were the cheaper option.
Menulog asked 435 New Zealanders for its survey, which also revealed 68 per cent ordered takeaways at least once a week and more than half spent up to $50 a week on them.
On the day the Herald spoke to Mrs Park outside Ocean Avenue Takeaways in Forrest Hill, she had ordered two $7.50 set meals of two pieces of fish, a sausage and chips.
"I buy takeaways because it is easy on the wallet and I can feed the family for $15," said Mrs Park, who is a married mother of two young boys.
"Not having to cook also means I save on time, and there's a saying that time is money."
Otara grandmother Hope Aiono, 68, said a family favourite was ulu pua'a, a Samoan pig head dish, which was available at some South Auckland takeaways for about $10 a head. "Unlike back in the Islands, New Zealand lifestyle is way more busy because all of us have to work to help pay the bills because things are way more expensive here," she said.
"We don't have the luxury of time so it's good that we can pop out to the takeaway to get the food we like at an affordable price."
Menulog spokeswoman Julia Snabl said: "There is a growing demand for takeaways as consumers are very conscious of their household budget and the expense of cooking home meals."
The meals have been thrown into the spotlight with the company's search for New Zealand's best takeaways for its annual Tasty Takeaway Awards.
Customers have until Wednesday to log on to menulog.co.nz to select from 500 participating outlets and vote for their favourite Kiwi takeaway.
They include a Nepalese takeaway that serves traditional dumplings, a Chinese restaurant that specialises in hot spicy pork intestines and an Ethiopian outlet that serves doro wot or chicken and hard boiled eggs in curry with berbere and kibbeh.
University of Auckland Asian studies lecturer Changzoo Song said businesses had to diversify their menus to cater to the taste of an ever increasing ethnically diverse customer base.
"Koreans and other Asians in general would not eat fish and chips too often and to attract them, as well as middle-income locals, they have to diversify their menus," Dr Song said.
"The Korean, Chinese and other Asian business owners have been changing the traditional fish-and- chips menu by adding their own 'fast food' items."
It is now quite common to find sushi and tongdak (Korean seasoned fried chicken) at Korean-owned takeaways and spring rolls at those operated by Thai or Chinese.
Many takeaways, including fish- and-chip shops, have introduced healthier options on the menu - including grilled rather than fried fish and sashimi, or raw fish.
A nationwide survey commissioned by American Express found nearly seven in 10 eat out at least once a month, and one in three did so weekly.
In 2013, a survey by health insurer Southern Cross found people in Auckland ate more takeaways than those from anywhere else in the country.
Mt Everest Kitchen
571 Blockhouse Bay Rd, Blockhouse Bay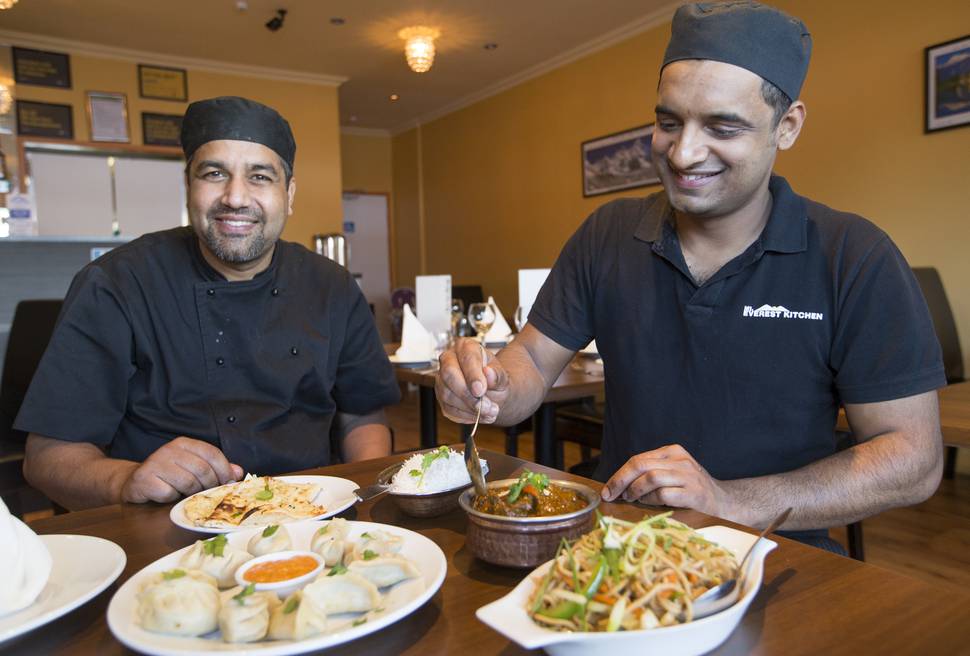 The chef and co-owner of Mt Everest Kitchen Anil Pant says customers refer to the Nepalese cuisine he serves as "Edmund Hillary food".
The 42-year-old said the late New Zealand mountaineer, who together with Nepalese Sherpa Tenzing Norgay became the first climbers to reach the summit of Mt Everest, had put Nepal on the map for Kiwis.
The Blockhouse Bay restaurant and takeaway serves Indian and Nepalese cuisine, but most customers who go there for Indian would also add Nepalese dishes to their orders.
"Edmund Hillary made Nepal famous and many customers come and order at least one or two Nepalese food because they are curious," said Mr Pant, who moved to Auckland 12 years ago.
Much of Nepalese and Himalayan cuisine is influenced culturally by Tibet and India.
One of the most popular foods is momo - Tibetan style dumplings with Nepalese spices - which is also a very popular add-on takeaway dish.
Its Nepalese goat curry, cooked with Nepali spices, ginger and garlic, served on the bone, is also another popular alternative to Indian curries to have with naan or roti.
Co-owner Dilleswar Pangyani, 33, said Nepalese believed that cooking meat on bones makes the dishes "sweeter".
"More Kiwis can accept food now that is authentic and not cooked to European taste," Mr Pangyani said.
Mt Everest Kitchen is among the 500 takeaways competing for Menulog's Tasty Takeaway Awards.
Oceanz Seafood
Auckland Fishmarket, Cnr Jellicoe and Daldy Sts, Westhaven
When Frank Jung, 47, took over the Oceanz Seafood fish and chips outlet at the Auckland Fishmarket his first thought was to expand the menu.
Over three years, dishes that have been added to deep-fried battered fish and chips are grilled alternatives and Asian seafood favourites such as sashimi (raw fish), crayfish, live oysters and unagi (eel).
Mr Jung even imports and retails "mini melts" - a speciality Korean ice cream - which he says is very popular in the summer months. "Our customers range from tourists, business people and international students to locals buying takeaway dinners, we must have something that caters to everyone," said Mr Jung, a migrant from South Korea.
"People say fish and chips is traditional Kiwi food, but what I think the demand many of our customers have is for New Zealand seafood prepared in different styles."
Mr Jung said he had seen a marked improvement in business after introducing the new options, and now one in three customers bought something other than fish and chips from his outlet.
Grilled fish is becoming almost as popular as the fried, battered version.
"Many are becoming more health conscious, so if we kept to just the deep-fried food then we will be driving a lot of customers away," he said.
Mr Jung said he monitors customer demand and feedback, and wasn't ruling out expanding his menu even more in the future.