Positive outlook helps young woman to embrace life in face of adversity and make the best of every day.
An Auckland teen living with the side-effects of a brain tumour has been chosen as the face of hope by a cancer charity.
Eilish Wilkes, 19, is one of eight teenagers who have teamed with local celebrities in this year's CanTeen fundraiser to share the message about what living with cancer is really like.
Each pair wear bandannas with words printed on them - including hope, resilience and love.
Teaming with celebrity chef Nadia Lim in a video about her life, Eilish tells how years of treatment for optic and hypothalamic glioma cancer have kept her away from school and made her feel isolated from people her own age.
She has side-effects - including blindness - but said CanTeen helped her embrace life and become more independent. Her determined outlook made her a perfect candidate to talk about hope.
"Hope has always been a huge part of who I am," Eilish says. "Without hope I wouldn't be here.
"It means a lot of different things to me - never giving up, always willing to give something a go, trying your best and making the best of every single day. I believe we are here for a purpose. Our time on Earth is just a small part of our journey."
With a new guide dog, and plans to study at university next year, Eilish says she is positive about her future. However, she wants to show that for many cancer survivors, life doesn't just go on after treatment ends.
Like Eilish, many are left with ongoing medical problems. In the case of other CanTeen members, they may have lost a sibling or parent.
Eilish wants to share the message, however, that something bright is always around the corner.
Ms Lim said she was inspired to join forces with CanTeen because she was in awe of how courageous and determined some of the young adults with cancer were.
"[Eilish] is one of the most determined young women I've ever met. She embodies hope," she said.
As well as highlighting the young people's personal struggles, CanTeen wants this year to raise awareness of those who are coping with their parents' cancer,
The charity says there are at least 2000 people aged 13-24 in that position, with research showing young people are more susceptible to self-harm, depression and suicide after the death of a parent.
Having a parent with cancer completely changes life for a young person and there is no one providing specialised support for them.
"CanTeen is taking this seriously and looking at ways to incorporate modern technology and increase our reach," the charity said. "We're determined to find a way to ensure no 13- to 24-year-old fights cancer alone."
Harmony
At the age of 21 Harmony was diagnosed with Rhabdomyosarcoma and told she had only a 20% chance of survival. She battled through, coping with weekly chemotherapy for a year and painful radiotherapy. It was the support of her friends, family and CanTeen that gave her the resilience to fight. She's paired up with Pio Terei to tell the story of RESILIENCE. Terei says he became involved because he's become more involved lately with families touched by cancer and truly understands the immense impact it has.
"Cancer affects so many whanau, far and wide, it doesn't discriminate. What CanTeen does helps get these young people through one of the toughest things they'll ever face and I am thrilled to help in any way I can to support their amazing work," Terei says.
Aodhan
Aodhan was diagnosed with cancer aged six and was given two months to live. Today, despite major mobility issues caused by the treatment that saved his life, he's training for the 2016 Paralympics. Aodhan's joined forces with Dan Carter to tell the story of COURAGE. He's been a CanTeen ambassador nine years and says it's the energy of CanTeen that keeps him coming back.
"CanTeen is a pretty unique organisation with loads of inspirational young people. The courage they show throughout their cancer journey truly is inspiring," says Carter.
Anthony
Two and a half years ago, Anthony spent his first night in hospital. The next morning, at 14 years old, he was diagnosed with Acute Lymphoblastic Leukaemia. During treatment, he made and lost friends. He also went through two years of chemotherapy and spent three months in isolation - just Anthony and four white walls, CanTeen has been with him to help boost his self esteem and set him on the right track post cancer. Miriama Kamo has helped Anthony to tell the story of STRENGTH.
"I'm a mother of two, and as a mother I cannot turn away from a cause like this. The strength these young people show is remarkable and inspiring; they are daughters, sons, brothers, sisters, cousins, aunties and uncles - they are us, and they deserve a future like everyone else. I'm proud to be involved with this community, to bear witness to their strength," says Kamo.
Molly
Just after Christmas, at the age of 20, Molly was diagnosed with Acute Lymphocytic Leukaemia and overnight everything changed. Suddenly, rather than heading off to university, she was in a fight for her life.. Now out the other side, it was the love of family, friends and CanTeen that got her through. Kerre McIvor has joined forces with Molly to tell the story of LOVE.
McIvor says, "When you're a teenager, you think you're bulletproof. But some Kiwi kids know they're not. They're the ones who've been diagnosed with cancer and they need all your love and support to help them live the lives they dream of."
Ella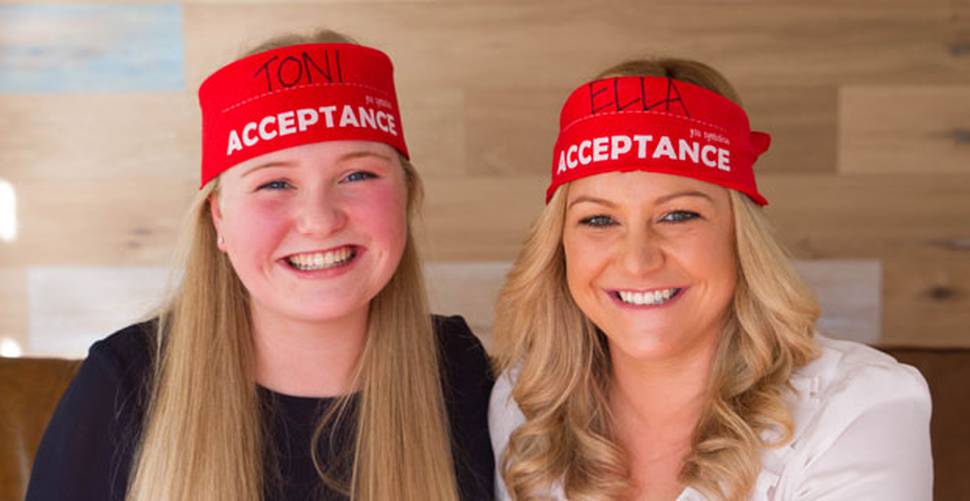 At the age of three, Ella's little sister Abbey was diagnosed with a brain tumour, so cancer has always been a part of their lives. Abbey is now 16 but has a mental age of four and, with the help of family and CanTeen, Ella has learned to accept that her relationship with her sister is different and that they need to celebrate every day they can spend together as sisters. Whatever comes their way, they'll face it together. Ella is telling the story of ACCEPTANCE with Toni Street, who knows a bit about acceptance herself.
"My twin brother Lance died of leukaemia when he was 18 months old, so I know the devastating impact cancer can have on a family. I was also inspired to support Ella, whose sister is going through a cancer battle. I've personally lost three siblings, so I felt I could really be of help," says Street.
Jake
Since he was a boy, Jake dreamed of being a firefighter. At the age of 14, he was diagnosed with Acute Myeloid Leukaemia and his first thought was that cancer would take away that dream. But cancer made him more determined than ever, and at 20 he's now busy saving the lives of others.
Jake and the ZM Morning Crew of Fletch and Vaughan have told the story of INSPIRATION.
"We know nothing of the immense challenges CanTeeners have to go through at their age, sowe were thrilled to show our support and get involved. Jake was diagnosed when he was 14 and spent six months in isolation, at that age our biggest worries were girls and paper runs," says Vaughan.
Matt
On the day of his 20th birthday, Matt and his family received the news that his sister Hayley's battle with cancer had returned. And that this time there was no hope. Matt found it hard to come to terms with the fact that his connection to his sister was about to be change forever. Mike McRoberts says it was a privilege to help Matt tell the story of CONNECTION.
"Within the CanTeen family there are so many incredible stories. I made an amazing connection with Matt and hope those who see and hear what he has to say feel that connection too," says McRoberts.
Eilish
A painful eye twitch at just three years old led to five long months of tests and scans for Eilish. Years of treatment for Optic and Hypothalamic Glioma has meant she's missed a lot of school and felt very isolated from people her own age. Today, although living with significant side effects of her treatment including blindness, Eilish is embracing life with her fellow CanTeeners and is hopeful for her future. Nadia Lim, has teamed up with Eilish to talk about HOPE.
"I was inspired to join forces with CanTeen because I'm in absolute awe of how courageous and determined some of these young adults with cancer are - they're truly an inspiration, and we should celebrate that," says Lim.
To read about more brave teens and their messages in the CanTeen fundraiser, visit tinyurl.com/canteennzh.