In 2011 Roseanne Seymour married the love of her life - young league star Brett Seymour - in a fairytale pink wedding. Her rescue chihuahua, Pink, was her maid of honour. Their wedding photos were taken at the top of One Tree Hill. Her dress was Vera Wang.
The couple's cherubic daughter Monroe, 3, was born not long after, and is named after Mrs Seymour's style icon Marilyn Monroe. The family has travelled the world, following Mr Seymour's sporting career. They're now settled in Leeds, England.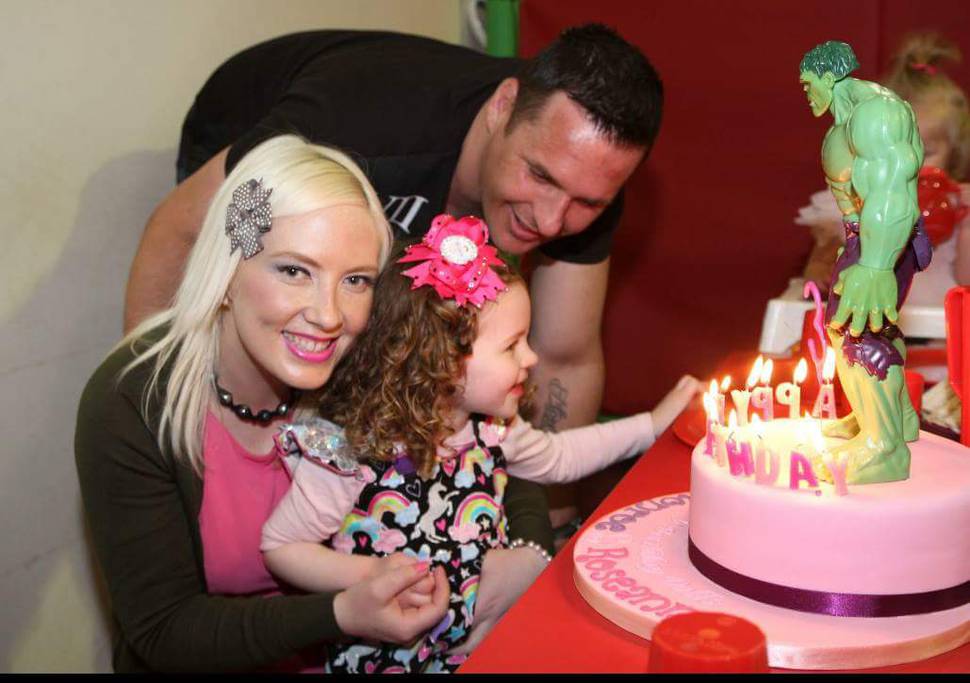 Later this month Mrs Seymour will fly to Minsk to compete in Mrs Universe - a beauty pageant for women who are married with children, that begins on Monday.
The pageant's website reads: "We believe that physical beauty is just a part of of the hole [sic] allure of a person. Our award is for the most honorable married woman. According to our rules she must age [sic] 25 to 45, to have family, her own career and to be involved with a significant cause in favour of other people."
The pageant's owner, Bulgarian woman Megi Savova, also runs "Missis Lady of the Year," "Grandma Europe" and "Children of Universe."
The online entry form asks for information like swimsuit size, husband's name, life ambitions and special talents.
Though she is Australian born, Mrs Seymour says she was selected from 12 other Kiwi women to represent our country, and will be up against 60 contestants.
At a forum during the week-long pageant, she will speak of New Zealand's endemic domestic violence, in the hope of helping "empower women to get out once the signs start."
"Men can take women's dignity and their pride, and it's got to stop," Mrs Seymour said.
She's read the stats, and plans to share them in a seminar at the pageant. According to the New Zealand Women's Refuge, she says, one in three women experience psychological or physical abuse from their partners in their lifetime and 84 per cent of those arrested for domestic violence are men. Police are called to an average of one domestic violence incident every seven minutes on, and estimate only 18 per cent of incidents are actually reported.
Each year, 14 women, six men and 10 children are killed by a member of their own family.
"That's why I'm shouting as loud as I possibly can to get this message across," Mrs Seymour said.
But life has not always been pink roses, a dog called Pink (whose son, Michael Jackson, is now also an honorary Seymour family member) and a pink fairytale wedding for the 34-year-old and her husband, 30.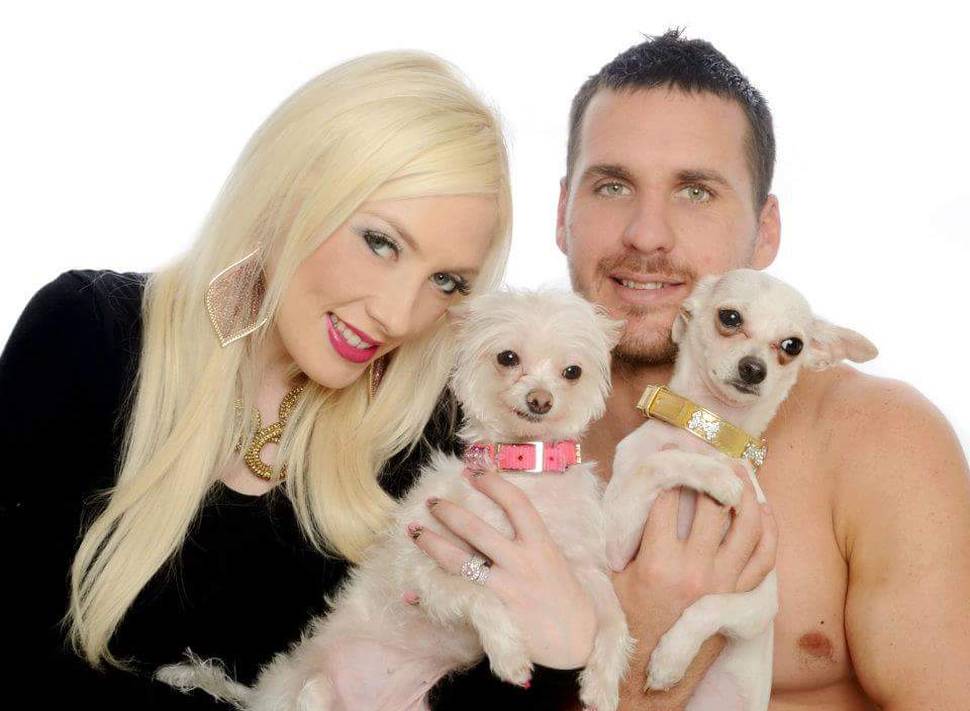 Mr Seymour, who played for the Warriors between 2010 and 2011, was always known as a bit of a bad boy.
"But the majority of league players are - Brett just always got caught. Always," Mrs Seymour said.
In 2006, Mr Seymour, who has battled with alcoholism, left the Brisbane Broncos after an off-field incident where he allegedly head butted a woman (assault charges were later dropped).
In 2009, footage of him stumbling, half naked, up a Cronulla road was sold to Australia's Channel Nine and he was later sacked from the Cronulla-Sutherland Sharks for repeated drunken incidents.
In 2011 he was convicted of drink driving in Auckland and lost his licence for seven months.
Then, in March 2013, when the family was living in Hull, England, he took a handful of sleeping pills, drank a bottle of wine, and tried to drive off the Humber Bridge.
Luckily, he fell asleep at the wheel, and was taken to to hospital after rolling his BMW into two parked cars, injuring only himself.
"To see him in that hospital bed sobbing and wanting to die, it just broke my heart, because I had no idea," Mrs Seymour said.
"I felt like I was a bad wife, that I should have known [that he was depressed].
"But the positive that's come out of it is that he's now working with children, he's working with athletes and he's helping others."
After the crash Mr Seymour went to a rehabilitation centre for athletes, Sporting Chance Clinic - which was set up by former Arsenal captain Tony Adams, where he received counselling for depression.
Mrs Seymour said mental illness was a huge issue among top sportspeople, particularly men, and it wasn't spoken about enough.
"The attitude is like, 'You should man up. You're a sportsman, what have you got to be sad about?'
"But there are so many pressures in the game, and the moving countries and the injuries."
It's an issue that probably hits close to home for many Kiwi men, including former All Black Sir John Kirwan, who write wrote that anxiety and depression for him were about fear of failing to live up to his own high standards.
In New Zealand, between 2013 and 2014, 385 men killed themselves, versus 144 women.
In the UK, the Mental Health Charter for Sport and Recreation aims to tackle mental health discrimination in sport. The charter was promoted by former premier league footballer Clarke Carlisle, who attempted suicide in December last year.
Due to her husband's highly public experience, Mrs Seymour said he had been contacted by other high-profile sportsmen asking advice on where to get help with depression.
"He is helping people through his experience and I think that's spurring him on to be a successful person."
Twelve months after the birth of Monroe, who took seven years to conceive, the couple began trying for a second baby.
But after two years, they realised something was wrong.
"I had an endometrial tumour that was causing miscarriages, and it really, really took it out of me emotionally. After I had surgery [in April] it felt like a weight lifted," Mrs Seymour said.
After their streak of hardship, things are looking up.
"It has been challenging, but I feel like we've got through that now."
In May, she was nominated by her friends to enter Mrs Universe, and decided to give it a go.
"It something for me - I've travelled around the world for Brett's rugby so now this is for myself. I've never left him for longer than a day, so seven days away is a long time."
Though she was born in Australia, she says she feels like a Kiwi - her grandparents, parents and siblings were born and grew up here.
She said the pageant's organisers looked at her heritage to be sure she could compete as a Kiwi.
"And when they emailed me to say I'd been selected for New Zealand I almost fell off my chair."
The entry fee for the pageant was about $1500 and Mrs Seymour says she's spent about $10,000 on things like clothes, cosmetics and flights.
Each day of the week long pageant, Mrs Seymour will need three different outfits, including a swimsuit.
She is taking 18 dresses, 10 pairs of shoes ("I'm trying to cut down on those... But I want to take all of them.") and gifts for the 60 contestants, the Minsk's mayor and the pageant's organisers (she's made them friendship bracelets with Kiwis on them.)
She says she wants to stand out from the bunch - but in a "classy and elegant" way: "I don't want to be boobs out tacky."
For the crowning ceremony, she plans to wear a taniko bodice and piu piu skirt - a shout out to her Taranaki born grandmother. She says she needs to adjust it though, because it looks like a sack.
Mrs Seymour remains tight lipped about the rest of her outfits.
"Girls can sabotage you. I spoke to a girl who did Mrs Universe last year. She said 'this is the competition every pageant girl wants to win... And they will sabotage you if they can'.
"I'm finding it hard to get enough suitcases to pack everything. You would not believe what's going into this. And just when I think I've got everything, I think of something else."
Where to get help
Anyone with concerns about relationships with family or acquaintances should contact local police, or;
• Phone the Women's Refuge Crisisline: 0800 REFUGE or 0800 733 843
• Speak to someone you trust
• If you have concerns for your safety - or someone else's - call 111 immediately.
• Lifeline: 0800 543 354 (available 24/7)
• Suicide Crisis Helpline: 0508 828 865 (0508 TAUTOKO) (available 24/7)
• Youth services: (06) 3555 906
• Youthline: 0800 376 633
• Kidsline: 0800 543 754 (4pm to 6pm weekdays)
• Whatsup: 0800 942 8787 (1pm to 11pm)
• The Word
• Depression helpline: 0800 111 757 (available 24/7)
• Rainbow Youth: (09) 376 4155
• CASPER Suicide Prevention
If it is an emergency and you feel like you or someone else is at risk, call 111.