Mucking in at big event has its reward - fun. Sarah Ell chats to the city's (happy) volunteers.
As the long, hot summer rolls on, Auckland city is poised to host three big international sporting events. This weekend it's the Dick Smith NRL Auckland Nines, and then the ICC Cricket World Cup and the Volvo Ocean Race stopover in late February and March.
But for a special group of Aucklanders, just watching the games or hanging out at the fan zones is not enough. They are members of the army of volunteers which has been raised to work behind the scenes at these events, to make sure everything runs smoothly and that visitors to the city have a positive experience.
What makes ordinary Kiwis want to give up their time to help out? We spoke to four local volunteers who say the answer is fun, meeting people, making friends, and more fun ...
Cricket World Cup
For Auckland sisters Lakshini and Priyesha Mendis, volunteering at the 2015 Cricket World Cup is a chance to combine meeting people and community service with their love of the sport. And besides, 19-year-old Priyesha saw how much fun her elder sister Lakshini had volunteering at the 2011 Rugby World Cup and decided she couldn't bear to miss out this time around.
"That was definitely one of my reasons. Also, our family is so into cricket that I just wanted to be involved," BA student Priyesha says.
"It wasn't hard to convince her to sign up," Lakshini laughs. "It seemed like a great opportunity to be involved and to help give back to the community as well."
Twenty-six-year-old PhD student Lakshini worked in spectator and fan services during the Rugby World Cup, giving visitors information and promoting the city's attractions. She says the best part of being involved was "meeting people - not just visitors coming into New Zealand but also other volunteers, people you wouldn't normally meet in the course of your regular life. Also, just being involved in the festival atmosphere was fantastic."
The sisters, who emigrated from Sri Lanka 12 years ago, will work as spectator and fan service volunteers during the four Auckland games of the Cricket World Cup. Three of the Auckland games fall on Saturdays, but the sisters will set aside study commitments for the semifinal, which is scheduled for a Tuesday.
The only problem is deciding who they are going to support in the tournament, especially when Sri Lanka and New Zealand come up against each other in the opening game of the tournament, on February 14.
"It's a test of loyalties," Lakshini says. "New Zealand are doing really well so I am really torn between the two at the moment. I'll probably wear my Sri Lanka shirt for the opening game but in the other games I'll support New Zealand."
Lakshini is looking forward to "just being involved with the greater aspect of the game, and being able to showcase Auckland and New Zealand to the rest of the world. Most [visitors] have heard of The Lord of the Rings and sheep, but we can show them a few more aspects! And we'll see if New Zealand can lift the cup at the end."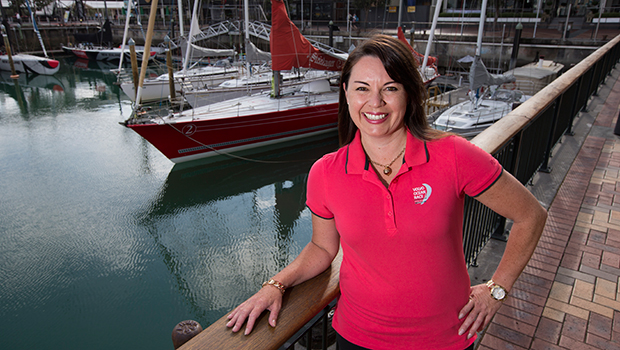 Meredith Graham uses her teaching skills as a Volvo Ocean Race schools co-ordinator. Photo / Brett Phibbs

Volvo Ocean Race Stopover
For Meredith Graham, volunteering to co-ordinate the schools programme during the Auckland Volvo Ocean Race stopover was a way of combining her skills and interests: she trained as a primary school teacher, used to work on charter yachts, runs an education programme for a recycling company, and loves the sea.
As she did during the 2012 stopover, this summer she will oversee visits from about 800 pupils to the race village at the Viaduct, as well as helping out with hospitality and assisting the race teams, "wherever I'm needed".
"We have put a programme together for school students from Years 1 to 8, to give them a full day of experiences. Last time [in 2012] we worked with the Maritime Museum to develop study topics around the ocean and environment, and introduce them to yachting as well," she says. "The kids who visit the race village are absolutely blown away. The feedback from last time was amazing. It's really great to get some school groups through from lower-decile schools who wouldn't normally have an opportunity like this."
She says the big attraction for volunteering for the Volvo race - and with Auckland Coastguard, where she also lends a hand on its rescue vessels - is "the people - there is such a great group of people involved".
"Plus it's an international event which is pretty spectacular in itself, with the boats and what it brings to Auckland. To be involved in something like that which makes our city more attractive for its residents is great as well. It's a chance to show everyone else how great Auckland is."
Ruth Tuiraviravi, head of volunteers, says nearly 400 people have now signed up to join the Auckland stopover port crew assisting with entertainment, stewarding, providing information to the public and even taking the role of race mascot Wisdom the Albatross.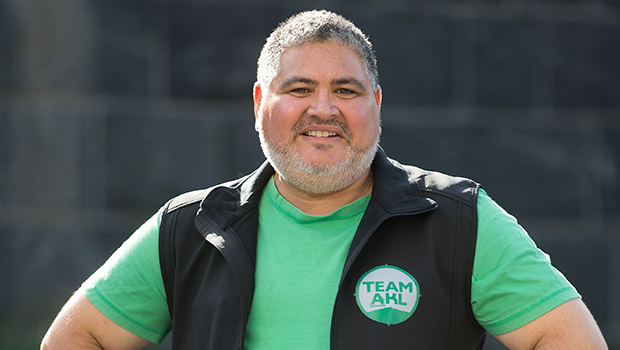 Darin Campbell is returning for a second year to the NRL Nines. Photo / Brett Phibbs

NRL Nines
Darin Campbell has been thoroughly bitten by the volunteering bug. A senior ICT manager for KiwiRail by day, he loves the excitement, camaraderie and special access he gains from volunteering at big sports events and festivals.
Although he has been volunteering for more than a decade at Auckland Council events such as the Diwali and Pasifika festivals, his appetite was really whetted by the 2011 Rugby World Cup, at which he was a host team leader. He fits his volunteering shifts around his day job, sometimes putting in a day and evening shift on the same day during big events.
Campbell was a volunteer host for the inaugural NRL Nines Auckland tournament last year, and was keen to return. Although he likes watching league and other sports, for him the thrill comes from being with the crowds enjoying the event.
"At last year's Nines, just seeing all the fans come through the gates at Eden Park was fantastic."
As well as the enjoyment he gets from meeting people - both visitors and other volunteers, many of whom have become good friends - volunteering also lets him indulge in another passion: photography.
"It means you can get into areas that the public don't get to access, and can get some great shots," he says. He also likes to photograph people in the crowds and participants at festival events, often emailing images as souvenirs to people he has met on the job.
Campbell is keen to spread the bug, too, introducing the concept of event volunteering to new immigrants coming on to his team at KiwiRail.
"I show them the application forms and suggest they give it a try. It's a way for them to meet new people, find out more about how beautiful Auckland is and get involved in these great events. There is just so much on."
Key dates and places
- Today and tomorrow. Games at Eden Park, fan zone at Aotea Square from 9am, both days, with all games live on big screens plus family entertainment, giveaways and activities.
ICC Cricket World Cup - Auckland games: Australia vs New Zealand, Saturday February 28; Pakistan vs New Zealand, Saturday March 7; India vs Zimbabwe, Saturday March 14; semifinal Tuesday March 24; all at Eden Park. Entertainment along the fan trail from Britomart to Eden Park on game days; urban village green fan zone at Takutai Square, Britomart showing most games live.
Volvo Ocean Race stopover - race village opens Friday February 27; pro-am race Friday March 13; in-port race Saturday March 14; race restart Sunday March 15.
Ways you can join in
Volunteer quotas are full for the Cricket World Cup and Volvo stopover events, but you can still get involved in other Auckland Tourism, Events and Economic Development (ATEED) events: the Auckland Lantern Festival (February 26 to March 1), Pasifika (March 14-15) and ITM 500 Auckland V8 Supercars event at Pukekohe (November 6-8). Go to aucklandnz.com/events/volunteer-for-team-akl for more information and to sign up.
Volunteering for other major events is co-ordinated by the promoters - check out event websites for a "volunteering" tab. Email volunteer@aucklandnz.com, the ATEED team can get you in touch with the right people.