There's no reason to let returning to work ruin your holiday vibe. Anna King Shahab shares are ten top ways to keep that holiday feeling going strong.
1. Pack a picnic lunch
With green spaces in the concrete jungle starting to mushroom, there's bound to be a cute little grassy knoll within a few minutes' walk of your office. If you work out in an industrial area, check the map to see what lies nearby - perhaps there's a river with an enticing bank or even a beach not too far? Use it. The Brits know how to do it - any London park is packed full of office workers soaking up their vitamin D in the lunch hour. Instead of grabbing a dodgy pie or gluggy shop sandwich and instantly bursting your holiday bubble, go armed with proper crockery and cutlery (what's the work kitchen for, anyway?), food that makes you happy, and your favourite read. Enjoy some quiet time or invite your colleagues and make it a shared affair - you could even convene each day to organise the following day's menu.
2. Set your alarm earlier
Doesn't sound holiday-like, right? But it means you can make breakfast in bed (take turns if you have someone to share with) and lie there with the morning paper savouring a little bliss before the day kicks in. See - your mum always told you not to eat on the run. To take it a step up from boxed cereal but keep the time factor in check, you could prep something the night before - a creamy bircher muesli that you've soaked overnight, topped with fresh fruit, or a nutritious fruit smoothie - just store in the fridge with a lid and give it a good stir in the morning.
3. Be a tourist in your own city
Gawp at the views up the Sky Tower; do the Sky Walk, spend a day cosseted in the Art Gallery or Museum, ride the Cable Car, catch one of those 'explorer' buses. Check your council website, or visit an iSite for pamphlets on local historical walks; you might just learn interesting stories behind buildings you've passed every day and discover little lanes and walkways you never knew of. Give yourself a chance to see your city through unjaded eyes.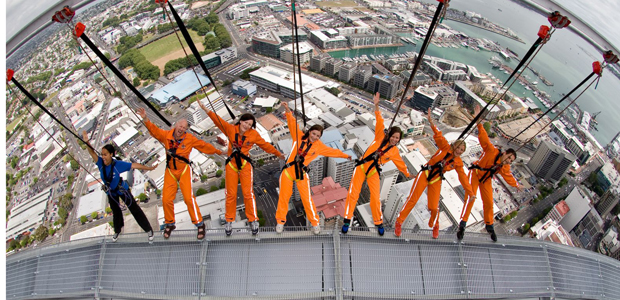 Get up the Sky Tour and walk around it if you're brave enough.

4. Design the ultimate staycation
Sometimes (kids, flatmates, pets, mess, those walls you were supposed to paint three years ago) it's pretty hard to truly kick back at home. When you need a break but going away isn't an option, a night at a plush city hotel (without the kids, pets, flatmates if possible) can be just the thing. It's well worth choosing a hotel with a pool and day spa for full relaxation potential. Keep checking online for special deals. And being in the city means you can check out a few restaurants and bars round town sans taxi fares - ha, you're practically saving money!
5. Eat your heart out
With constant restaurant and bar openings round town, there's bound to be a bunch of places you've been meaning to try out but never quite round to it. Design a weekend to tick off as many of those places as you can - you might just have a coffee at one place, a bar snack and a beer at another - just as you might do if you were given just a few days in Melbourne or New York.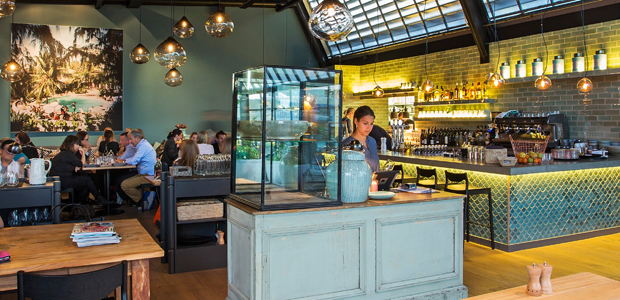 Treat yourself to brunch at one of our favourite new eateries, Odettes. Photo / David Rowland

6. What's for dinner?
If you let the daily dinner grind get your down, your holiday vibe is dead and gone. Instead of worrying all day about what you're making for dinner that night with your five minutes of available time, two wilted objects from the fridge and any number of hungry tummies awaiting the result, treat dinner like the fun it should be. Take it out on the back lawn on a picnic rug. If you can rally to get your picnic dinners prepped the night before, you could dine on some classics: bacon & egg pie, cold chicken salad, tomato tart, quiche Lorraine, potato salad. But really, anything tastes better when you're sitting on that rug.
7. Seek out the beach
Most of our cities have them. Don't be a stranger! Heading to the beach after an intense day at work can be a panacea. Wash your cares away in the waves or just lie on the sand in the evening sun.
8. Engage your sensory memory
Take note of music you enjoyed listening to on holiday, dishes you licked the plate clean of, board games you were in stiches over, and roll them out anytime you need a flashback to those long lazy days. Oh, and festive treats - the good old Sampler box, scorched almonds, fruit cake, even a furtive candy cane - why leave them behind? Keep 'em rolling!
9. Ditch technology
One thing you probably paid less attention to on holiday was technology, and all its addictive trappings. Now you're home, keep it the phone/tablet/laptop neglect and marvel at how much more time you have to actually relax away from a screen.
10. Watch the sun set as often as you can
Why is it we tend to notice the beauty of sunsets when we're on holiday, but often let it pass us by in day-to-day life. It's such a calming thing, to quietly watch the sun going down and the sky darkening.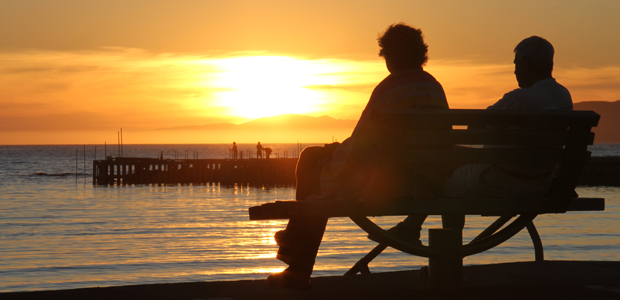 A couple watch the sun set behind the South Island. Photo / Andrew Bonallack
- nzherald.co.nz