For months it was rumoured he was in negotiations to be the new face of Calvin Klein underwear.
And this week the big reveal was made when Justin Bieber showed off his sculpted physique (and surprisingly impressive drumming skills) in the label's new campaign.
The 20-year-old hit maker, who appears shirtless, put his briefs on display as he pulled 31-year-old Dutch model Lara Stone in by her denim jacket.
The black-and-white six second promotion was shared on Calvin Klein's Twitter account on Tuesday, and was appropriately captioned, 'Drum roll... #mycalvins'.
First, the promo saw Justin seated at a drum set, where he showed off his rapid drumming.
After a moment or two at the set, the Believe star finished off the steamy commercial by pulling in Lara for what appeared to be a kiss.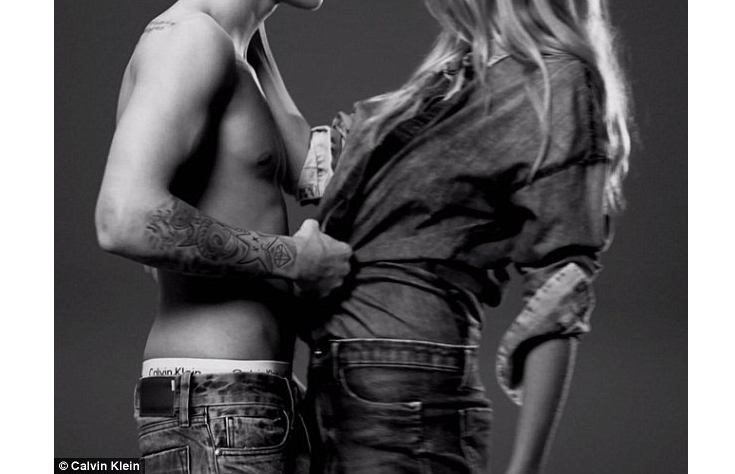 MailOnline was the first to exclusively report in July that Justin had shot an ad for the designer brand.
A Calvin Klein source said: "Justin has shot for Calvin Klein, we hope the results will be released later this year."
It was never confirmed whether or not Justin - whose signature style is low-hanging jeans with exposed briefs - had inked a deal with the company.
Justin shared the campaign spotlight with one of the hottest models, Lara, who is married to British comedian David Walliams, 43.
The mother-of-one has graced the pages of Vogue Paris, and has walked the runway for Chanel, MaxMara, Marc Jacobs, and Balmain.
Meanwhile, Justin has made no secret of his love for the underwear line, as he has exposed his Calvins while sporting his usual low-riding jeans on social media.
In September, the singer disrobed on the stage of Fashion Rocks, revealing his sculpted physique and his red-and-black Calvin Klein underwear.
The star joins Mark Wahlberg and Brooke Shields, who both starred in the steamy adverts in the early years of their career.
- Daily Mail