Food writer and mother of two, Anna King Shahab, reveals her top ten ways to cut your food bill without sacrificing health or deliciousness.
1.
Give your greengrocer some love: Big supermarkets may sell things in packets and bottles (often disturbingly) cheaply, but in the produce department the profit margins are a lot higher. Avoid! Shop for fresh fruit and vegetables at your local greengrocer where they're likely to cost a lot less.
2. Even better, if you live near a produce market or a farmers' market*, the prices, and quality, are usually the lowest in town. Moreover, you'll be so tempted by the bounty that chances are you'll end filling up more on vegetables and in turn requiring less of your sustenance from the spensy meat department.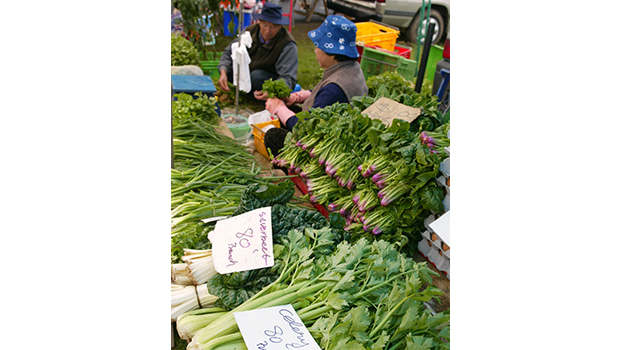 Vegetables for sale at the Avondale markets. Photo / Nicola Topping
3. Never buy what's not in season (unless it's a few limes for a mojito - that's an essential). If a recipe calls for capsicums in the middle of winter, get clever and substitute. Or pick another recipe.
4. Buy a chest freezer: The small investment pays dividends, allowing you stock up on meat when it's on special, as well as freeze leftover portions of meals which can be easily heated up on those nights when you can't be bothered cooking - cutting pricey (and let's face it, often disappointing) takeaways out of the picture.
5. Roasts give the most: It's a mystery why some still view roasts as an expensive treat. These days certain types of roasts are the best value meat you can buy. A family of four can enjoy a free range chicken for as little as $12 which could also make sandwiches for the next day's lunch. On that note, save chicken carcasses and bones in the freezer and when you have a few, make stock. Homemade chicken stock is the basis for so many cheap meals.

Photo / 123RF
You'll get plenty of bang for your buck with a good chicken roast. Photo / 123RF
6. Shop online: it's a good way to avoid impulse buys and instead get only what you really need. Yes, delivery costs but you're avoiding frittering money away on whims, saving on petrol, and on time (which is money, as the saying goes). You can also shop online and pick up in store for a lesser fee.
7. Make hay while the sun shines: preserve the season's bounty, allowing you a taste of summer in the winter with treats like canned peaches and plums and jams from those fleeting summer berries, as well as making the most of vegetables like tomatoes and eggplants when they're super cheap by making relishes and chutneys - expensive condiments to buy but cheaply made if you have a little time up your sleeve and a lot of jars to hand. Because home preserves make such lovely gifts, you'll also save money on that front.
8. Make your own snacks: Things like crackers and biscuits add up when you're throwing several packs a time into the trolley. But they are so easy, and so cheap, to make at home. Get in the habit of baking a batch of biscuits and crackers once a week and you'll easily shave money off the grocery bill. Plus you'll avoid all sorts of flavour enhancers, preservative and additives that you have no need for at all.
9. Make your own dips: The aisle of dips, which has a definite gravitational pull, is ever-expanding and all because we're buying so much of the stuff. Sure, picking up a few dips is an easy way to entertain or keep lunchboxes interesting, but once you start making your own dips - hummus, pesto, babaganoush, beetroot dip and more, you can happily bypass that rather expensive aisle on a regular basis.
10. Cheaper ain't better: simply going for cheaper ingredients won't necessarily save you money, because you may well end up eating more to fill the void created by lack of flavour. Many of the most satisfying cheap meals are made by making a little of something quality go a long way - a frittata made with eggs and seasonal or leftover veges with a small amount of good chorizo, or an inexpensive bolognaise pepped up with some really good bacon. Ditto, you can enjoy endless salads of cheap, seasonal produce laced with something a little luxe like goat's cheese, hot-smoked salmon or grilled lamb fillet, safe in the knowledge that, if you plan them well, they're a cheap, as well as nutritious, eat.
* We're not talking fancypants farmers' markets. Many NZ centres have fantastic farmers' markets where growers sell directly and you can pick up produce (often organic and sprayfree) for less than supermarket prices. Sorry Auckland, your farmers' fit the former description, however Auckland does have excellent produce markets the likes of Avondale and Otara.
Dave Shaw: Are you being tricked at the supermarket?
Most people do the grocery shopping at least once a week and leave believing they have a car boot full of tasty, healthy food. But have we been tricked?
Read on...