The Block NZ 2012 winner Ben Crawford and his girlfriend Kylie are building their dream home. Share their proud moments and pitfalls here every week.
I'm going to let you in on two little secrets. We have enjoyed the building process so far and learned a huge amount but we're starting to get bored with wallowing in paperwork. We know it's crucial in achieving our vision but it gets tiresome talking about what we're going to do rather than doing it, if you know what I mean.
Call it impatience or a generational thing, but, boy, we just want to start building now. Anything. To see a tiny sign of progress that confirms, "yes, this mythical dream home we've been looking at on paper for so long will actually become real".
Here's our second wee secret. Buying furniture and homewares in between bouts
of planning does wonders for waning enthusiasm. It's fun hunting out interior items and buying them straight away. It gives an instant hit of satisfaction, plus it's awesome having something tangible to touch that will become part of our home.
Since we bought our section, we've been saving the equivalent of our expected monthly mortgage payments.
In part to prepare ourselves for what it will be like paying our mortgage and in part so we can fit-out our interior as nicely as possible, because once we've moved in, there's no way we'll be able to afford beautiful new furniture.
We have a clear vision for our interior. We're drawn to many elements of Scandinavian design and our home will reflect that, in particular the fresh palette, the clean lines and the natural materials. We've also drawn a lot of inspiration from our setting.
Given it's so earthy, we want to ensure a perfect connection between inside and out. In fact our outlook will become part of the interior's artwork, with its rich greens, the subtlety of the filtered light and the autumnal tones of our stream all framed by our giant windows and doors. That means we're using a lot of blonded timber, raw concrete, schist tiles and plenty of white to contrast with our dark aluminium joinery.
Then layered over these core materials we'll be introducing a lot of grey and pastel pinks via our furnishings. This look is in keeping with the overall aesthetic of the 3D images made a few months ago.
Now back to the buying bit as we've been amassing quite the collection of furnishings.
Since the start of the year Kylie and I have been living with her parents, which has been a massive help financially and their generosity has been amazing, something we're both extremely appreciative for. They have also "loaned" us a room to store all of these purchases, although I'm not sure they had much choice in the matter as the room just seemed to attract box after box.
Scandinavian superiority
As our build progresses over the coming months we'll share a lot more about our interior but, in the meantime, here are 10 items we've bought, illustrating how it's all starting to come together.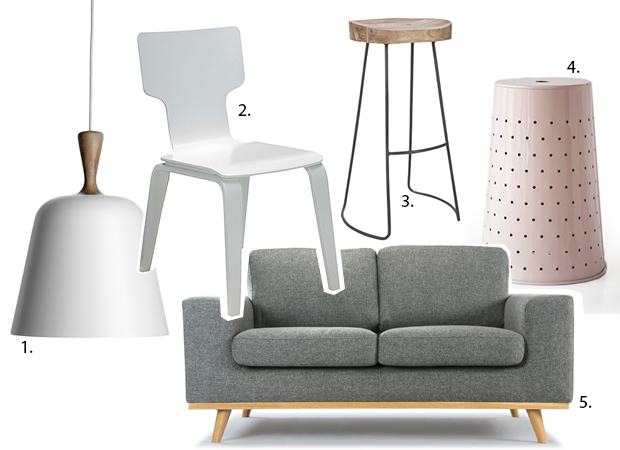 1. White Handle Me Pendant Light from Bo Concept.
Hanging low over our table for intimate dining parties. Adore that timber accent.
2. Fritz Dining Chair from Freedom.
We love how great these look around our timber dining table. Yummo.
3. Blush Pink Pinhole Shade from Homebase Collections.
Our kitchen will ooze style with three of these beauties above the concrete island.
4. Tractor Bar Stool from Freedom.
There'll be plenty of breakfasts eaten and newspapers read on these stools.
5. Novoelle Dark Grey Sofa from OWL 53 Hurstmere Rd, Takapuna.
Beautiful form and super comfy - what more could you ask for?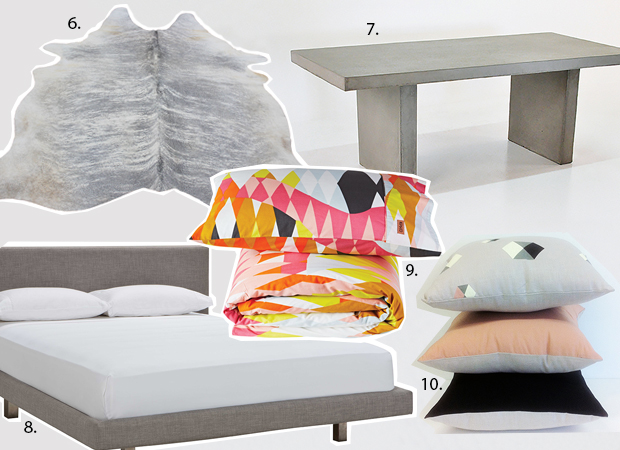 6. Fair Cowhide from The Cowhide Company.
Salt and pepper tones right at home under our coffee table.
7. Blok Concrete Outdoor Dining Table from Cuchi.
There'll be plenty of barbecues eaten on the deck round this pearler.
8. Helsinki Bed from Freedom.
A perfect combination of simple strong lines and soft grey fabric.
9. Kip and Co Croc Desert Quilt Cover from Let Liv.
Nothing like a splash of colour to wake up to each morning.
10. Cushions from Thread Design.
A great way to spread our colour palette through the house, from bed to sofa.
• Find out more about Ben and Kylie's dream home at ourdreamhome.co.nz
• For more information on the Kiwibank First Home Buyer's Guide visit: kiwibank.co.nz and search for "first home".