When I visited the South Auckland Riding for Disabled (RDA) group I'll admit I expected to find a bunch of horse mad people getting their equine fix. What I actually found, however, was a diverse group of volunteers that certainly had a love of horses, but loved the difference they made to children even more.
What is 'Riding for Disabled'?
The RDA association describes its core purpose as 'providing interaction with horses to develop increased ability, independence and self-esteem for children and adults with physical, intellectual, emotional and social challenges'.
The children that attend the South Auckland RDA have varied abilities and challenges, such as autism, cerebral palsy, downs syndrome and behavioral difficulties. For those with physical limitations, horse riding is a form of physiotherapy, strengthening muscles and assisting with balance and mobility. The time on horseback is particularly valuable in improving core strength which greatly improves the lives of riders allowing more independence.
I am told the children approach the horses with anything from abject fear to overconfidence, all of which the patient ponies take in their stride. Biting for example is not tolerated by the horses, who will throw their heads back making it uncomfortable for the rider - this tends to only happen once. The ponies may be small but they are much bigger than their riders who will not get away with things they may be able to off the horse. The children enjoy their time on horseback so much that any tantrums or bad words are brought to an immediate halt by the suggestion of getting off.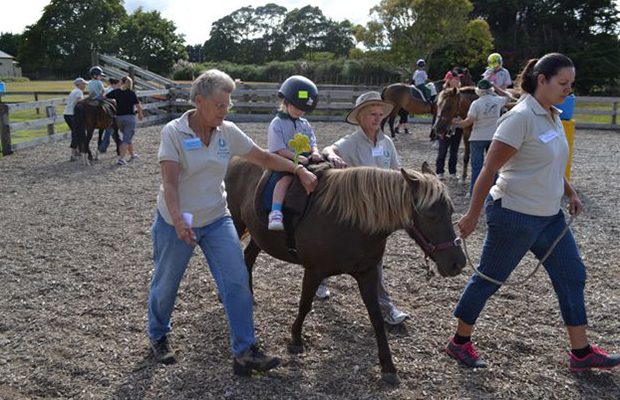 Photo / James Craw RDA
The volunteers at the RDA I visited were a diverse group, from school age through to a lady in her mid eighties. They all share a love of horses and children and the satisfaction of knowing they are making a real difference. Each volunteer I spoke to described the children with great affection, giving many examples of the improvements to both mental and physical wellbeing progressing with each visit to RDA. From the student that was back out with the horses before the rest of us were halfway through our cups of tea; to the recently retired pilot who had been flying jumbo jets only three weeks before, this is a dedicated bunch. They are pretty organized too; each with an assigned role and a there is a friendly and co-operative atmosphere.
The horses were just as interesting as the volunteers, and included wild caught Kaimanawas through to one of only about five Norwegian fjord in the country - albeit in her 30s but still very functional for her purpose. There is Lady Grey, a very cute little Shetland pony, Caramel, Pepper and Fancy amongst others, all with their own personalities and all very predictable and patient. Most of the horses were well into their senior years, some had been donated and others purchased. There is a horse manager in charge of their welfare, and regular vet visits are scheduled to attend to teeth, hooves and any health issues arising.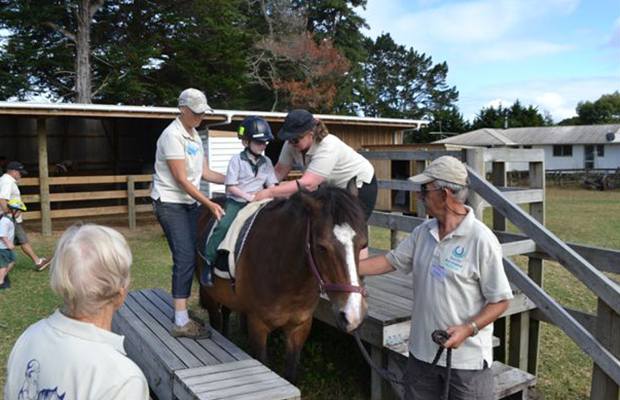 Photo / James Craw RDA
The South Auckland RDA is one of 56 groups around the country with around 1800 volunteers between them who give up their time to provide an opportunity for children with disabilities.

It's not just horses that help people either, with dogs also excelling in an assistance role: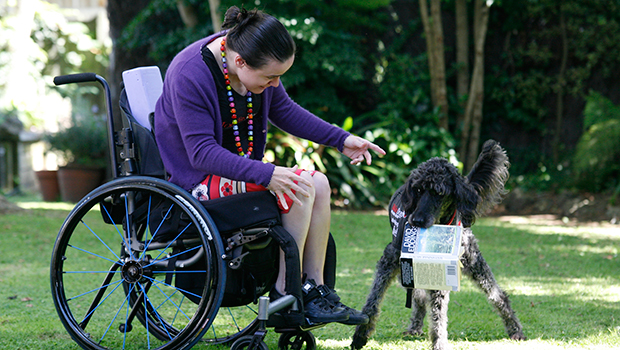 Amy Hogan who has cerebral palsy with her mobility dog Bonnie. Photo / Garry Brandon
Guide Dogs
The familiar red coated puppies in training are invaluable to those people who are vision impaired or blind. Guide dogs assist in crossing roads, avoiding obstacles and hazards and in retrieving items. The most common breed is the labrador and golden retriever, though some poodle/retriever crosses are now also being trained. Miniature horses have also been used as guide animals with some success.
Mobility dogs
Mobility dogs provide strength and movement for their companions, typically assisting people with conditions such as cerebral palsy, muscular dystrophy, multiple sclerosis and other challenges that restrict movement. They are trained to perform tasks such as pulling wheelchairs, operating light switches, retrieving and carrying items and even helping their companions out of bed. Overseas, monkeys have been trained as human helpers also.
Hearing dogs
With their superior sense of hearing, dogs can become the ears for their companion, alerting them to a knock on the door, smoke alarm, oven timer or even the persons own name. Breed is not as relevant for hearing dogs as strength is not a requirement.
Seizure Alert dogs
Seizures are often preceded by specific changes in a person, which can be recognized by a canine companion. Becoming aware of an epileptic seizure for example, allows valuable time to seek help or be in a safe space before the onset.

I was very impressed with the work and dedication of the people at the South Auckland RDA and together with the volunteers I will be running fundraising workshops on November 9th at their Pukekohe base. I will be there with all my pets and exotic animals to teach children of all ages about their care and there will be an opportunity to meet the horses and learn what's involved in having a pet pony. All proceeds to RDA - contact Alison for more information.