He once mooned a ratepayer while out jogging, thinks the CIA killed Norman Kirk and finally met his parents when he was middle-aged. Former Waitakere mayor Bob Harvey has always lived a life less ordinary, as a new biography reveals
Bob Harvey first met his parents when he was a middle-aged man. His real parents that is, not May and Syd, the Newton Gully couple who raised him as their own but never told him that he had come from a Catholic institution where unmarried women went to give birth.
The discovery that he was adopted is one of few eternal regrets. When he learned that he wasn't who he thought he was, he felt his world collapse.
"You have no skin to compare, no history. I didn't know whether I was going to live for long, whether my heart would give up. I felt truly cheated that I had never been able to know who I was and that I was created from something else."
He accepts that his adoptive mother and father loved and cared for him, but they made a world for him that wasn't real. Looking back, he senses his youthful rebellious acts — sneaking into Auckland Zoo late at night and trying to ride the llamas — were true to type, along with his adolescent embrace of socialism.
Harvey used subterfuge to meet his birth parents. He tracked down his mother, Margaret Connelly, in Greytown, and arranged to meet her in Wellington. "She had never seen me," Harvey recalled. "She was 70 and she had me at 20 and the nuns whipped me away."
They talked about everything — except the identity of Harvey's father. But Connelly let slip a clue about the man she had fallen pregnant to during the war years.
That fragment was a passing reference to a New Zealand cricketer, who Harvey discovered was Stan "Sixer" Brice. A talented all-rounder, Brice's nickname came from the lusty shots he used to blast deliveries out of Wellington's Basin Reserve. Connecting the dots, Harvey found the trail of his parentage led to Waiheke Island and Sixer's son, Jim Brice.
Brice's wife Joyce collapsed on learning that her husband had a son from a 50-year-old liaison. She told her stepson: "I feel very betrayed by everybody, including you."
From the Brices, Harvey believes he inherited a tendency to wave his arms and gesticulate to make his points, together with an exotic dash of Portuguese ancestry from the Azores, a group of north Atlantic islands 1,000km west of Lisbon. He says his hunch was reinforced when he met his half-sister — the daughter of Jim and Joyce — in Greece. She too, was a rangy arm-waver.
The adoption strand in Harvey's life runs beyond his own upbringing — he has a daughter, Dinah, who was adopted by a British couple, and with wife Barb adopted a baby girl, Tessa, to add to their own brood of five children.
Harvey recounts these intimate details in a biography by Auckland writer Hazel Phillips, Wild Westie: The Incredible Life Of Bob Harvey.
Now 73, though far from retired, Harvey says he felt he wanted to tell his story "while I've still got my marbles".
"Look", he tells the Weekend Herald over coffee near his Waterfront Auckland office — the lifelong Labour man chairs the Auckland Council-owned agency, an $80,000-a-year post confirmed by National — "I've had a fortunate life and things worked out. And I learned early that if you're wanting people to trust you, then you don't lie to them."
Or, as he clarifies himself, "you don't tell a traceable lie".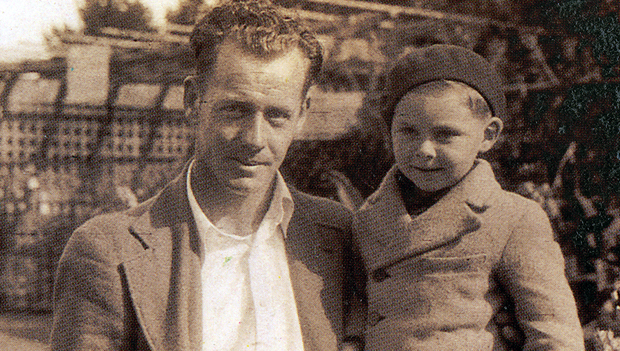 A young Bob Harvey with his adoptive father.
Three periods came to dominate Harvey's working life after he went to work at 16, finding an opening in the film industry as a projectionist. In his early 20s, he got an advertising job with the Herald. He didn't stay long, leaving to set up shop with two pals across the road in Queen St. Over the next three decades, he made a fortune.
Early on, the ad man with a love of politics hitched his star to Labour. He worked at the heart of their election campaigns, starting with Norman Kirk and ending, somewhat sidelined, with Helen Clark. In 1992, he took the plunge into civic affairs, and started an 18-year term as Mayor of Waitakere. He may have helped his prospects by defacing his own billboards.
Harvey uses the term "brilliant" to describe the Mad Men days in advertising. He mined ideas from America, hired sharp talent and MacHarman Advertising, the firm he helped create — the "Har" comes from his surname — gave the established agencies a shove. Says the sober-suited septuagenarian: "There was a lot of dope involved, music played, all-night parties, unacceptable now, but in the 60s and 70s it was as bad as it got." Then, says Harvey, he got married in 1969 and "all of that stopped".
Beyond his working world, Harvey enjoyed a reputation as a risk-taker.
In 1979, clad in a wetsuit and buoyed by dreaming of the romantic English poet Lord Byron, Harvey swam the Dardanelles, the tricky stretch of sea south of Gallipoli that connects the Aegean Sea to the Sea of Mamara. Byron, born with a club foot, crossed from Maydos to Canakkale in one hour and 10 minutes. Nearly 170 years later, Harvey, who had spent a lifetime in the pounding west coast surf of Karekare, staggered ashore four minutes outside Byron's personal best. He made landing in a military zone and confronted a welcoming party of heavily armed soldiers.
A little offshore, fishermen who followed the Kiwi swimmer yelled for him to join their boat. With guns trained on him, Harvey retreated to the water and was hauled onboard.
Cleaving Left was Harvey's natural direction. As a boy, in Newton Gully and later, when the family house burned down, in spartan quarters in the Western Springs transit camp, Harvey says he got a taste for politics from neighbour Jim Edwards, a one-time communist and activist in Depression-era Auckland.
Today, Harvey says though he might have made a bundle from his freewheeling advertising career — he left MacHarman with $2 million — he never abandoned his socialist roots and is firmly on the side of the marginalised. How so? Well, he points out that around the waterfront his organisation hosts free shows and attractions year-round. It helped start an innovation centre "for the next Peter Jacksons", and for Matariki assembled carvers from Auckland's five tribal areas in Silo 6 for workshops.
"There's no gate around our assets," he says. "There's people down there [he points towards the harbour edge] eating fish and chips."
From day one in his job as chairman, Harvey says, he instilled the principle that the waterfront space "belongs to everybody".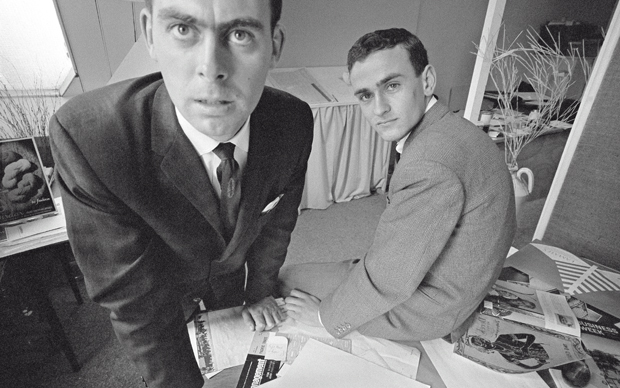 Bob with ad agency partner Rex MacLeod. Photo / Michael Gillies
Over a long public life, Harvey has generated more than his share of headlines that might make others cringe. He still maintains — despite the absence of even a faintly smoking gun — that Kirk was the victim of a CIA-inspired assassination plot, ostensibly because the strongly nationalist Prime Minister was carving out an independent foreign policy in defiance of Washington's wishes.
And he doesn't mind recounting his infamous encounter with an angry ratepayer while out on a morning jog in Titirangi. Confronted, claims Harvey, with an angry tirade, the mayor dropped his trackpants and bared his backside. By the time he got home, the "mooning" episode had gone viral. Fifteen years on, it is not forgotten. "Well, of course I regret it," maintains Harvey, "but what can I do?"
He feels privileged to have worked with influential figures from New Zealand's past 50 years. He recalled a meeting when Kirk debated trade policy with William Sutch, a few months before the influential economist was charged with passing secrets to the Russians. The talk was about exchanging meat with Moscow for tractors. Kirk, says Harvey, crudely denounced the quality of the Soviet tractors but wanted to break the stranglehold of North American Massey Ferguson equipment. "It was like being in a room with gods," Harvey enthuses. "They had this idea that New Zealand could be as independent as Israel and as economically strong as Japan. Revolutionary stuff."
Among his exploits, Harvey claims credit for helping transform an obese and unappealing David Lange into premier material by enlisting Australian-based actor and director Jonathan Hardy to sort out the politician's breathing. At the time, Harvey says he was going through his "Reichian phase" — a time when the methods of Austrian psychoanalyst Wilhelm Reich were all the rage with the likes of Norman Mailer and Woody Allen though rubbished as quackery by orthodox scientists.
Harvey describes sessions when the New Zealand-born Hardy would "sit on Lange's chest and throw him against the wall. He [Hardy] would say: 'Get those lungs working. Scream, you bastard, scream. Vomit, vomit'."
Harvey's enchanted run with Labour's leadership ended with Clark. Though he tapped the corporate sector and served as party president for two years while the Mt Albert MP occupied the Beehive, he was excluded from Clark's inner circle. It didn't help, he admits, that he called Clark a "diva" and compared the 1999 election race — which pitted Labour's strongwoman against incumbent Prime Minister Jenny Shipley — to Xena Warrior Princess. The relationship plumbed new depths when cartoonists weighed into the down-trou incident with unbridled glee.
"Keep your clothes on, love," advised Clark, adding that "strange things happen out West."
They do, concurs Harvey. Like a long campaign of stalking and harassment by a disturbed individual against the mayor's family, which ended in court after Barbara Harvey filed a civil action.
He remains proudest of his lobbying to protect the Waitakere Ranges from subdivision. When he's gone, the forests will still be there: "If you don't have a vision that's really strong you'll be talked out of it.
"It's a life of no regrets," he offers. "Political lives finish in tears. I left on my terms."

• Wild Westie by Hazel Phillips ($38, Penguin Group).