It's a truth universally acknowledged that every woman, no matter how successful, must be in want of a husband and family to feel complete. Failing that, how about two plastic shop dummies? Nione Meakin meets the woman who began a kooky campaign against the pressure to settle down.
Suzanne Heintz, a photographer and art director from Denver, Colorado, has spent more than a decade travelling America and Europe with her husband, Chauncey, and daughter, Mary Margaret, documenting their domestic bliss in a series of touching, intimate portraits. Here's Chauncey and Suzanne reading the papers over breakfast, here's the family on holiday in Paris, skiing in the mountains, and here's Suzanne kissing Mary Margaret goodnight.
An ordinary enough set of photographs for a loving wife and mother, you might think, except for one central and deeply eccentric fact: Chauncey and Mary Margaret are mannequins, a fake plastic family Heintz bought from a clothing shop that was closing down, and has since packed up and carted from country to country in suitcases.
Listen to Suzanne Heintz's interview with Mel Homer on Mix98.2

But there is method in the seeming madness of all the pictures of staged Christmases, birthdays and mini-breaks. Heintz has a serious point to make about the pressure women still experience to settle down and conform to the life of marriage and motherhood.
She says the questions began in her early 30s. Why wasn't she married yet? Didn't she want children? Did she realise her eggs wouldn't last forever? "It came to a head one Christmas," she says, "when I was complaining to my mom about a boyfriend I'd just broken up with. She said, 'Suzy, nobody's perfect. You're just going to have to pick someone if you want to settle down.'
I went through the roof. I said, 'I can't just make this happen, Mom! It's not like I can go out and buy a family.'" Then she chanced upon the shop full of dummies for sale. "That's when the light bulb went off - maybe I could buy a family." She went home with a dark, brooding male mannequin she named Chauncey and ginger-pigtailed Mary Margaret.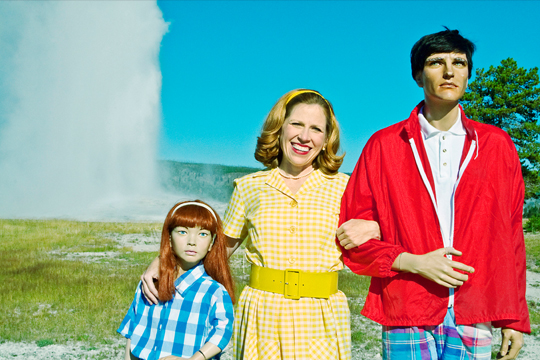 Suzanne Heintz, poses in front of the Old Faithful Geiser while on vacation in Yellowstone National Park with her imitation family. Photo / Suzanne Heintz
Using her home as backdrop, Heintz set about posing Chauncey and Mary Margaret in a series of "Kodak moments" harking back to a rose-tinted traditional family life. She put herself at the centre, a pastiche of idealised femininity in a flared dress and red lipstick.
The message was clear: this was a dewy-eyed remembrance of a way of life that no longer existed - if it ever did. She could stage what her mother wanted for her but it was no more her life than the mannequins were real people.
The series - which she called Life Once Removed - was a tongue-in-cheek retort to the people who suggested her life was lacking. "It didn't seem to matter how well I'd done in my career, or that I had a great social life. If I didn't have a husband and child, somehow I was failing. So I filled in the gaps. My life was now officially perfect, as proved by my pictures, which, as everyone knows, are the part that really matters."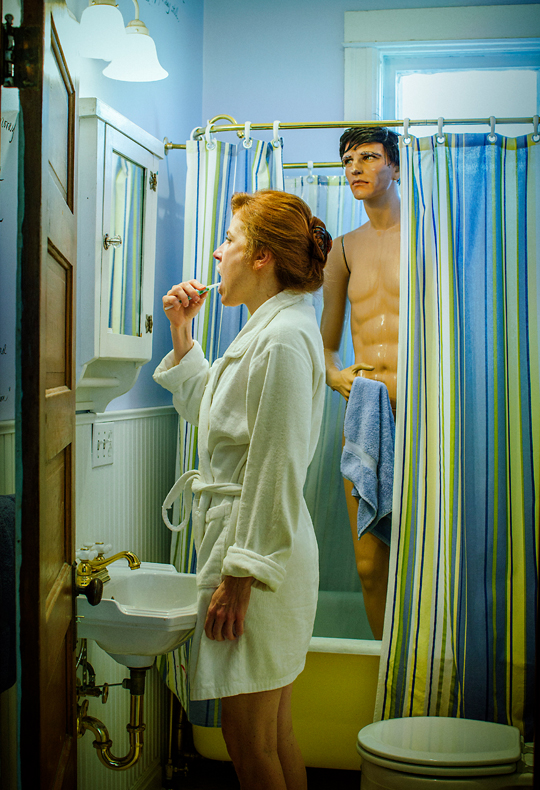 Suzanne Heintz, goes about her morning routine while her imitation husband showers. Photo / Suzanne Heintz
Chauncey and Mary Margaret first appeared in a spoof Christmas round-robin letter to friends that became more ambitious with every passing year. "Before I knew it I was taking Mary Margaret to the mall to photograph her sitting on Santa's lap," says Heintz.
Other photographic projects came and went but Heintz kept returning to the themes of Life Once Removed. Then, when a friend went to live in Paris, she took her plastic family on holiday, spending more than she paid for her own airfare to ship Chauncey and Mary Margaret to France, where she shot them in front of the Arc de Triomphe and Eiffel Tower as bemused Parisians looked on.

Suzanne Heintz, enjoys a romantic picnic along the bank of the Seine River with her imitation husband, Chauncey, in Paris, France. Photo / Suzanne Heintz
"It was quite a thrill having the chance to explain my work as I was making it and it gave people the opportunity to share their own experiences with me. When I explained why I was doing the project so many people told me they had also been pressured to get married or that they had one child but their parents were bugging them for a second."