At 11am today, many New Zealanders will fall silent and reflect on the end of conflict in World War I and the service of Kiwis in military service around the world.
We will be joining millions of people around the world who stop to recall the tragic losses suffered in wartime and the service of those in the armed forces.
It is a quirk of history that we New Zealanders typically focus our remembrance around Anzac Day while most of the world has a major emphasis on Armistice Day.
It is a result of the late delivery of poppies to New Zealand in 1922 that we have our major Poppy Appeal in April while the rest of the world dons the poppy in November.
This Armistice Day, early tomorrow New Zealand time, the All Blacks will for the first time wear the RSA New Zealand poppy on their sleeve when they take the field at Stade de France in Paris to take on France.
While the All Blacks have for many years honoured our fallen with the wearing of a traditional poppy, it is the first time they have adopted the New Zealand poppy and we are grateful for their support.
It is the second year in a row that the RSA and All Blacks have joined forces to remind New Zealanders about the importance of Armistice Day.
Armistice Day, which is also known as Veterans Day and Remembrance Day in some countries, is a time when we can remember not only those brave Kiwis who faced the horrors of the two world wars, but all those veterans who have served their country in a long list of deployments around the world right up to the present day.
In the past month, the dangers of military service have been brought home to us through the tragic death of Sergeant Wayne Taylor during a training exercise off the Coromandel Peninsula.
It is the RSA's role to care for and support all those who have served New Zealand and their families, such as Sergeant Taylor's family.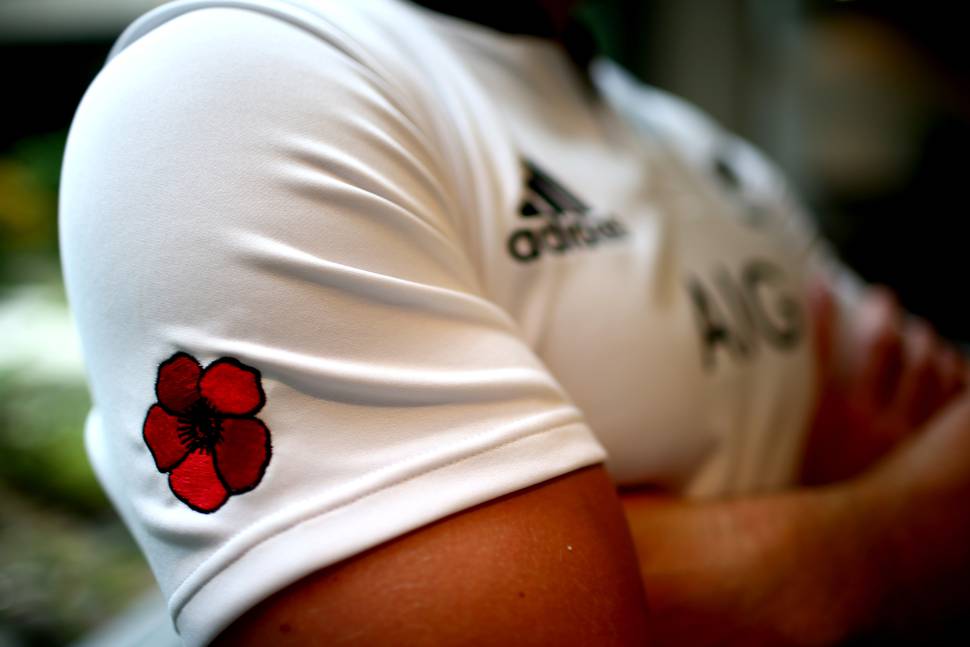 This is why we are keen to see New Zealand embrace Armistice Day as another time when we can stand together and salute those people - veterans young and old; current servicemen and women; and the families of all those in the military, especially those who live with and face difficulties from the effects of that service.
The All Blacks regularly honour those in service, especially when touring the Northern Hemisphere where so many Kiwis served with distinction and sacrificed so much.
It is a living connection for the team, coming just a month after the 100th anniversary of the passing of the 1905-06 Originals captain Dave Gallaher, who was killed in the Battle of Broodseinde, part of the horrific campaign for Passchendaele.
In all, 13 All Blacks were killed in action during World War I and another seven in World War II. Those numbers are replicated in rugby clubs, workplaces, communities and schools across New Zealand. It is a legacy of New Zealand's service to the world.

We are also honoured that the Kiwis side will also wear the RSA poppy on their sleeve when they take on Tonga in the Rugby League World Cup in Hamilton later today.

Throughout today, wreath-laying ceremonies will mark Armistice Day at the National War Memorial in Wellington and at other local war memorials throughout New Zealand. As part of these ceremonies, two minutes' silence is observed at 11am in memory of those New Zealanders who died while serving their country.

As is tradition around Anzac Day, Kiwis are encouraged to wear a poppy in remembrance this Armistice Day.
Together with All Blacks coach Steve Hansen, captain Kieran Read and all the team, we are inviting all Kiwis to stand together and share in this moment - to pause and reflect on all those Kiwis who served in that war and every operation since; including those serving in our armed forces today.
* BJ Clark is the President of the New Zealand Returned and Services Association (RSA).