The owner of a Kiwi beauty company is "frustrated and saddened" a clip linking to a body-positive video was pulled from Instagram because it showed a bare bottom.
Now she wants to start a conversation about what we consider acceptable when it comes to female nudity.
Lucy Vincent, owner of Sans Ceuticals, commissioned a short film about women bathing which showed "real women's bodies" without Photoshop, in a non-sexual way.
Sans creates boutique beauty products and is based in Auckland.
"What we originally set out to do with the video was deliver a healthy antidote to a lot of the messaging on social media with regards to representations of women," Vincent said.
"Women need to see that. The response we got, we had quite a few people cry, we had quite a few feed in saying 'this is so amazing, this makes me feel normal for a change'."
The full video violates Instagram's 'no-nipple' rule, but Vincent was surprised when a short clip showing an older woman's bare bottom was immediately pulled after being shared on Sans' account in April.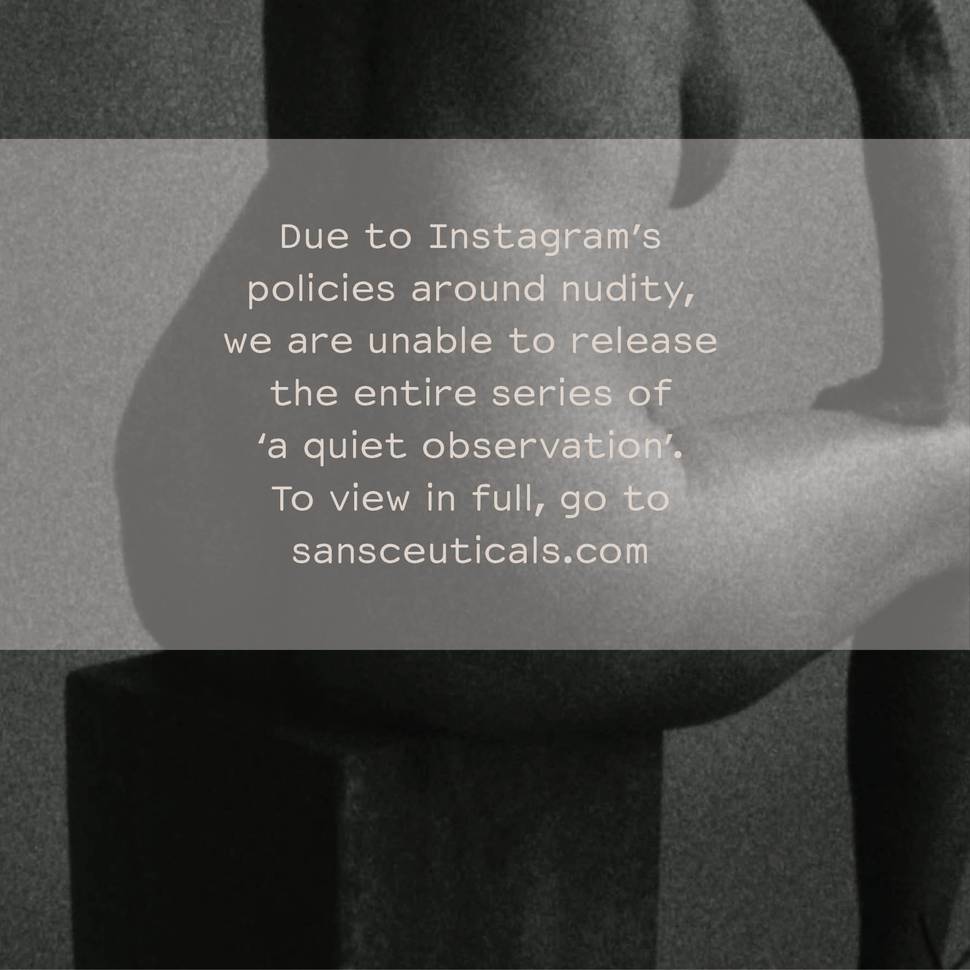 Following the clip's removal, Sans posted about the seeming double standard when it came to female nudity.
"We're frustrated and saddened that this happens in this day and age, while objectified, unrealistic and manipulated representations of women's bodies continue to circulate without comment or deterrence," the post read.
The short clip violated Instagram's community standards around nudity, which a spokesperson for the social media platform directed the Herald to in response to questions.
Instagram's community guidelines state that while they recognised people might want to share nude images which were artistic or creative in nature, "for a variety of reasons, we don't allow nudity on Instagram", including photos, videos, and some digitally-created content which show sexual intercourse, genitals, and close-ups of fully-nude buttocks.
However, hundreds of thousands of images of nude or nearly-nude bottoms can be found on Instagram by searching #bums, most belonging to young and conventionally attractive women.
One account, called the Booty Bay, shows dozens of images of highly sexualised women's bottoms. Some of the posts have been up since October last year.
"A lot of things you see where women are in g-strings and bikinis and twisting [to look skinny], it's this competitive thing where they're vying for the male gaze," Vincent said.
Sans had been trying to represent more everyday bodies on the platform.
She said while she could understand the need for Facebook and Instagram to make rules around nudity, she thought it was sad someone had reported the clip for being distasteful.
"It's a frustration about the way that everything works - we're trying to do something positive and healthy and it's raising an interesting question altogether of what is objectionable."
Sans' full video, A Quiet Observation, can be seen on their website here (warning: NSFW).