Wanaka resident Ben Taylor gives insider tips for Central Otago's ski-fields.
TREBLE CONE
Who goes there:
Good skiers after some of the most challenging terrain in New Zealand. However, there are lots of areas for all types of skiers and the views really are hard to beat.
Best run: Gun Barrel — not as scary as its sounds! What must be one of the country's longest natural half-pipes is, both winter and spring, a must-do challenging run with awesome walls to ride up all the way down.
Top tip for kids:
The magic carpet and platter lift are free and you can rent gear by the hour. This is a great way to introduce little ones to the sport on a budget and without the crowds.
Top tip for food: Altitude Pizzeria, a small container restaurant serving good pizza and coffee and an amazing view near the top of the six-seater is a must do on a calm sunny day.
Local knowledge: Powder days are legendary up at Treble Cone, with locals invoking a powder clause in their employment contracts and heading up. Be there super-early to beat the rush and get at the front of the queue for those epic first lines. Later in the day, if you have energy left, a hike to the summit is well worth the rewards of untracked powder snow and views of Mt Aspiring.
Contact: treblecone.com

CARDRONA
Cardrona Alpine Resort offers 345 hectares of skiing and snowboarding for New Zealand's Southern Lakes
Who goes there:
Paradise for intermediate and beginners, as well as anyone who likes a huge terrain park and a halfpipe that attracts some of the world's best snowsport athletes for the season.
Best run: Arcadia, in between the main basins, is a valley far from the madding crowd.
With a wide, consistent run overlooked by big rock cliffs, you feel like you are in the big mountains.
Top tip for kids: The new Gondola is great for keeping kids warm and toasty on the way up, whatever the weather.
Top tip for food: Noodle Bar is great for Asian noodles and sushi and has the best view of any of the restaurants; good coffee as well.
Local knowledge: You can buy your ski passes in town before you come up and park at the bottom of the Valley View chairlift. Grab a coffee at the little Meg Cafe on your way through and hit the slopes early for those speed runs on the empty piste before the crowds arrive.
Contact: cardrona.com
REMARKABLES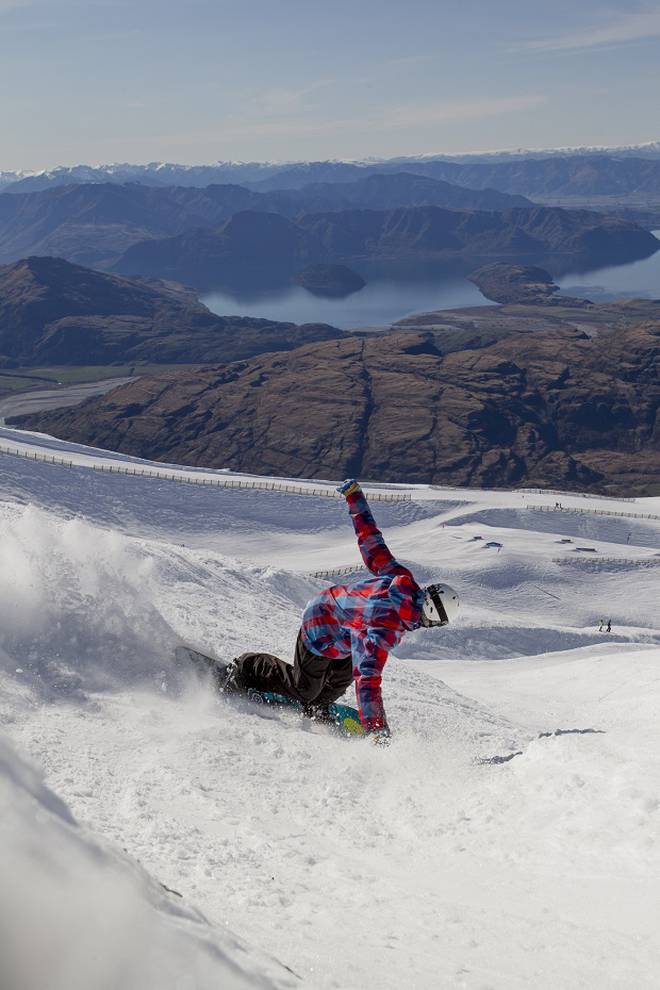 Who goes there:
Learners are well catered for, with good chairlift access to easy slopes, while black-run skiers have lots of chutes and steep backcountry terrain to access, especially if they are willing to hike a little from the top of Shadow Basin Chair.
Best run: Homeward. When snow conditions are right, it is as close to heli-skiing as you will get, with a huge vertical drop down to below the main ski area and on to the road, to connect with a shuttle bus to get you back.
Top tip for kids: There's a great learners' terrain park off the top of Sugar Bowl chairlift that kids just love.
Top tip for food: Breakfast Burger in the almost-new Base Building cafe is hard to beat as a great way to start the day. Also kids' hot chocolates are $2 cheaper than just a regular hot choc for those in the know.
Local knowledge: The field is high up on the backside of one of the most dramatic ranges in the area and lots of large boulders and rocks are present off the main trails. Early season, when the snow is thin, stick to the main trails to save both yourself and your gear.
Contact: nzski.com/queenstown
Dylan Cleaver hits the slopes of Sun Peaks, British Columbia, hallowed stomping ground of Canadian skier Nancy Greene.
CORONET PEAK
Who goes there:
Mid-range skiers who love skiing on-piste and a very quick easy access from town, as well as lots of international ski race teams for training.
Best run: Shirt Front is a great intermediate sustained long trail that is not nearly as busy as the main M1. Also look out for the keyhole rock feature, a narrow gap between two rocks. Kids love skiing between it.
Top tip for kids: The ski school is fantastic and when your kids have mastered the magic carpet they have a good, long learners chairlift to get them going to that next level.
Top tip for food: Heidi's Hut at the bottom of the Rocky Gully T-bar for pizza and mulled wine beside the fire, where you can look out and watch international ski racers strut their stuff.
Local knowledge: When it's on, Back Bowls is an amazing powder run but don't drop too low as you may have to walk up to get out!
Contact: nzski.com/queenstown
On top of Mount Ruapehu, Tūroa's offers the highest lifted pistes in New Zealand and 720 meters of vertical descent.
SNOW FARM
Who goes there:
Cross Country skiers only on the quietest of the local hills. No lifts here, just a great network of cross-country skiing trails.
Best run: River Run, a tranquil snowbound landscape with a burbling creek and rock tors towering over the valley.
Top tip for kids: Get a lesson as it makes trying out this sport way more fun.
Top tip for food: Awesome paninis at Lodge cafe.
Local knowledge: For a truly unique experience, book out one of the simple but comfortable back country huts to spend the night in the snow under the stars. Your gear can be dropped out by snowmobile, so you don't have to carry your supplies and they have fires to keep you warm.
Contact: snowfarmnz.com
On the side of snowy Ruapehu, Whakapapa is one of the North Islands top ski resorts.