What the A to Z of winter wellness is all about
When the chill factor drops our focus on good health often drifts. Not only are we more susceptible to nasty winter lurgies, but the temptation to hibernate can mean less moving and not as much focus on the right food for optimal health. In a bid to stay focused (or re-focus) this winter, we've called on the smarts of holistic health expert, Dr Libby Weaver to help compile our interactive A to Z of Winter Wellness. Each weekday we will reveal the next letter and what it stands for in our health file, plus informative graphics and recipe suggestions to help boost your health. Check in to Life & Style every afternoon for your winter wellness inspiration.
- Nicky Park, Life & Style Editor
C | Vitamin C by Dr Libby Weaver
"During the chilly months immune support is vital to ensure we can fight off infections. Vitamin C is an essential nutrient when it comes to an immune system that is firing on all cylinders. Vitamin C is used by the body to signal the production of white blood cells to protect us when foreign bacteria or viruses enter the body. It is also presents the fluid lining in our lungs and mucous membranes - where antioxidant activity helps stop inflammation and damage by bacteria and viruses. It is also crucial for collagen production in the skin, something we also want to support over the winter months.
Vitamin C cannot be stored in the body so we need to consume it every day. Eat a piece of fruit or add lemon, orange or grapefruit to your morning juice. Incorporate capsicum, tomatoes, leafy greens and broccoli into a stir-fry to help boost your daily intake. Vitamin C dwindles in a food with heat, light and length of time from being picked so for best results grab what you can from your local farmer's market.
Dr Libby Weaver (Ph.D) is one of Australasia's leading nutrition specialists and weight loss experts based in Auckland, New Zealand. For more information visit www.drlibby.com.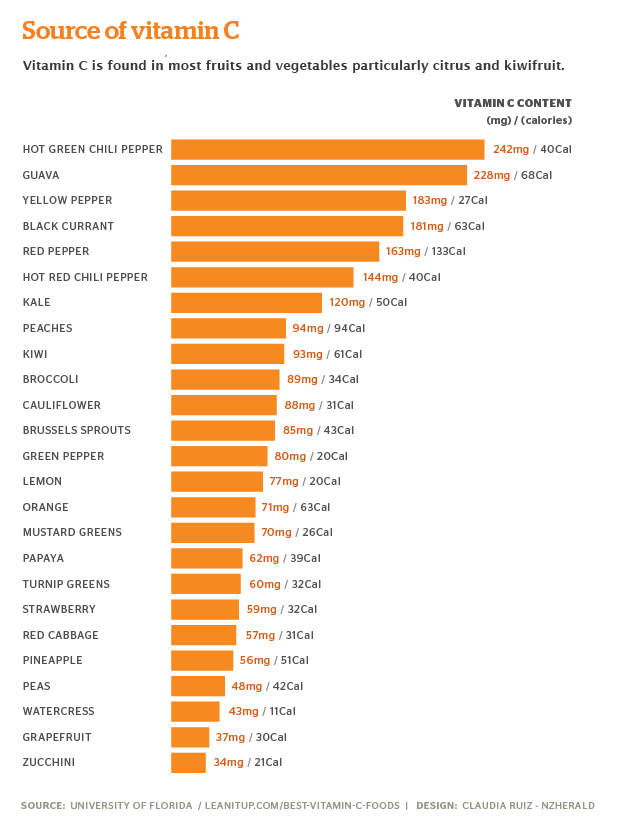 Recipes