' />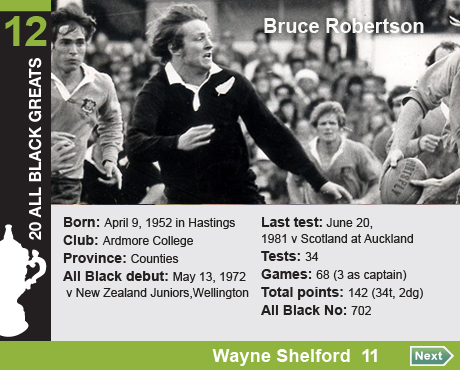 In an era before the word "glamour" could be much associated with the All Blacks, Bruce Robertson gave the team an injection of genuine star power.
This had nothing to do with the underwear billboards or social page photographs that elevate the profiles of rugby players today. And it clearly didn't relate to Robertson's mild-mannered off-field personality.
Even on the field he couldn't be categorised as a glory-hunter, scoring only four tries in a 34-test career.
Pick your top 20 greatest All Blacks of all time.
But from his debut at 20 in the series against Australia in 1972 until his last test in 1981, he established himself as a centre of rare class and elegance. When so many rugby heroes were seasoned, hard-as-nails forwards, his willowy frame and silky skills set him apart, as did his youthful appearance and fashionably flowing locks.
And don't be fooled by that try tally. Robertson was an attacker of the highest order, as the wingers who benefited from his creativity - men like Bryan Williams, Grant Batty and Stu Wilson - would happily attest.
His career is peppered with notable "assists", among them the grubber through for Batty to score in a narrow victory over Scotland at Murrayfield in 1972, another chip through for Ian Kirkpatrick's try against the Lions in Dunedin in 1977, and the superb break leading to Graham Mourie scoring in the corner of Cardiff Arms Park against Wales in the Centenary Test of 1980. In a rare achievement for an outside back, he also has two test drop goals to his name.
Robertson nominates that Centenary Test as his most memorable international. In his 100th game for the All Blacks he led the team out into a packed stadium. "Playing in front of a big Welsh crowd with all their singing made it quite a special moment."
He chuckles about not having bagged too many test tries - "It was not like now with a lot of people getting a lot of tries everywhere" - but agrees that one he scored against Scotland in the Grand Slam-winning victory in the Murrayfield fog in 1978 was an important contribution. It required none of his signature skills of deception but Robertson's thrilling pace saw him home after a charge-down close to the All Black tryline led to the ball being toed the length of the field. "The one time I touched the ball with my hand was when it was over the tryline."
Robertson is typically modest on the topic of his famed pace - "It was part of what I had, I suppose" - and claims it was never clear who was fastest in the All Black teams of the time. Wilson, Williams and Batty were all explosive runners, he says. "They were able to change direction without losing their speed." He also talks highly of Bill Osborne, his partner in a notable All Black midfield, a strong runner and physical defender.
Robertson himself famously executed a brilliant spot tackle in the first Lions test at Athletic Park in 1977, jolting the ball into the arms of Batty who scampered 60m to score. "That was a rare occasion, wasn't it?" he says with another laugh. "I wasn't really known for my aggressive tackling."
Of all his international opponents, Robertson rates Ireland's Mike Gibson ("a gentleman, but a very cunning gentleman") and the Australian Michael O'Connor, who went on to a successful league career, in the top rank.
Among so many fond rugby recollections, he can be forgiven for nursing less happy memories of the lost series in South Africa in 1976, a tour on which he played an impressive 12 out of 15 matches.
In the narrowly lost final test, the All Blacks should have been awarded a penalty try when Robertson was tackled without the ball after another deft chip ahead to the tryline. "After the game I was incensed," he says.
"Our whole team was. We just got a feeling during the game that it was going to be bloody hard to win this one."
Bruce Robertson's World Cup prediction
For the World Cup, Robertson, who these days does club liaison for the Northland rugby union, predicts one of the finalists will be New Zealand ("obviously") and that one of the other Tri-Nations teams stands a good chance of taking the other spot. Discussing the host's centre options, he rates the accuracy of Conrad Smith but also mentions the options provided by Sonny Bill Williams and Ma'a Nonu. "Any of those three would be excellent. Richard Kahui could get a look in as well.
Bevan Rapson is an Auckland journalist and commentator.
Pick your top 20 greatest All Blacks of all time.

Next Monday nzherald.co.nz will compare our experts' list with the public's.