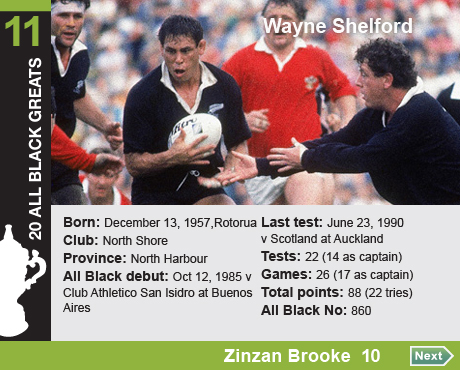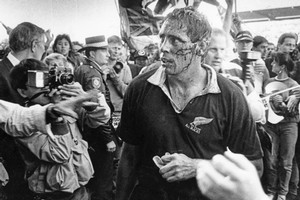 All the memories about 1987 and winning the World Cup remain warm and exciting for Wayne Shelford.
From late that year when he took over as captain, to his sacking three years later, the All Blacks were undefeated in tests.
"To play so well as a team for all that time and not lose a game is part of our history, it is one of the most successful times in All Black history and so the memories are magic," he says.
Pick your top 20 greatest All Blacks of all time.
"The squad was so far ahead of the rest of the world in the way they were playing, their fitness levels, player depth and style. It was just great to be part of that, knowing that barring accidents, the All Blacks were probably winners 95 per cent of the time they played."
The All Blacks changed little in that time, though John Drake and Craig Green did opt out.
"There was no Super rugby to dull the players, the test window was much shorter, it was a great time in New Zealand rugby and very special for the players because we were all part of the team which created that era.
"New Zealand has that as a lasting memory and that is going to be refreshed before and after this World Cup as we try to repeat what we did 25 years ago. We hope we are on the road to repeating that triumph.
"It was a great time and no one can take that honour away from us. The closest we've got since was 1995 but we have not been in another final.
"We have been knocked out by teams that had more desire on the day and definitely the darkest day was our quarter-final exit in 2007. We had a very good side then and we played dumb footy," Shelford says.
But, in 1987, the All Blacks' play throughout the tournament and their eventual success gave Shelford the greatest satisfaction in his illustrious career.
They had lost badly to France the previous season and to meet and beat them in the final was extremely satisfying.
The All Blacks wanted revenge and they succeeded in the best possible way. The away tests in 1988 against the Wallabies were a tremendous series after the All Blacks escaped with a second test draw.
As a No8, Shelford barged, scraped and banged his way over for enough pushover tries but he rates those as team touchdowns.
It was difficult to single out opponents for praise when the All Blacks were winning consistently, but men like Laurent Rodriquez, Serge Blanco and Philippe Sella from France were terrific rugby players.
Others like Simon Poidevin, Jeff Miller and Eric Champ had a bit of mongrel about their play, they were men who never gave up, they were relentless competitors and tough opponents.
"Then there were guys like Campese who was fantastic, Finlay Calder and John Jeffrey were great loosies and David Sole was a top captain. I can't say much about England because we never played them in my time."
Jock Hobbs, Andy Dalton and David Kirk all had contrasting styles as they led the All Blacks in Shelford's career.
Dalton was circumspect, a quiet man who had a side with plenty of experience and let the halfback and five-eighths drive much of the play. In those days, the players ran the side.
Hobbs was similar but was often buried at the breakdowns while Kirk was a caretaker leader who struggled a little but got the World Cup accolade then disappeared.
"Michael Jones and Zinny had different ball skills and their coaches encouraged them to use those gifts whereas, as captain, I played to patterns the coaches wanted," he said.
They had a licence to roam. It was the start of coaches allowing players to take control of certain areas of the game because of their abilities.
Pick your top 20 greatest All Blacks of all time.
Next Monday nzherald.co.nz will compare our experts' list with the public's.