Cuba Libre
61 Mackelvie St, Ponsonby
Ph: 027 601 7113

We spent $206 for four.
Rating: 14 — Good
Everything I know about Cuban food I learned from a movie where a food critic suggests a chef has gained weight because he is eating all the terrible food his customers have sent back to the kitchen.
Which is to say, nada.
But if you (like me) watched the feel-good food truck film Chef and wondered what the deal was with a real-life sandwich cubano, head to Cuba Libre. Spoiler: we didn't send a single bite back.
Cuba Libre bills itself as the home of rum and fun and — bold claim — Auckland's best fried chicken.
We fell on that sticky, smoky, pollo ($16) like extras from The Walking Dead. The thigh flesh is succulent and juicy; the skin has been left on and it smacks of citrus and blackened spice. Definitely the best chicken I've eaten this year.
Our table had a rolling start. Two of us kicked off an after work drink with a round of Moros y Christianos — the dish in which Moors and Christians are represented as black beans and rice. In Cuba, this comes by the bowl. At Cuba Libre, it's combined with cream cheese and shaped into little panko-crumbed balls that are deep-fried and plopped into a seriously tasty red pepper and almond sauce.
At $5 apiece they were pricey, but excellent with a beer or (obviously) a Cuba Libre. The latter is what happens when you add a wedge of lime to a rum and coke. It came in a cute can from Karma Cola, the company with the website that says it buys raw product direct from communities in Sierra Leone. Cocktails with a conscience.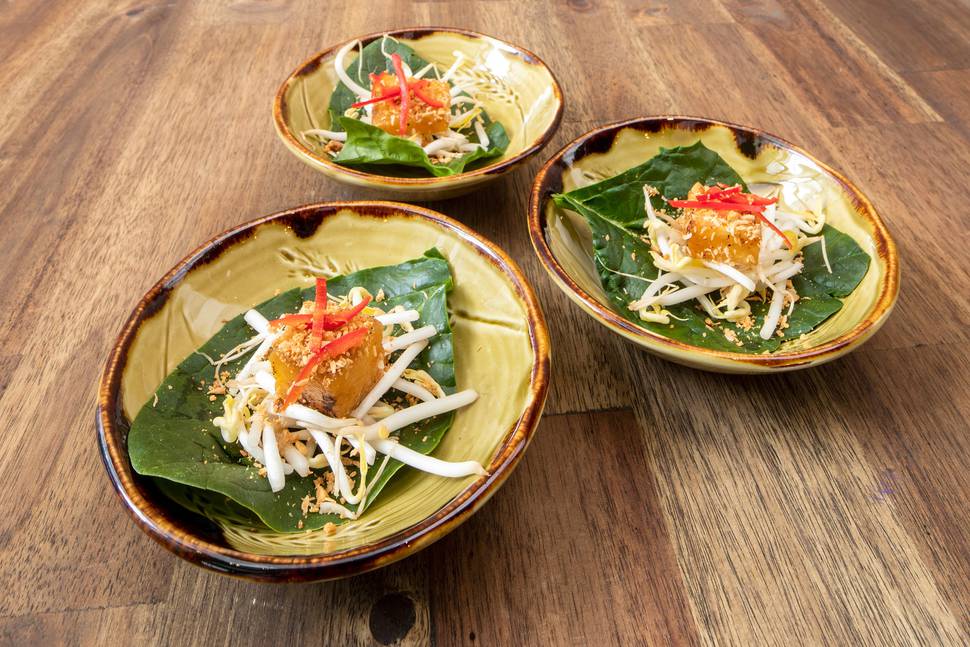 The menu has been tweaked since our visit (those rice and bean balls are now $4) and "Bad Habits of Rabbits" ($17) is, I'm told, no longer available. Such a pity. The first swallow was carroty and light; the after-taste was carroty and cake. This humble vege has been subjected to many instagrammed indignities (I'm looking at you, homemade vegetarian carrot hot dog) but this was a super-pleasant subversion.
Cuba Libre reminded me of those cool places that cool people who travel like to skite about. They stumbled on it down a side street, yada, yada. But then you go to Google and discover that's a Karen Walker on the corner and the nearby retail real estate comes with an $1800 a week price tag. You betcha they've got turmeric lattes and, of course, that pork will be free-range.
The pork was also unforgiveably dry. This was a dud dish ($24) and I feared for the "mojo" cubano sandwich ($16), which had not yet arrived.
We were a table of four by now, eating, drinking and being very merry (it's that kind of place) and all of this was being facilitated by one man who took our orders, mixed our drinks, ran our food, cleared our plates and did the same again for every other table in the room. He was a hospitality rock star. I forgave him the forgotten sandwich and, when it finally arrived, wished I'd ordered two.
Crunchy on the outside, sodden with molten cheese and mustardy sharpnes, it came with thick slices of pork and thin slices of ham and it was (controversial!) better than any burger I've had recently.
Cuba: the Cookbook traces the multiple origin stories of this bready wonder. One involves the international workforce of a cigar factory in Florida — salami from the Italians, pickles from the Germans, etc. In Cuba, the authors note, the proper preparation (listed by the Ministry of Domestic Commerce in the 1970s) includes mortadella. It is a sandwich that is more than the sum of its parts.
More hits: the divine smoked yoghurt and spicy red sauce that came with a plate of baked root veges ($16).
More misses: the snapper ceviche ($16). Fresh pineapple sounded good in theory but it was too sweet in a dish that needed more lime and chilli.
Cuba Libre started life as a pop-up and some aspects need refining but it's a place that is trying very, very hard to give you a good time. Grab a cocktail and go with it.