From all-vegan eateries where plants are the prime focus, to omnivore joints that create stellar vegan dishes, Anna King Shahab takes a look at Auckland's tastiest vegan options.
Eating more plants and less of things animal-derived is increasingly at the forefront of the conversation around food in our society. I'm seeing more and more friends cutting out red meat or all meat, or going a few steps further and choosing to eat vegan either sometimes or full-time. It's a noticeable trend and it's likely to continue and accelerate.
So it's only natural that we're seeing more excellent vegan options popping up, from wholly vegan eateries and those with a steady plant-focus to those putting vegan options high on the priority list when designing menus.
We're not just talking salad bars: cafes, food trucks, bakeries and fancy restaurants are all on board with the demand for better vegan dishes and, in return, their delicious nothing-missing-here offerings help to create more demand.
Here's a look at some of the city's best.
There are several all-vegan eateries drawing in just as many non-vegans with their tasty, plant-forward fare. Wise Cicada is a one-stop vegan and organic store and cafe. Go for classics - mushroom stroganoff, avocado cheddar melt - as well as dishes with a more international flavour - Sunfed "chicken" Chiang Mai curry, kimchi beet stack - or check out their recently launched vegan Sunday roast sessions.
At the heart of The Midnight Baker's menu is founder Yeshe Dawa's Freedom Loaf. You'll find it under smoky baked beans, or butternut hummus. In Dawa's "pulled pork" tacos, jackfruit in adobo sauce meets aoili, salsa, slaw and chilli oil, served in soft tacos.
The Butcher's Son has translated the all-day dining concept into vegan language, open from breakfast to dinner, Thursday to Sunday and until the afternoon the rest of the week, so you can enjoy a glass of Te Whare Ra Riesling with your Steak it Easy (cauliflower steaks and caramelised cauliflower puree with a caper, gherkin, lemon and almond salsa).
The interior design of Little Bird Organics' Ponsonby cafe The Unbakery perfectly matches the food: aesthetically pleasing and generously proportioned. Everything is vegan except the bee pollen that garnishes a few dishes - just ask if you want that left off. The mostly raw menu means plenty of fermented, sprouted or dehydrated things, as well as an abundance of fresh vegetables. One gem is the spicy tempeh and kelp noodle salad - a big dish vibrant with leafy greens and herbs, al dente kelp noodles and nutty tempeh, doused in a tangy dressing made with vegan "fish" sauce and chilli oil.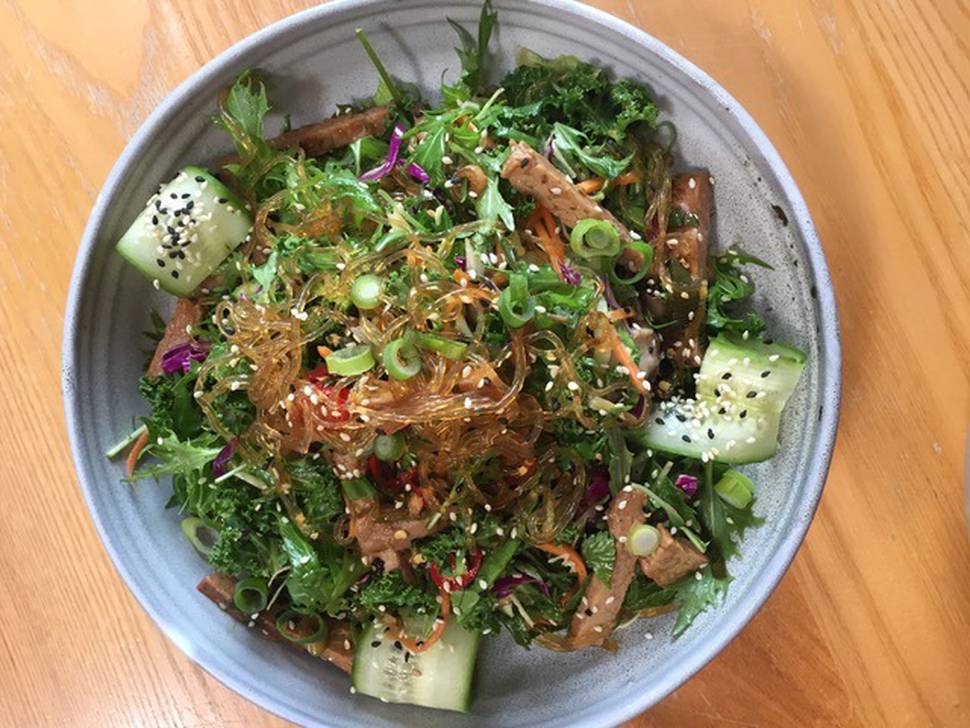 You don't have to dig deep to find a plethora of vegan delights in the Sandringham shops. 7 Siri's Sri Lankan fare is cooked in coconut oil and is dairy-free, making their vegetarian options also vegan (just ask to hold the egg). Satya's South Indian menu offers more than 30 vegan dishes, and at little bro next-door, Satya Chai Lounge, a third or more of the menu does vegans very nicely. At Shubh, the only non-vegan dishes are the few curries with paneer; they cook with vegetable oil, not ghee. Hello to your new favourite snack, the $1.50 samosa, and to ridiculously good value thalis of curries, rice, roti and pickles.
Water Drop Vegetarian Cafe at the Fo Guang Shan Buddhist Temple is a haven for the soul and the tummy. After a wander around the serene, impressively large temple, explore the menu, which hinges on fresh produce married with textured soy and wheat products. Try the barbecue won ton noodles, and laksa bursting with puffy fried tofu and springy not-fish balls. Stir-fried dishes gain the signature smoky, wok hei flavour from skilled chefs inviting the flame into the wok. Soy, wheat and plenty of veg is also the order of the day at Sunflower Vegetarian Thai, where the menu reads like any neighbourhood Thai joint, but all-vegan: from fried rice and noodle dishes to whole sizzling "steak" and crisp-skinned "fish" mains. It's one of the most pocket-friendly vegan joints in town, and always packed with students. The full-of-flavour curries are packed with fresh vegetables–no searching for treasure in a sea of gravy here, so on that note, a bit different from your neighbourhood Thai.
Everyone loves a good dumpling, but verifiably vegan versions aren't abundant. Sumthin Dumplin's The Monk saves the day, with its vibrant green spinach-spiked wrapping cosseting shiitake, tofu, mushroom and bok choy. Another wrapped-up cult dish is the labour-intensive, Pre-Hispanic Central American tamale, finally available to Aucklanders thanks to Silvia (Nanita) Gomez-Pineda's shop in the Northcote Food Hall (open weekends only). Taught by her mum and grandma to cook as a child in Central Mexico, Nanita's tamales veganos start with a dough of masa (cornmeal) with added quinoa and amaranth ("For the extra protein and minerals", she explains), which she moulds around vegetables and salsa, before wrapping in your choice of corn husk or banana leaf and steaming the parcels to piping hot perfection. Nanita - herself a vegan - also serves tlacoyos, using habas (broad beans) or frijoles (black beans) and masa.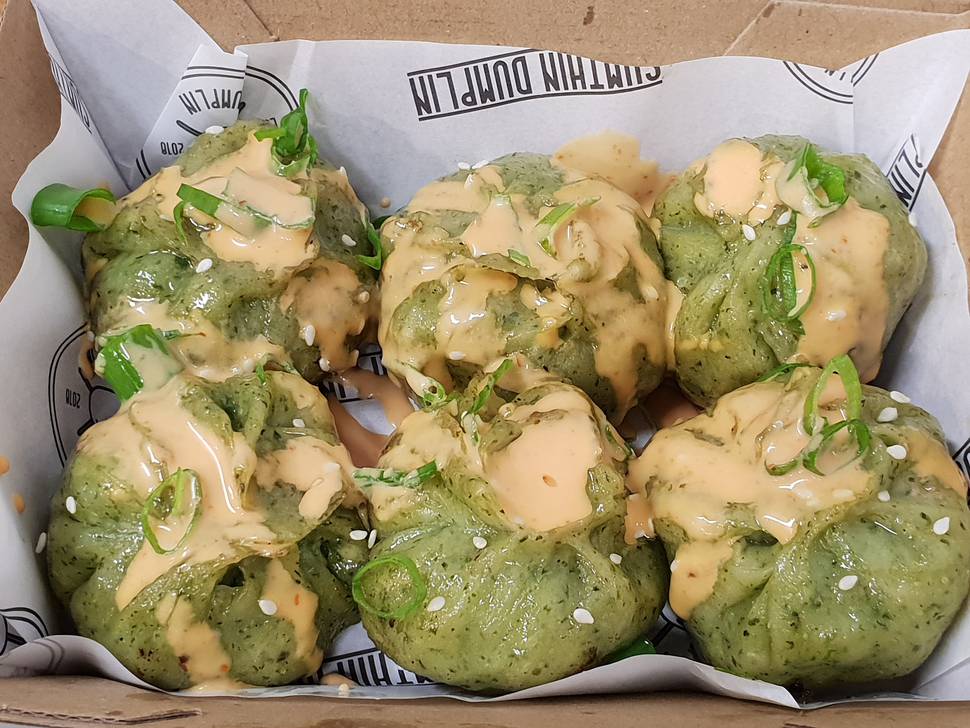 It's easier than ever to eat out in an elegant setting and not see a confused look or eye roll when you inquire after vegan options. At saan, all the vegetarian dishes on Northern and Northeastern Thai-inspired menu are also vegan; that's because chef Say Polvit doesn't add the ubiquitous fish sauce to them (some cooks don't consider fish sauce to be non-vegetarian) and instead works umami depth from shiitake mushrooms.
Madame George usually has a decent smattering of vegan options through the menu; and both Sidart and Cassia are known for welcoming guests with dietary requirements - at Sidart (and the opening-this -week Sid At The French Cafe) the tasting menu can be made bespoke with advance notice, and at Cassia, vegetarian dishes can be made vegan on the spot.
Kokako's fully vegetarian menu has plenty of vegan options; chef Plabita Florence tells me her favourite is her black rice porridge with lemongrass, salted coconut whip, fresh and freeze-dried mandarin, green apple, kaffir lime cashew praline and fresh basil. No one's going to miss dairy with that lineup.
Tart Bakery has vegan pie and doughnut cravings covered, and Kai Aroha veganifies the freakshake. Twenty-four hours' notice and you could be collecting the vegan cake of your dreams from The Caker, or you might luck out on a walk-in basis: the banana cinnamon dark chocolate cake is especially lush. And the seriously impressive High Tea by Cordis is no less so in its vegan form; give a day's notice and you'll be settled into a plush armchair and treated to a three-tier wonderland of savouries and sweets, plus extras, including bespoke tea blends.
A hotlist of excellent things in bread, the vegan edition: The Mac burger at Ralph's, Chonoiserie's tofu bao, the "I can't believe it's not" Beyond Burger at Lord of the Fries, Petra Shawarma's falafel saj wrap, and the all-vegan lineup by Wise Boys Burgers (handy to know also that their brilliant aquafaba-based mayo can be bought by the jar from Farro stores).