He recently revealed he was "repeatedly assaulted" during his childhood for being gender ambiguous.
But Ezra Miller proved he refuses to be downtrodden as he made a serious style statement while attending the Fantastic Beasts: The Crimes Of Grindelwald world premiere in Paris on Thursday.
The Perks Of Being A Wallflower actor, 26, looked wonderfully eccentric as he stormed the red carpet in a black padded quilt-style gown with a dramatic hood and cape detailing, reports Daily Mail.
Sticking to an all-black theme, the We Need To Talk About Kevin star accessorised with black leather gloves.
He injected a gothic touch to the bold look by plumping his lips with a vampy slick of dark burgundy lipstick.
Fully committing to his fashion-forward ensemble, the New Jersey native flashed a stony pout as he posed masterfully at the event.
Ezra, who plays Credence Barebone in Fantastic Beasts, certainly put on a sartorial show as he posed at the premiere with his co-stars Eddie Redmayne and Zoe Kravitz.
Director David Yates said he was 'thrilled' to bring the world premiere of his new film to the City of Light.
"Paris has given us an extraordinary backdrop for our film," he said. "So we're thrilled to have the opportunity to acknowledge its unique beauty, character and ambiance – and the legendary passion of French Wizarding World fans – by celebrating our world premiere in this magical city."
Ezra's outing comes after he detailed the adversity as he faced growing up because of his sexuality.
The actor got candid with ES Magazine as he discussed his troubled childhood, admitting that there were people (in the industry) who gave him a rough time for coming out as queer.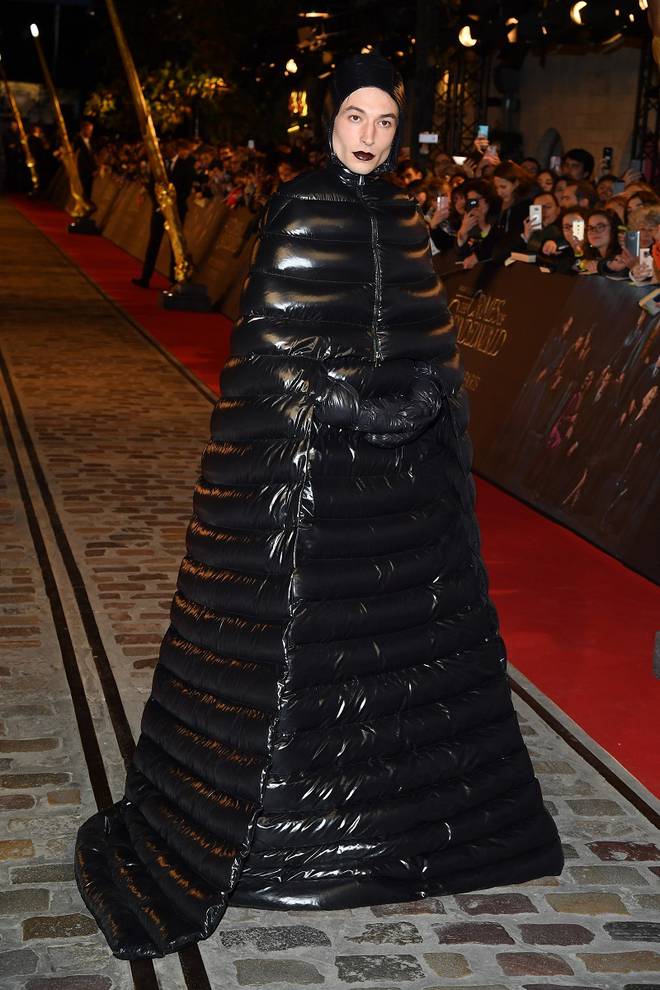 Offering context, Miller revealed he was "repeatedly assaulted" for being gender ambiguous, with a few boys lashing out at him after they tried to kiss him because they thought he was a girl.
Ezra's sensational acting skills has seen him lend his talents to a slew of acclaimed flicks such as We Need To Talk To Kevin and The Perks of Being a Wallflower.
However, his rise to the top hasn't been without hardships, as he candidly revealed in the interview that he was judged for coming out - despite him viewing his own years of exploration as "a beautiful, ongoing and very sexy journey".
"I was repeatedly assaulted as a young teenager, for being weird and gender ambiguous. They couldn't figure out if I was a boy or a girl, and they thought that was hilarious and also despicable," he stated.
"There were also (boys) who wanted to make out with me because they thought I was a girl. And when they found out I wasn't, they were very angry, as if I'd been deceptive."
Ezra also shockingly revealed that he has been judged on his choice of clothing on multiple occasion.
"I've been physically attacked in public for wearing short oral overalls. I've been attacked in New Jersey, New York City, Asheville, North Carolina at a Waffle House..."
And despite being confident with his sexuality, he proved to be greatly respectful of those who aren't as open when it comes to discussing it.
"It is everyone's choice how they want to handle that delicate and complicated matter."
However, Ezra did prove slightly critical in celebrating the gains in the LGBTQ community in the West.
"We celebrate progress in very privileged pockets of the world. We get together in halls and present each other with awards for minuscule bits of crawling progress, when we are killing the whole earth and we're killing ourselves."
His candid interview comes after yet another recent tell-all with The Hollywood Reporter, where he shared his story for the first time about being underage and given alcohol by a Hollywood producer and director.
Miller wouldn't divulge the names of the men he claims plied him with wine and made suggestive comments.
Ezra has two major film franchises in the works: Fantastic Beasts and the title character in the upcoming superhero flick Flash.
He is credited as the first queer superhero for the latter.