In the rehearsal room at Auckland Theatre Company's Balmoral base, actors Anna Jullienne and Simon London are pretending to fall in love but London's character, a charming American, clearly has something to hide. Meanwhile, a load of cardboard has been delivered to ATC's reception and will soon be called into service to act as the Middle Eastern desert.
It's all part of Rendered, a torn-from-the-headlines thriller that could well be the most ambitious of plays staged during New Zealand Theatre Month. It straddles international locations, two love stories and uses war in the Middle East to explore our place in the world.
The clue is in the name, explains playwright Stuart Hoar, who says after 9/11 the word "rendered" gained new meaning.
"Extraordinary Rendition means the transfer of suspected terrorists by the US to countries known to torture prisoners or to employ harsh interrogation techniques. Even in 2018, human rights groups say that the Department of Justice Task Force recommendations still allow the US to 'render' people. For me, Rendered raises the question of whether or not an NZ citizen should be handed over to a foreign power for such purposes."
His play, directed for ATC by Katie Wolfe, pivots around two strong female characters. We meet Major Aria (Nicola Kawana) and her mercenary accomplice (Fasitua Amosa) in the Middle Eastern desert, where they're on a covert mission to meet a New Zealander (Edwin Wright) who's defected to ISIS with his Arab wife (Ban Abdul).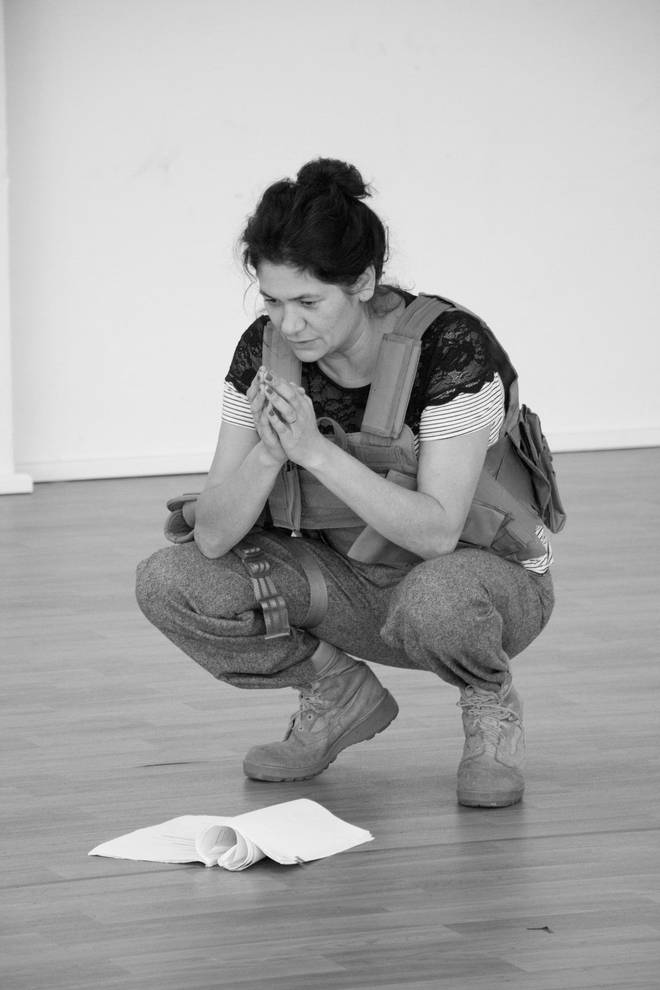 "What interests me about the Defence Force is that it's a male institution and it kind of operates on traditions, in a way, that go back not only to the 20th century but to the 19th century in terms of what it stands for and how it operates but, of course, it's changed and I am interested in that," Hoar says.
"How, in fact, are women involved in our defense force and is there a slow culture change because of that? Or do they have to simply adapt, as women, to what is essentially still a very male institution."
Meanwhile, as Major Aria deals with military questions which, of course, increasingly become thorny moral ones, kindergarten teacher Miranda (Jullienne) is at the Auckland Writers Festival where she's presented with an offer she can't refuse from a visiting American. It's a mystery just how these lives will intersect but intersect they will.
Jullienne, seen most recently on TV's 800 Words, believes her character represents the Kiwi mindset.
"She's a Kiwi woman, who could be me, who works with children in Auckland and she is the opposite to the story set in the desert but she has views on it. I feel like she represents our involvement, our kiwi mindset about it and she places the story back here.
"She's an intelligent woman who's falling in love, which is fun to play but also she faces a huge moral dilemma and has to evaluate what she thinks and feels about war which she didn't think it would be the kind of thing she would ever have to deal with."
That, says Hoar, is one of the points of the play.
"I am attempting to raise questions rather than tell people what they might think about but it interests me that we are involved in that part of the world [the Middle East] and we have been for many years now."
Hoar believes we like to think of ourselves as dispassionate observers, but the reality is that we pay taxes which go towards a Defence Force which is involved in military conflicts across the globe.
"At times, I do think and I have thought, 'Why?' I am interested in what is our collective feeling about that and do we, indeed, even think about it? Of course, by and large, we don't because we're busy living our lives and yet all this stuff is going on...
"When you start thinking about these things, and you do generalise wildly, we, as New Zealanders, used to think, 'We're here in this little country and we are isolated'. But we're not. That sense of isolation is long gone in the 21st century though sometimes I think our state of being is still that it's the 20th century, but things have changed … We're connected as never before."
Lowdown
What: Rendered
Where & when: ASB Waterfront Theatre, Tuesday, September 18-Wednesday, October 3