When it comes to The Bachelor, casting is everything.
You need only look at the differing fortunes of New Zealand's first two seasons of the show – the smash-hit success with dreamboat Art Green versus the Jordan Mauger "Oh God, what am I doing?" trainwreck – to see that.
And across the Tasman, where the sixth season of The Bachelor Australia is underway, the show's producers have well and truly outdone themselves with picking their talent this year.
Not only have they found a rugby star Bachelor who says he's as "nervous as a goose in a doona factory", they've also somehow managed to cast a clingy former love interest as one of the 25 women vying for his attention.
Former international rugby player Nick "The Honey Badger" Cummins, famous for his curly mop of hair and a fondness for one-liners, made his flamin' Bachelor debut on Bravo last night in an episode that easily warranted the record ratings it enjoyed in Australia a week ago.
As is tradition, the series opener saw Cummins meet the women hoping to win his heart, and the group had the usual balance of clear frontrunners, delicious villains, eccentrics and, as luck would have it, somebody he'd already been on a few dates with.
Early favourite Brooke showed up to the Bachelor mansion with a pair of balls in hand and proceeded to give Cummins a lesson in how to pass a rugby ball. Claiming to be a rugby fan, she was clearly not enthusiastic enough about the sport to recognise a Wallaby in the wild.
Other notable arrivals included energy healer Cayla, who gifted the Honey Badger with 2kg of rose quartz; Shannon, who played it cool by telling him she loved him within the first minute; and Dasha, a personal trainer who introduced herself by wrapping her feet around the Bachelor's neck and performing what I think was either a gym move or sex act.
The season's villain quota was filled by fashion designer Cat, who seemed more focused on another Bachelorette she claimed was still dating her ex, and the ironically-named Vanessa Sunshine, who sourly told us she was "not thrilled" by the Bachelor's moustachioed appearance.
But none of these arrivals could compare to that of Cass, a 23-year-old student who (shocking plot twist ahead) appeared to have previously hooked up with the man of the hour.
It was hard to tell if Cummins was laughing or screaming upon seeing this blast from the past, but it became very obvious Cass was keen to rekindle that flame.
As series host Osher Günsberg kicked the first cocktail party off with a tacky jewellery box containing a key to the Bachelor's pad for one lucky lady (gross, I know), Cass' determination to pick up where she left off with the Honey Badger only grew.
As other Bachelorettes knocked back champagne, squabbled over nothing or jumped into the nearby pool fully clothed, Cass obsessively kept tabs on who Cummins was chatting to (if the show's editing was to be believed, anyway).
When she finally got her chance to talk with him, she had a confession to make.
"In a diary, I wrote down goals and dreams that I want to happen this year – and it's happening right now," she said.
The bewildered Badger asked if his name was in the dream diary.
"Yes. I told the universe what I wanted and it's happening," Cass replied.
By this point, I was hiding behind the couch, unable to watch any more of the humiliating scenario unfolding on my TV, as was anyone else who's been 23 and chased a crush that just wasn't that keen.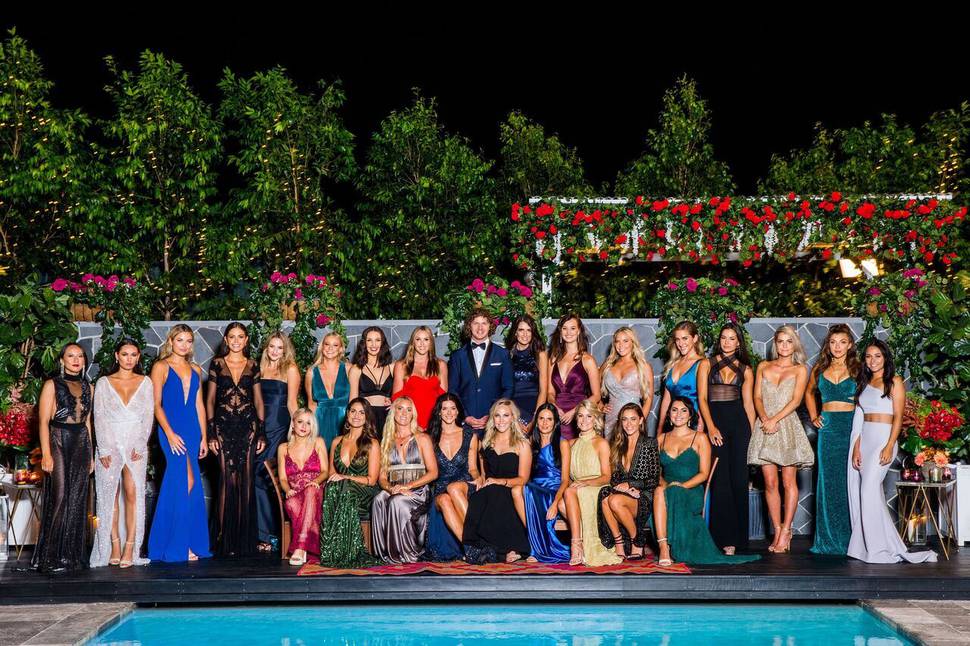 With Brooke eventually bequeathed the key to the Bachelor's pad (congratulations, I guess?), the first of the Honey Badger's rose ceremonies got underway, where we bade farewell to three contenders whose faces I didn't even remember seeing earlier.
It meant Cummins had decided (with absolutely no input from the producers, I'm sure) to keep his former flame, the villains, and the quirky energy healer at the mansion for another day, which is great news for dedicated fans of the show.
Because between the ex and brewing tensions between two other Bachelorettes over boyfriends past, there are some particularly juicy storylines brewing in the pipeline. So, please do pass the popcorn.
The Bachelor Australia screens Tuesdays and Wednesdays at 8.30pm on Bravo.