Coaches for kid gamers - what next?
As Fortnite battle royale continues, parents are starting to invest in coaches in the same way they would for sports or academics. The Wall Street Journal reported parents are paying good money for tutors so their kids can level up and become better Fortnite players. "There's pressure not to just play it but to be really good at it," Ally Hicks, who purchased four hours of lessons for her 10-year-old son, told the publication. "You can imagine what that was like for him at school."
Fringe humour from festival
Best Twitter gags from the Edinburgh Fringe Festival line-up this year.
1. Frasier was a ground-breaking millennial aspirational show about one day having your own podcast and moving back in with your Dad. (@siandocksey)
2. If I had £1 for every time my girlfriend has complained about a lack of equal pay she'd have 70p. (Simon Caine @thismademecool)
3. Can someone please nominate for me queer eye I really don't want to tidy my bedroom and I don't think I'm wearing the right bra size. (@lulu_popplewell)
4. I think Ronan Keating's biographer said it best when he said "You say it best when you say nothing at all." (@amateuradam)
5. Bedtime as a child: feel tired, go to bed ... Bedtime as an adult: start to fall asleep on sofa, stand up, remember you have to get laundry out of machine, go into kitchen, get distracted by washing up, notice a plant that needs watering, hang washing up, go to bed. (@hamer30)
6. The first sentient AI will be a Russian bot that has attained consciousness solely to unfollow Trump (@AhirShah)
7. STOP PRESS: sports cars, the mid-life-crisis-male's expression of despair, have been replaced by wireless earbuds! (@CamGurrrl)
Amazing fossil discovery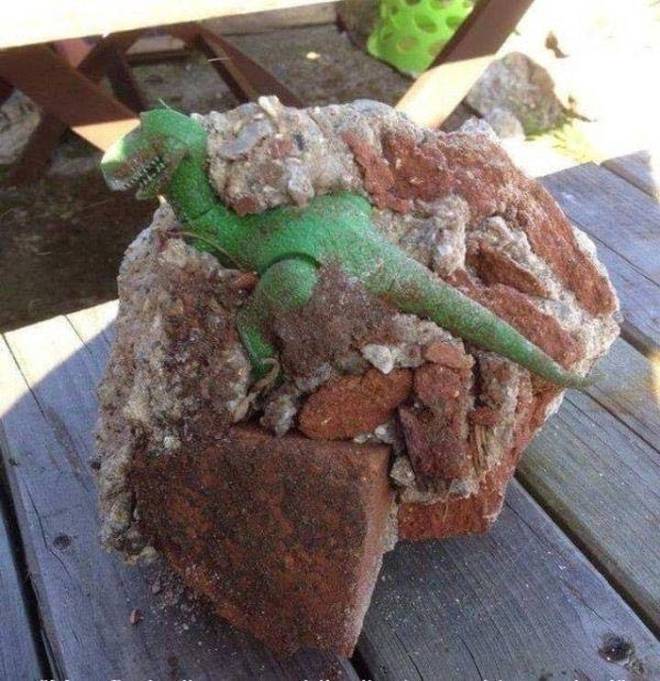 Dishwasher for dummies continued
"We had the same problem at work with the same dishwasher," writes Patricia. "The tea lady would go home at 2pm and I emptied the dishwasher later in the day and could not work out why the soap dispenser had not opened and yet the dishes were done. What was happening: the arm would get caught on the plates and stopped it going through the cycle. Finally I discovered the handles at the side of the tray and fixed the problem."
Picture this
Canadian artist Justin LeDuc created a digital rendering of a hovering gigantic Grim Reaper grasping the Golden Gate Bridge in San Francisco, wrapped a red robe. It looked so real, a number of people thought that it was, maybe because the footage appeared to have been taken through the window of a helicopter.
Video pick
Move over Air New Zealand, Turkish Airlines have done an awesome in flight safety video by enlisting characters from The LEGO Movie…