New Zealand Music Month is upon us and to celebrate, TimeOut Entertainment is proud to present the Music Month Sessions, with support from New Zealand on Air.
We invited five Kiwi artists from across all different genres to share their New Zealand music memories with us and record an exclusive live performance of their favourite Kiwi songs.
Each Thursday throughout Music Month, we'll roll out these special performances right here, starting with industrial pop artist October, who kicks things off today.
We talked to October and our other performers - JessB, Sons of Zion, Teeks and Openside - about their covers and why they chose to honour the artists they did.
NZ Music Month Sessions: October performs 1000 Eyes.
Here's what they had to say:
Jess B performing Coming Right Through by Silva MC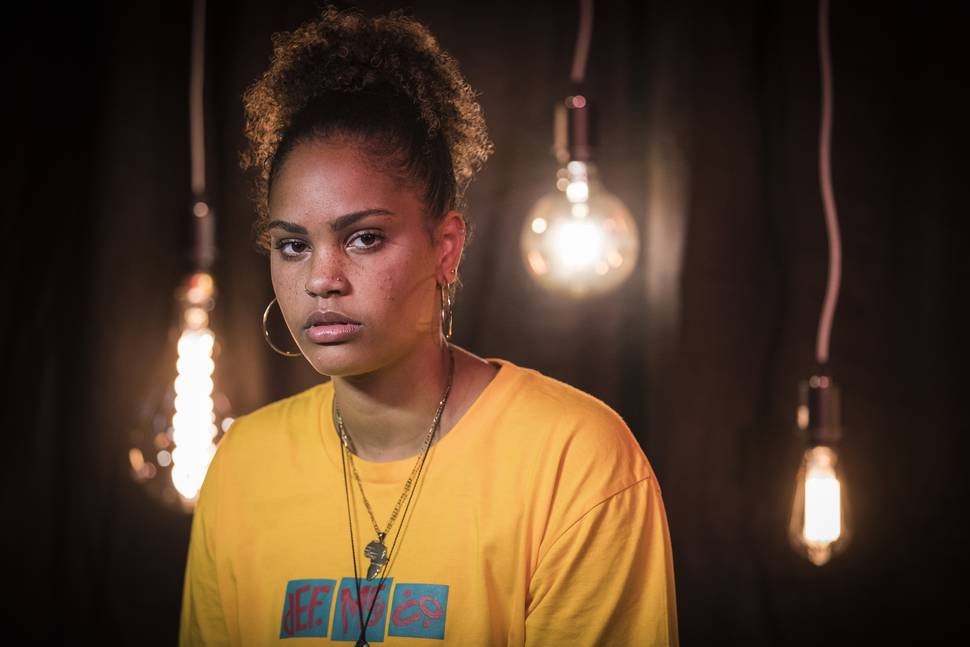 "I chose to perform one of my good friends' songs because I think she's an amazing artist, she's a female MC like me so I thought it'd be a good way to showcase it and also it's just a great song, I genuinely like it. We've kind of been performing together for a little while now and she was one of the first people that I really connected with musically, and the first person I really wanted to collaborate with, and I've just looked up to her - as a friend and as an artist - since I've started. In general the New Zealand hip-hop scene is really exciting. I think everyone's amazing, but it's also an exciting time for women in New Zealand music as well."
Sons of Zion performing Fade Away by Che Fu
"Che Fu's kind of been one of our idols growing up, he's always been at the forefront of New Zealand music. [Fade Away] is just a classic, feel good song and it offers a lot of harmonies for a few of us to sing it as well. It's good for us because Che Fu, he's the man and it's always good to pay homage to the dudes who really influenced your music growing up. I remember meeting him years ago ... he came up to me and said hello and he loved the music and I was like, 'Oh really? That's awesome'. So he's an all-round good fulla. I remember the video clip blasting all the time, everyone used to watch videos on TV. I remember looking down at his [2b S.Pacific] CD case because it had graffiti writing on it...I spent ages trying to copy his front case."
October performing Blend by Aldous Harding
NZ Music Month Sessions: October performs a cover of Blend by Aldous Harding.
"Perhaps in hindsight it's quite a difficult song to have chosen because I think it's already so immaculate and perfect the way it is, so I hope I don't tarnish it too much, but I'll see if anyone likes my October-ised version of Blend. I was like; How would Peter Murphy do it? That was my inner brief. I love Aldous, I think she's the most exciting artist out of New Zealand at the moment. There's something so reminiscent of the past in her music, but also in saying that, it's a very fresh and modern, timeless sound. I think she's just incredible."
Teeks performing Drive by Bic Runga
"I don't know if I should say this but to be honest, I actually heard this song for the first time about a week ago. I mean, possibly I heard it subconsciously at another time but I didn't realise what it was ... but the first time properly, really listening to the song [was] last week, and I chose to do it. Straight away I was like, it's a beautiful song and I wanted to sing it. Bic Runga, she's an incredible writer, an amazing composer and of all her songs that was probably the only one I hadn't heard - I don't know [how]. But I like the lyrical content and the way the song makes you feel, just the acoustic vibe of it...it's beautiful."
Openside performing Supercut by Lorde
"I really feel like Lorde has obviously changed the idea of what's possible for a New Zealand artist to achieve, and it would've been easy for her with her second record to pander to a pop sensibility but I just love how she really held her creative integrity and made this masterful artistic follow up ... it just feels really authentic. The songs on that album that are about love and breakups really resonated with me. Just the way that it's honouring and remembering everything that happened and all the joy of the relationship while also moving forward, that thing of a montage of memories of all the best and worst times of a relationship - that's such an interesting image to me, that's really relatable."