Jennifer Aniston and Justin Theroux have announced their separation.
The couple says in a statement released through her publicist to AP that the decision to split "was mutual and lovingly made at the end of last year."
They say: "In an effort to reduce any further speculation, we have decided to announce our separation. This decision was mutual and lovingly made at the end of last year. We are two best friends who have decided to part ways as a couple, but look forward to continuing our cherished friendship.
"Normally we would do this privately, but given that the gossip industry cannot resist an opportunity to speculate and invent, we wanted to convey the truth directly. Whatever else is printed about us that is not directly from us, is someone else's fictional narrative.
"Above all, we are determined to maintain the deep respect and love that we have for one another."
Just over a week ago Aniston showed off her luxurious US$27 million Bel Air mansion in Architectural Digest and mentioned her husband in the interview.
"I look around at my husband and my dogs and our home, and there's nowhere else I want to be," she told the magazine, despite the fact the couple split last year.
The pair first met in Hawaii in 2008 when Aniston was holidaying and Theroux was shooting Tropic Thunder.
Theroux didn't exactly made the best first impression though.
"I remember thinking, 'Isn't he hot?' But he was actually really quiet," Aniston said in an interview.
"I later came to find out that he was just exhausted because he had been writing non-stop, like a little hamster on a wheel. This was his one night off, and he had no personality, but he was very sweet and very overdressed. I was like, 'You must be really shvitzing up a storm in those jeans and combat boots.'"
The two actors later reunited on the set of the comedy movie, Wanderlust, and romance blossomed. They went public with their relationship for the first time at an MTV Movie Awards after-party in 2011 and announced their engagement the following year.
"Justin Theroux had an amazing birthday Friday, receiving an extraordinary gift when his girlfriend, Jennifer Aniston, accepted his proposal of marriage," Theroux's rep told Us Weekly in 2012.
After a long engagement the couple finally tied the knot in a surprise wedding at their Bel Air mansion in 2015 in front of 70 friends and family members who thought they were attending a birthday party for Theroux.
Celebrities in attendance included Ellen DeGeneres and Portia de Rossi, John Kransinski, Emily Blunt, Chelsea Handler, Will Arnett and Tobey Maguire.
Courteney Cox and Lisa Kudrow were also there but none of the male stars from Friends were invited.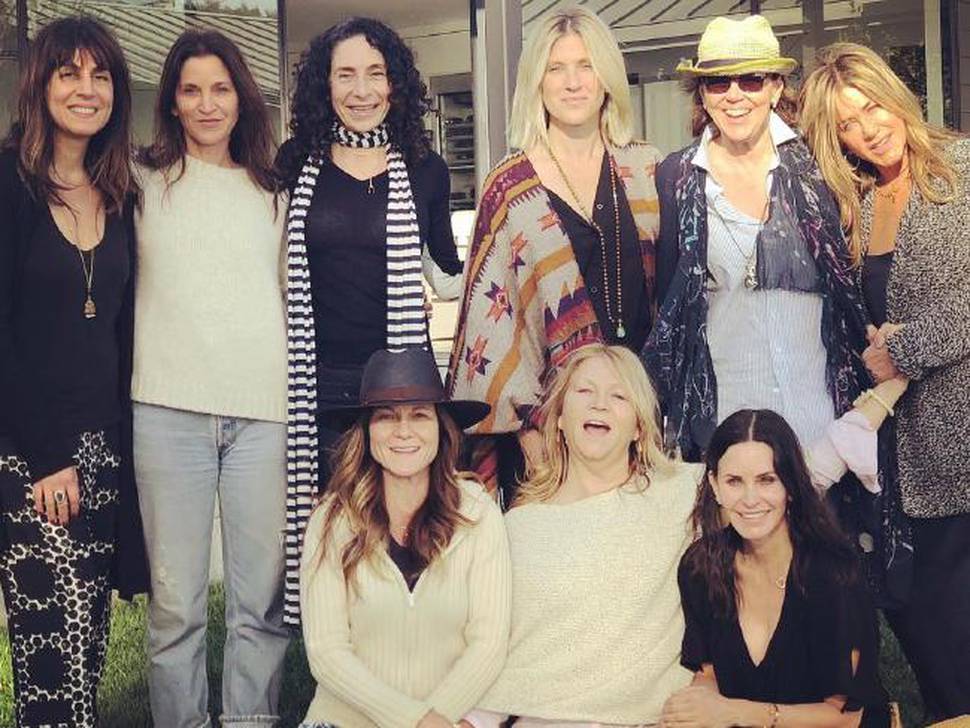 The wedding was officiated by talk show host, Jimmy Kimmel, who got a little emotional at one point during the ceremony and started crying.
"He did," Theroux confirmed after the event.
"And then … everyone did. And it was just … it was the perfect tone for the night."
"He was extremely funny, kept things extremely light, was extremely touching."
In April last year Theroux praised his wife in an interview with United Mags and called Aniston his "ally".
"Marriage makes the small things much smaller and the big things small," he said.
"You have an ally. It's good to have someone have your back."
The news follows recent reports that Aniston has been reconnecting with her ex husband Brad Pitt, following his split from Angelina Jolie.
The most recent reports from earlier this week claim Brad Pitt surprised Jennifer Aniston on her birthday and the pair shared an intimate dinner at a Los Angeles hotspot.
Aniston and Theroux were engaged in August of 2012 and married in August of 2015. They have no children.
- additional reporting AP