He said, "There must have been no one else. That's the only reason I can think. Paul Henry, that's not going to work, Mike Hosking's gone, Dallow's already reading the news, Jack Tame's already doing Breakfast. Apparently you're not allowed to have two women host the show because that would be just insanity. You know?
"Who else? Karl Stefanovic, used to do the newsbreaks at TVNZ, he's gone to Australia, Phil Schofield, he's Shazam, so you know there was no one left. Who else was there? There's nobody left."
Was he being serious? Who can say for sure? Probably not even him. Obviously there's some percentage of irony in there — Phillip Schofield and Karl Stefanovic would be terrible alongside Hilary Barry — but what's the percentage? This is the ongoing calculation the nation faces in its ongoing interactions with Jeremy Wells.
After the first episode of the new Seven Sharp, my 77-year-old dad called and told me he would bet money that Wells wouldn't still be on it in six months' time. When I asked why, he said the best word he could come up with to describe Wells' performance was "insipid".
Making ridiculously confident bets like this based on extremely limited data is something my father has form for, but changing his mind is not. At the end of the first week of the new Seven Sharp, he told me, "I've changed my mind about Jeremy."
When I asked why, he said, "I didn't realise he was joking a lot of the time."
I had spoken with Wells earlier in the week about exactly this issue — that people find it almost impossible to know when he's joking.
"Well, I don't know," he had said. "So that's probably understandable."
His career has been a series of happy stumbles, from reading the news on Mikey Havoc's bFM breakfast show, to being Havoc's sidekick on a series of television shows, then solo hosting shows: media satire series Eating Media Lunch, bird series Birdland, and a documentary where he toured with the New Zealand Symphony Orchestra and famously asked them questions about intra-orchestra sex, erections and happy endings on the massage table.
Now, aged 41, he co-hosts the Radio Hauraki breakfast show, does some advertising work, co-owns a Ponsonby bar, and helps bring up his two children, aged 8 and 5, with his partner, Tulsi Bramley.
"I never have had goals," he says. "It just doesn't seem to work for me. It worked really well for Richard Hadlee. It worked so well for him. He just focused on wickets and his ambition and it totally worked, but it never really worked for me. I wouldn't say I'm an ambitious person in any way at all, and I certainly don't have any goals."
In the third year of his journalism degree, in 1997, he was called into the office of a course administrator. "She said, 'You haven't been to enough classes and I can't pass you, no matter what you get in the exam.'
"And I said, 'But I've been at bFM reading the news on a breakfast show and it seems like quite good, you know, practice, for what I'm doing.'
"And I'll never forget what she said. She said, 'To be honest, I don't think bFM will get you anywhere.'"
"And at the time I thought, 'Oh yeah, probably fair enough, it probably won't.' That's what I thought. But she was wrong about that. Because it did. It was actually the best thing I could have ever done. So I left that [course], because I got a job at TVNZ a couple of weeks later, in this amazing piece of luck. And I always thought, 'Oh, I'll go back and do that, but then I never got around to it."
At one stage during our conversation, the topic turned to self-help literature and the related question of whether it's okay to just be mediocre.
"I consider myself pretty mediocre," Wells said, which seemed a pretty unlikely thing for a host of Seven Sharp to say, so I expressed doubt.
"That's seriously how I consider myself," he said. "Absolutely I'm mediocre! Have you seen what I do?! I'm mediocre! Go and watch, like, you know, comedians, other people from around the world. You watch other people's TV shows. It's like, I am mediocre. I have a lot of luck, you know I certainly get given opportunities."
He said the best bits of Eating Media Lunch, for instance, were mostly down to other people.
"The smart angles were coming from Lee [Baker] and they were coming from Paul [Casserly]," he said, referring to the show's writers and directors. He says it was luck in the first place that he met Casserly, one of the country's most brilliant creators of television, while both were working with Havoc.
"So yeah," he said, "Mediocre and lucky."
He said he's not smart either: "I can explain simple things in simple terms but I can't understand complicated ideas."
He didn't seem too worried about that. He said, "Hopefully we're not dealing with too many, kind of, you know, quantum physics is something we're probably not going to get into — probably not in the first hundred days anyway, I wouldn't have thought."
He expects Hilary Barry will handle the serious political interviews and he sees her as being the show's natural leader. It's not explicit, not in anyone's contract or anything he said, but it's obviously the best way to do it.
"That's quite humble," I said.
"No it's not!" he yelled. "Imagine if I was crapping on the whole time. I think that would be terrible. Don't you reckon? I mean if you've got me and Hilary, you'd say, 'Hilary, you take the lead because this is your realm, this is what you're good at, this is the natural environment for you. Jeremy, you just follow along and if you can say something at some point, good on you. Just try to read the autocue properly. Do your hair properly. Shave. Try not to get massive.'"
TVNZ's head of news and current affairs, John Gillespie, says: "He is a bit of a contrast to Hilary. He sort of comes from a different news pedigree but also is quite mischievous but probably needs someone beside him to bring that out a bit and I think Hilary can absolutely do that."
Because Wells has made a career out of parodying the exact role he now nightly occupies, watching the opening episodes of Seven Sharp has been an experience of purest cognitive dissonance.
He once finished an episode of Eating Media Lunch by coming out from behind a current affairs-style desk with his pants down and furiously simulating masturbation. The relevant area was pixelated.
Gillespie describes Wells as a "concise, precise observer" of human behaviour, says he's irreverent, mischievous and has grown as a broadcaster.
He says: "The other thing I would say is he really, really wanted it and really wants it."
"If you don't want to do it, it's never going to work. He really, really wants to do it."
Normally that's something that would be assumed, wouldn't it? That someone who's just been hired for the highest profile presenting slot in the country really, really wanted it? Usually, yes, usually it would.
"I think every broadcaster wants to talk to a large audience," Wells told me. "Any broadcaster who says they'd like to just talk to themselves or an audience of three I think is not telling the truth. I've never heard anybody say that, to be honest."
But so much of what he's done and said throughout his career has been engineered for maximum offence that it has seemed almost custom-made for viewer alienation.
"In the past I think I've done things that are unpopular. There's no doubt about that. But I've always wanted them to be popular. Like, I haven't wanted them to be unpopular. They're just not very popular. It's not through lack of trying."
"Maybe I've softened [since Eating Media Lunch]. You can't always be that guy. It doesn't always work. The other roles I've got, talking on the radio, everything's a little bit softer. In those days as well I'd be turning up to events with celebrities and shooting stories, and a lot of them hated me. It wasn't very nice actually. I was just a young dude, I was in my 20s, and they just hated me."
"Did you want them to like you?" I asked.
"I don't want anyone not to like me," he said. "Who wants someone not to like them?"
In his first ever taped segment on television, the first episode of MTV's Havoc in 1997, he conducted an interview with New Zealand's first Hustler centrefold model.
Lying on a bed while she sat in the chair next to him, he asked: "How does your body, which normally wouldn't be turned on, um, how do you make it look turned on, and not look, dry, for instance?"
"Did I ask that?" he says now. "I'd like to blame somebody else for that if I can but it's probably my fault. There are a lot of things that I'm ashamed of, to be fair. I've done some terrible things in my life. Best not to think about them. Just keep moving forward."
Asked if he thinks he has to scale back the outrageousness on Seven Sharp, he said, "Definitely. I do think that. It's easy to come up with the worst thing possible. You just imagine yourself in a classroom and imagine the thing you would say to the teacher that would get you expelled. It's pretty easy. I don't think there's anything clever about that.
"For a long time I could get away with doing that. I'm older now, but I don't think it's anything about being older. I've still got the same attitude. This to me is a different role. You're dealing with all sorts of different issues. You can't be comedic about everything. It's not always the best way to go."
Nevertheless, in the opening week of the new Seven Sharp, you just couldn't listen to anything Wells said, or even look at him, without thinking, "What's he playing at?"
You had to be continuously on your game, and even then, who could be sure? In an apparently innocuous opening week segment about pinball, he slipped in the term "finger blasters", which sounded legit enough, but googling with Safe Search turned off reveals it to be not a pinball term at all — not by a long shot.
"You don't really reflect on what type of broadcaster you are until you do interviews like this," Wells said. "I can't sit at home thinking about who I am, what I am, how I am to other people, or anything like that. You go down a dangerous hole."
In 1993, he was expelled from Wanganui Collegiate for giving cannabis oil to a patient at a rehab centre on an end of year community service trip. It wasn't "subversive" or "ironic" or "a funny prank". It was a disaster.
He had cannabis oil because it was the end of the year and the students were staying in a motel where they would get to hang out together at night, have a few beers, that sort of thing.
"I didn't want to get cannabis oil," he says, "It was just that that was all there was. I would have rather got a tinny, actually."
Then one of the rehab patients asked one of Wells's classmates if he knew where he could get drugs. "And he just threw me under the bus," Wells says. "I didn't want to give it away. I wanted it for myself."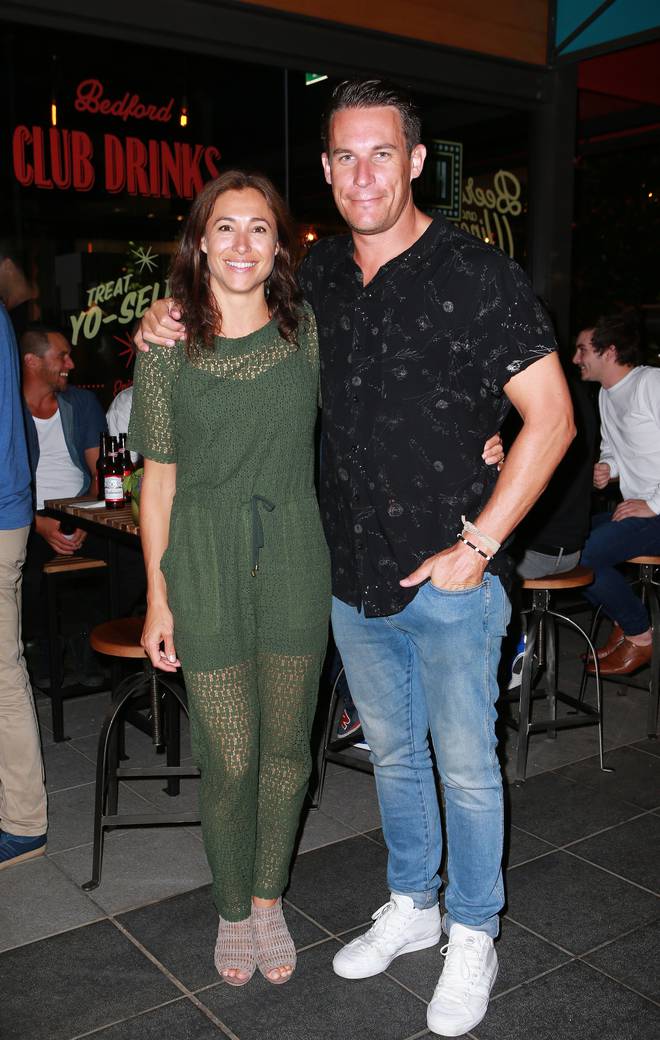 He got into a long argument with the patient. "It got to a point of sort of vague threats and so I was like, 'I don't want anything to do with it' and I just threw it on the ground and said, 'If you want to pick it up that's your business. I don't want anything to do with this anymore. I don't even want it anymore. I don't want to be threatened.'"
Teachers found out and that was the end of his time at Wanganui Collegiate.
"It was the lowest point of my life. I had to get a train back to Auckland and, at that stage there was no one to take me on the train. It was just me by myself, that Northerner that arrives at Marton at about 11 o'clock and I'll never forget being up the front of the train and thinking, 'What do I do here?' I'm probably meant to kill myself. Isn't that what you're meant to do in this situation? You've completely screwed over, you know — my family will be disappointed in me, all sorts of stuff. It's terrible."
The next year, his final year at high school, he was sent to St Paul's Collegiate in Hamilton.
He had a teacher who he says got him interested in things he would otherwise never have been interested in. He debated and acted and wrote the school revue, and the next year he went to AUT to study for a Bachelor of Communication Studies.
He says, given the cannabis oil situation all over again, he'd do the same thing. "I'd have to, because if I didn't, I wouldn't be here. If I hadn't done those other things I never would have done communications and I wouldn't have gone to bFM and I wouldn't have met Mikey [Havoc] and it just goes, you go back from there."
On the Thursday morning of Seven Sharp's first week, three shows in, Wells pulled his phone out of his shorts pocket and read a text he had received from his dad, Sir John Wells, earlier that morning.
The text read, "Show's going well so far."
His father, a merchant banker and sports administrator, was made a Distinguished Companion of the New Zealand Order of Merit for services to business and sport in 2009. His mum Sheryl was manager of the Silver Ferns for 12 years.
Wells told me that both he and his brother, now a lawyer, were brought up with a heavy emphasis on good manners, politeness, humility, the idea that you think of others before you think of yourself. "All those basic things."
He says: "What's important to me? Being nice to other people, having meaningful relationships with other people and contributing in whatever way, a positive way — and that's not necessarily recycling or anything like that or doing good for the environment or even doing charity work — it's more contributing in a positive way to situations that you might walk into.
"Might be as simple as, if you're buying something, being polite, using manners, I don't know. This just sounds so lame. God, that sounds lame."
Seven Sharp, TVNZ1, 7pm, weeknights.