Sometimes a film delivers its most powerful message wordlessly — say, by the clenching of a character's jaw. More often, movie moments are made by the words that are spoken — or shouted — such as Tommy Wiseau in The Room wailing, "You're tearing me apart!" (That gem, by the way, was stolen from Rebel Without a Cause, as we learn from The Disaster Artist, a comedy about the making of Wiseau's so-bad-it's-good masterpiece.)
Here are nine other memorable bits of dialogue from this year's films — some of which are sure to be nominated for screenwriting Oscars, and others that just found their way into this critic's heart.
Lady Bird
Screenwriter: Greta Gerwig
Greta Gerwig's solo directorial debut centres on Christine "Lady Bird" McPherson (Saoirse Ronan), a Sacramento high school senior who dismisses her hometown as the "Midwest of California".
But the head of her Catholic school, Sister Sarah Joan (Lois Smith), thinks she knows better, telling Lady Bird it's obvious from her essays that she loves the city. "All I do is pay attention," Lady Bird protests, to which the nun replies:
"Don't you think they are the same thing — love and attention?"
Darkest Hour
Screenwriter: Anthony McCarten
Joe Wright's war film culminates with Winston Churchill (Gary Oldman) delivering his "We shall fight on the beaches" speech on the eve of the Battle of Britain. An MP asks, as though blown away, "What just happened?" Viscount Halifax (Stephen Dillane) replies:
"He mobilised the English language, and sent it into battle."
The Florida Project
Screenwriters: Sean Baker, Chris Bergoch
Sean Baker's portrait of the Florida underclass focuses on a girl, Moonee (Brooklynn Prince), who lives with her prostitute mother in a motel. When Moonee introduces a new friend to her hideaway, an uprooted yet still living tree, Moonee describes it in a way that offers a metaphor for her own survival instincts:
"Do you know why this is my favourite tree? Because it tipped over, and it's still growing."
The Shape of Water
Screenwriters: Guillermo del Toro, Vanessa Taylor
Guillermo Del Toro's fantasy is about a mute cleaning woman, Elisa (Sally Hawkins), who falls in love with an amphibious sea creature (Doug Jones) being studied in the lab where she works. Narrated by Richard Jenkins, as Elisa's misfit roommate, the poetic tale of oddballs seeking to belong ends with a fragment of verse:
"When I think of her, of Elisa, all that comes to mind is a poem, made of just a few truthful words, whispered by someone in love, hundreds of years ago: 'Unable to perceive the shape of you, I find you all around me. Your presence fills my eyes with your love. It humbles my heart, for you are everywhere.'"
Molly's Game
Screenwriter: Aaron Sorkin
Aaron Sorkin, creator of TV's The West Wing, making his directorial debut with an adaptation of Molly Bloom's memoir about running a high-stakes poker game, fills the script with smart zingers, including this put-down, by Bloom's lawyer (Idris Elba), of the cover photo chosen by his client (Jessica Chastain) for her book:
"You look like the cat that ate the canary — and then told the canary's parents about it."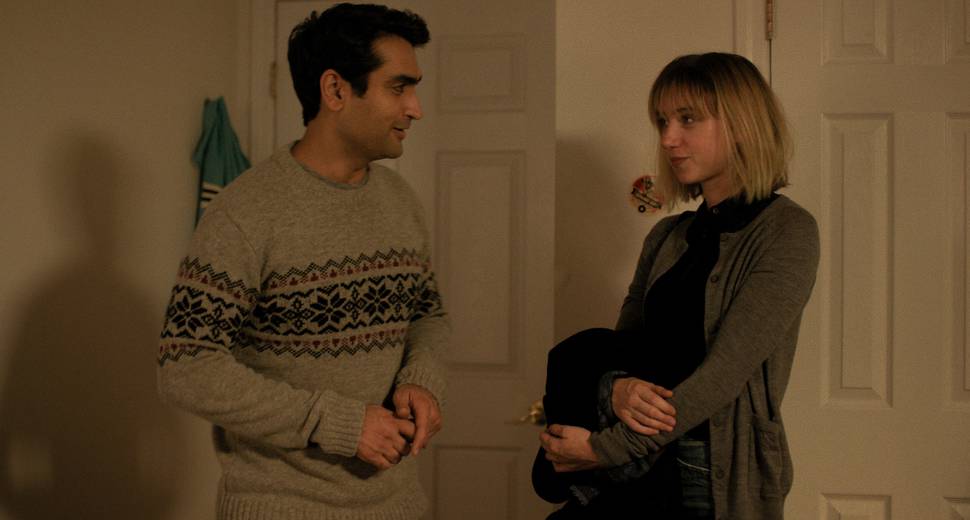 The Big Sick
Screenwriters: Emily Gordon, Kumail Nanjiani
Kumail Nanjiani and Emily Gordon collaborated on a funny-sweet screenplay about their courtship — which included Gordon being placed in a medically induced coma. When stand-up comic Nanjiani, playing himself, meets the parents of his sick girlfriend (Zoe Kasdan), he finds himself having to reassure them while delivering terrible news:
"Apparently, there are good and bad comas. And the kind that they put her in — the medically induced ones — are definitely the good kind of coma. Like, you know how there are good and bad carbs? Gremlins — those can be good or bad."
Wind River
Screenwriter: Taylor Sheridan
Taylor Sheridan's directorial debut — a nouveau Western centred on the murder of a Native American girl — features Jeremy Renner as a laconic agent of the US Fish and Wildlife Service who dispenses folksy wisdom like:
"Being careless won't get you anywhere faster" and "A gun is always loaded, even when it ain't".
Logan
Screenwriters: James Mangold, Scott Frank, Michael Green
Director James Mangold's noirish tale of Marvel's X-Men features poignantly broken-down versions of Professor X (Patrick Stewart) and Wolverine (Hugh Jackman), who laments the burden of the mutant hero who, seemingly, can't be killed:
"Nature made me a freak. Man made me a weapon. And God made it last too long."
The Hero
Screenwriters: Brett Haley, Marc Basch
Sam Elliott plays an ageing cowboy/actor struggling for work in an industry whose appeal he sums up succinctly:
"Movies are other people's dreams."