New Zealand is going to have to say goodbye to its TV bromance of the year after best mates Jaryd and Ben were eliminated from My Kitchen Rules.
The Auckland pals went head to head with Heather and Mitch in a Sudden Death Cook-Off but were let down by timing, seasoning, and an unset custard, scoring a disappointing 43 out of 90, which sent them home.
"We were just disappointed that we didn't improve from the instant restaurants ... we pretty much just made the same mistakes again which was disappointing," they say.
"It was really good fun to be put in such a high-pressure environment, especially against Heather and Mitch who we had a nice little rivalry with, but we are quite disappointed to get knocked out. We felt we were almost there but just not quite."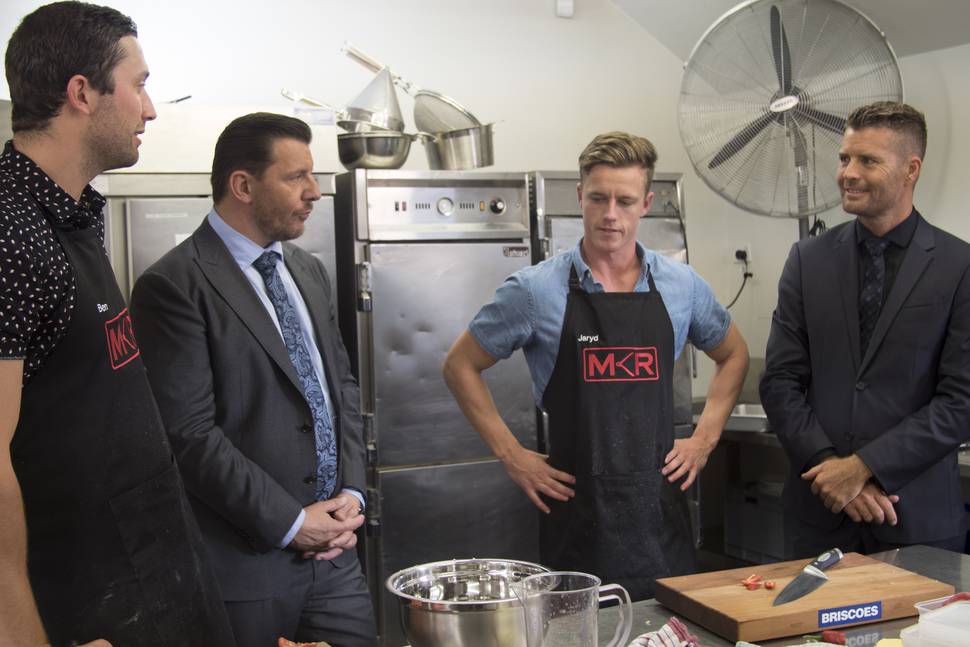 MKR judge Manu Feildel farewelled them by saying: "Even though you're going home tonight, I think you should still be really, really proud of yourselves. I love your friendship, sportsmanship, camaraderie, your bromance."
He then joked: "Let's get this straight once and for all - are you guys together?"

Ben and Jaryd laughed it off as they have throughout the series - having been such close friends for years, they're well over that old joke by now.
"We get it in our personal lives all the time, because we do everything together. We live together, we do sports, we travel, we have a shared bank account, if we did break up I could probably take him for half of what he's worth," says Jaryd.
"It's nothing new to us, it's only new because now we've got half of New Zealand saying it, not just our friends."
What they didn't show on TV though was Heather answering Manu's question by yelling out that Jaryd was actually seeing former MKR contestant Charlotte.
"Oh, they didn't show that?" Jaryd laughs, realising he's accidentally landed himself in a danger zone - he's not keen to discuss that relationship.
"We've just been trying to keep it all low key so we don't have all that pressure from random people and from the media. It's been pretty crazy since it all came out," he says.
"He's getting used to it," says Ben. "And so am I."
"Ben's a little bit jealous," Jaryd says, laughing off the subject.
The pair isn't sure what comes next, but whatever it is they'll take it on together. The dream is to own and run their own cocktail bar, though they'll be hiring a chef to do the cooking.
"[Cooking] has always been an experimental kind of thing, so if we did have a cocktail bar ... we'd definitely try and have some influence on the menu but it is quite stressful and the show really proved that to be honest," Ben says.
Next week on MKR NZ, Heather and Mitch, Chris and Bex, and Teal and Sophie face off, catering a wedding of 80 guests for the final elimination round before the Grand Final.
MKR NZ airs Mondays at 7.30pm on TVNZ 2.